How to display modules conditionally using MetaMod in Joomla
Updated on Mar 13, 2019
The MetaMod extension will allow you to include a set of different modules on your website, conditionally, according to a set of rules. This is a good way to display and allow the use of certain modules for specific users only.
Full backup
Before launching any new installation on your Joomla website it is strongly recommended to make a full backup of your files and database. This will allow you to restore your website if anything goes wrong with the new module installation. For more information about backing up your website, you can review our article How to create a full backup of your Joomla website.
You can download the extension from the official extension directory of Joomla. You need to select the Style & Design category and then Modules Management. Then simply locate the MetaMod extension from the list on the screen. The installation of the MetaMod extension is standard. For more information review our tutorial How to install and uninstall extensions in Joomla.
Log into your website as administrator and navigate to the Extensions tab from the top menu and then Module Manager.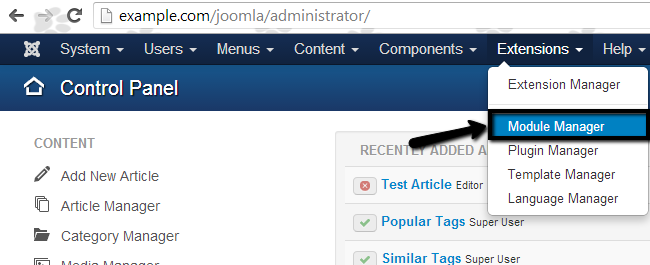 Click on the MetaMod module to access it's configuration panel.

There is a large number of options that you can edit in order to configure the module according to your needs. However, the most important ones are:
Position - Select the position, where the module will be assigned to.
Status - Set that to Published in order to enable the module.
Quick module position or id include - Enter the ID numbers of the modules that you wish to include through the MetaMod. A full list of those can be reviewed in the Available Modules tab.
Menu Assignment - Select the pages, where you wish to place your MetaMod module.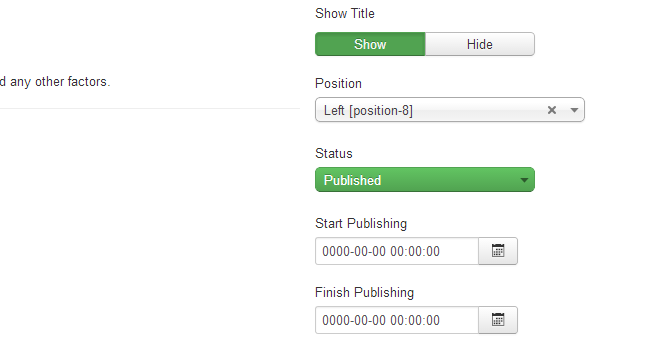 Click on the Save & Close button to keep the changes and enable the module on your website.