How to enable caching in Joomla
Updated on Mar 13, 2019
This tutorial reviews the process of enabling caching on your Joomla website. Although caching can result into more server resource consumption, it will speed up the loading of static content on your website. Therefore, in most cases, enabling cache on your website is a useful feature that you can take advantage of.
To enable caching on your Joomla website, you need to log into your website as administrator and then click on the System tab on the top-menu and then Global Configuration.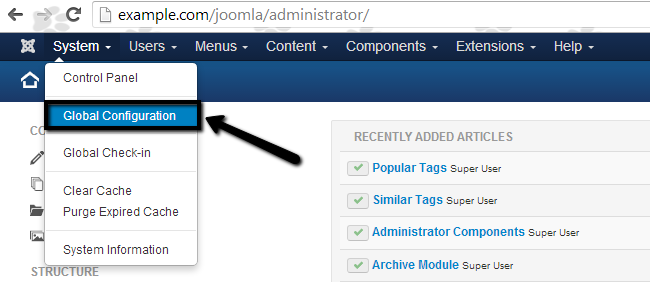 Select the System tab from the available ones.

Scroll down to the Cache Settings section on the screen and edit the following options:
Cache: Choose the On - Progressive caching or the ON - Conservative caching options
Cache Handler: File
Cache Time: Enter the cache time (in minutes). The field is set to 15 by default.

Click the Save & Close button to keep the changes.