How to Restore Joomla Database via cPanel
Updated on Mar 13, 2019
This tutorial will review the process of restoring a Joomla database using the cPanel backup feature. In order to achieve that, there are two things that you need to make sure of. The backup of your database must be created using the backup feature of cPanel and you need to make sure that a database with the same name is not present on your account.
Warning
If you already have a database on your account, which is using the same name as the one of the database backup, you will first have to remove it from your cPanel account. You can do so via your cPanel → Databases tab → MySQL Databases.
To restore the database backup file via cPanel, you need to log into your cPanel account. Then navigate to the Files tab and then Backups.

Locate the Restore a MySQL Database. From there, you will be able to select the backup from your personal computer. When you do so, simply click on the Upload button to initiate the restore.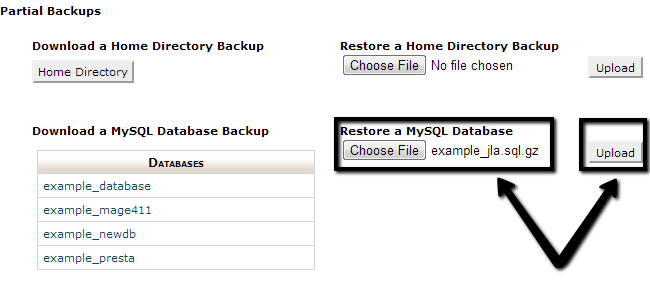 The next step is to set the new database within the main configuration file of your Joomla installation.