How to enable hotlink protection via cPanel
Updated on Mar 13, 2019
As we explained in the previous tutorial, hotlinking, or inline linking, involves displaying an image on a website by directly linking to that image from another website. Your Joomla cPanel account provides a Hotlink Protection feature specifically developed for this purpose. In this tutorial we review the process of preventing image hotlinking directly via your cPanel.
When you access your cPanel account, you will be presented with a list of different options or services. From there you need to locate the Security tab and click on the HotLink Protection service.

Edit the following options as per your needs:
URLs to allow access - Enter the domains that you would like to allow access for your Joomla files. This is usually the domain name that you have used for your Joomla installation and is already filled in by the system. However, you may want to allow access to your images from other websites and if so, simply enter their domains here.
Block direct access for those extensions - Enter the extensions that you will be hotlink-protecting. By default, the system will also fill-in those for you. However, you have the ability to enter additional extensions as well.
Redirect requests to this URL - If you have some development knowledge, you can create a custom page and then redirect all such requests to it. Simply enter a direct link to your custom page in the available field.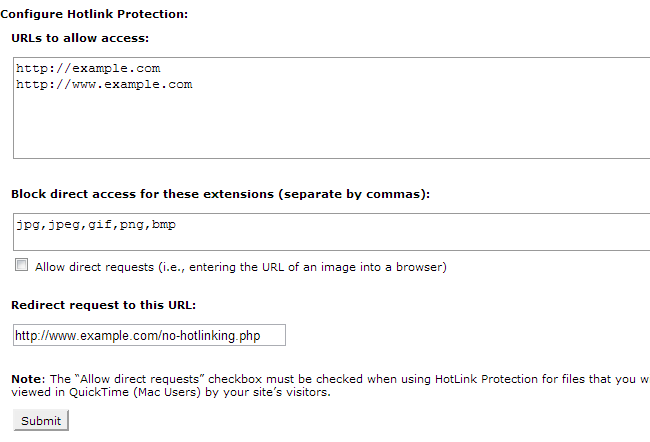 When you complete the setup of the hotlink protection service, don't forget to click on the Submit button to keep and apply the changes.