How to configure FTP in Joomla
Updated on Mar 13, 2019
This tutorial covers the steps for configuring your FTP in Joomla. It will allow you to install easily a number of components or themes directly via the administrative area of your website. In order to enable this service, you need to complete the following two steps.
To make Joomla work with FTP, you need to follow these steps:
Create an FTP Account
This step is mainly for security purposes as we have already configured the FTP account to grant you access only to the location of your website. To create FTP account, you need to log into your cPanel and navigate to the Files tab and then FTP Accounts.

Enter the details for your new FTP account:
Login - The username of your FTP account.
Password/Password (again) - The password of your new FTP account.
Directory - Enter the directory of your Joomla installation. In our case, the script is hosted within a folder called "joomla", located in the public_html/ directory.
Quota - Set any limitations for the FTP quota or alternatively set that to Unlimited.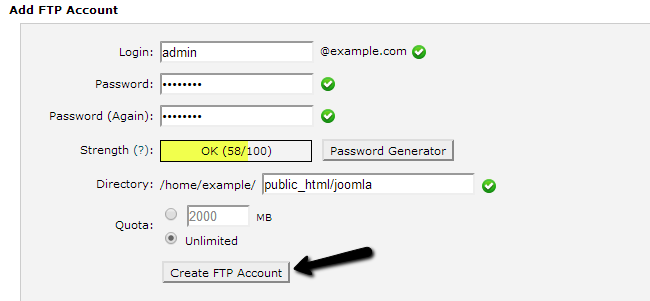 Click on the Create FTP Account button to create it.
Configure FTP in Joomla
Next, log into your website as administrator and navigate to the System tab on the top-menu and then go to Global Configuration.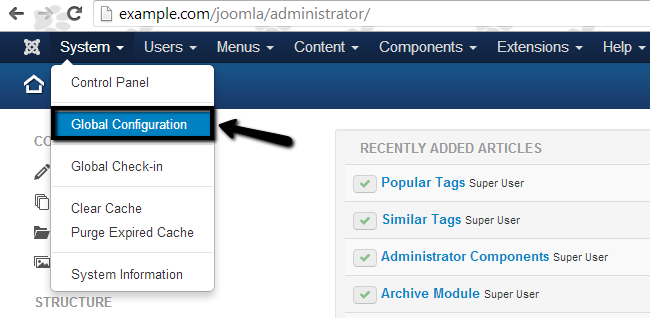 Select the Server tab.

Scroll down to the FTP Settings section and enter the details for your new FTP account:
Enable FTP - Yes
FTP Host - The host for the FTP service. Set this to localhost
FTP Port - The port on which the connection will be established (21)
FTP Username - The username of your FTP account, created in the previous step of this tutorial
FTP Password - The password for your FTP account
FTP Root - This field requires the location of your Joomla website. Since we have already created the FTP account to enter directly the Joomla directory, it means that you can enter a / (slash) in this field only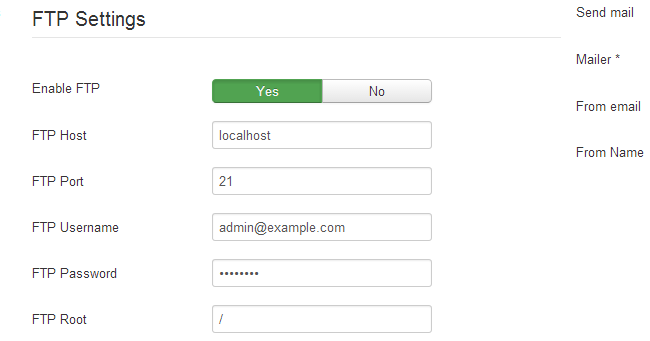 Click on the Save & Close button to keep the changes.