How to configure your Joomla website with SMTP
Updated on Mar 13, 2019
In this tutorial you will learn how to configure the mail service of your Joomla website with SMTP. This is the best setup as it will ensure that your system emails are being sent out without any problems. To configure your email account, you need to follow the following simple steps.
To enable SMTP for your website, you will need to:
Create an Email Account
Log into your cPanel account and locate the Email section and then click on Email Accounts.

Enter the following details:
Email - Enter the name of your new email account.
Password - Enter the password for your new email account.
Password (again) - Re-enter the password for verification.

Click on the Create Account button to register the changes.
Configure SMTP in Joomla
Log into your website as administrator and click on the System tab on the top menu and then Global Configuration.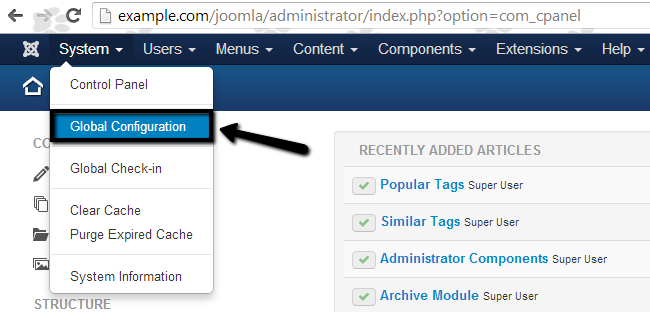 Select the Server tab.

Locate the Mail Settings section and edit the following:
Send mail - Yes
Mailer - SMTP
From email - Enter the email account created in the previous step of this tutorial.
From Name - Enter the name that you wish to appear on the system emails.
SMTP Authentication - Yes
SMTP Security - None
SMTP Port -25 or 2525
SMTP Username - The email account that you have created in the previous step of this tutorial.
SMTP Password - The password for that email account.
SMTP Host - mail.domain.com (change domain.com to your actual domain name)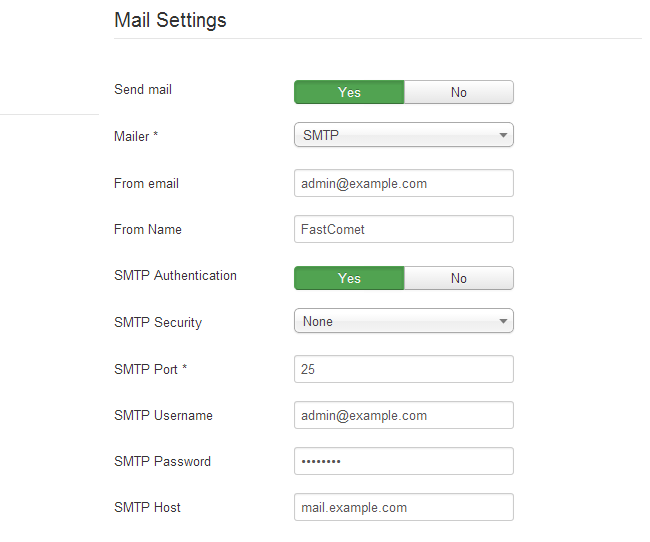 Click on the Save & Close button to keep the changes. You have successfully enabled SMTP for your Joomla website.