The wp-admin area of your website should be accessed only by the admin user and you do not need to allow access to anyone else for security reason and also to avoid and password brute force issues with your admin user.Activating the password protection for that folder is quite easy since your cPanel includes such feature.
In this tutorial we will discuss how you should create such a protection and how you should enable a user to access the protected folder.
Step 1

Activating Password Protection

 

In order to activate the password protection feature via the cPanel service you will need to of course login into the cPanel service. Next you will either need to use the search option at the top left area of the cPanel service or search on your own for the icon called "Password Protect Directories".

 

Once you access this feature you will be presented with a directory structure for all of the directories for your WordPress website and there you will need to click on the wp-admin folder link:
Once you click on that link you will be redirected to the actual interface where you will need to check the "Password protect this directory" checkbox, set the name of the protected directory and click the "Save" button.
Then you will be provided with a message indicating that this folder has been password protected and you will need to go back for setting the username and password for the user who will have access to that directory.

If you click on the "Go Back" button you will be returned to the previous page where you will be able to add a use who can access the password protected directory. 
Step 2

Adding a user with privileges to access the folder

 

Please use the "Create User" interface at the bottom of the page for creating a user who will have access to the folder.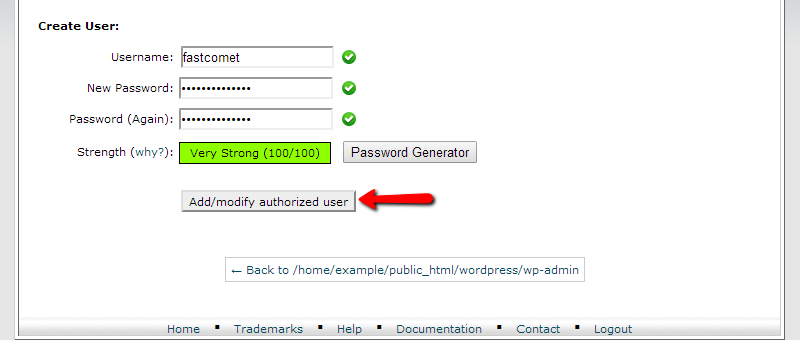 Once you are ready with the user click the "Add/Modify authorized user" in order for the user to be added in the allowed users list. When the user is added successfully you will be able to login with the username and password you have just created in the password protection interface when you access the wp-admin folder. 

Congratulations! You have successfully activated the password protection!