Locate the Softaculous Auto-Installer in cPanel
To access your Softaculous auto-installer simply login in your cPanel navigate to the Software/Services section and click on the Softaculous icon.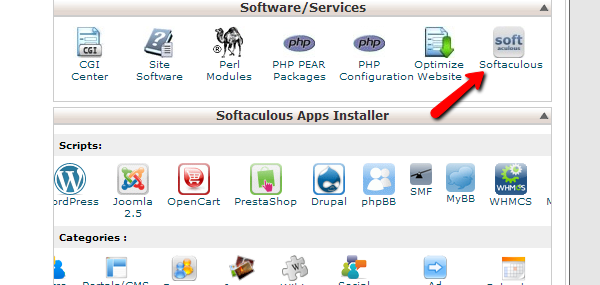 On the next page you will be referred to the Softaculous OpenSource catalog. From there you should navigate to the E-Commerce section from the menu on the left and click on Magento.

From the Magento page you can Install, review the Magento features, read reviews and ratings or check the demo. In this tutorial we will proceed with the installation process by clicking on the Install button.

Configure Magento Installation Settings
First, you can choose the desired Magento version, we recommend to install the latest version available but if you have a template or module that requires a previous Magento version you can always select the previous release via the drop down menu.
Secondly, you need to specify the protocol. In case you do not have a SSL certificate purchased and installed yet, you should leave this option to http://.
HTTP vs HTTPS
Installing your Magento application for the https:// protocol, without having a valid SSL certificate, might affect your website accessibility or result in security warnings. If you need a hosting solution with SSL certificate to secure your store, you may review our Magento Hosting plans.
The next option allows you to choose the domain name for which your Magento will be installed. In case you have any addon domain or a subdomain on which you would like to have your store configured, please select it via the drop down menu.
The last option you need to configure here is the name of the directory under which you would like to have Magento installed. If you would like to have your store accessible directly via your domain name (ex: http://example.com) then you should leave this box empty. In case you would like to have your Magento store accessible via any subdirectory (ex: http://example.com/store/), please fill in your directory name.

Complete Magento Installation Process
At the bottom of the page you need to configure your Magento Administrative username and password. This will be the account name and password required to login the Magento Admin Dashboard panel via which you can configure your store later. Please fill in your preferences and click the Install button.

After clicking Install, a progress bar which appear to help you track the installation process. In a few seconds your Magento store installation should be completed and you will be provided with links to both your Magento Store and Magento admin dashboard.

Congratulations, you have successfully installed Magento on your hosting account.