How to Configure your Magento 1.x Store
Updated on Mar 8, 2019
In this tutorial we will cover the main configuration settings of your Magento E-Commerce website. To access the configuration area of your Magento, please login your Magento Admin Dashboard and navigate to System → Configuration tab.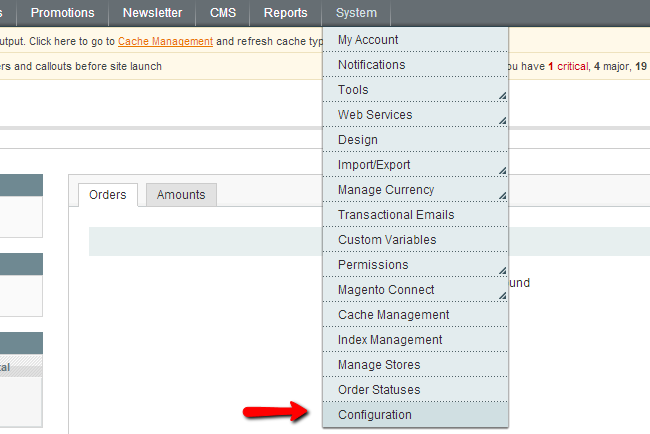 To configure your Magento Store, you will need to visit these menus:
General Settings
Under the General Tab you can configure several country specific options of your Magento Store. First, please select your default store country and the allowed country. Depending on the countries in which your business can operate you should select or deselect any desired countries.

Next, you should select the countries for which the exact State will be required if at all required. Then, proceed with your Store Locale Options. These settings affects your store time zone and working days. The last step is to configure your Store Information including your Store Name, address and telephone number.

When you are ready with your settings you may click on the save button at the top right corner of your screen.
Design Settings
In the HTML Head section you may configure your Magento store favico and Default Title, title prefix, suffix and the default description. The Default Title will be used for any page that does not have a specific Title configured and the prefix/suffix options can be used if you would like to apply a certain word phrase before or after your page titles.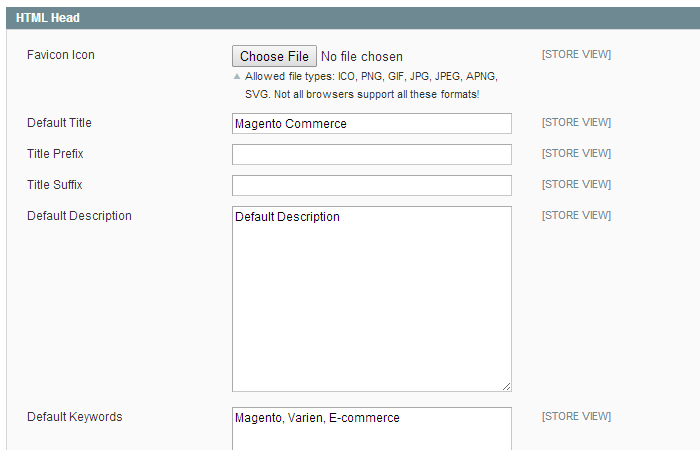 Under the Header section on the same page below you can configure your Magento Store Logo and default welcome message as well as the footer copyright text in the Footer section.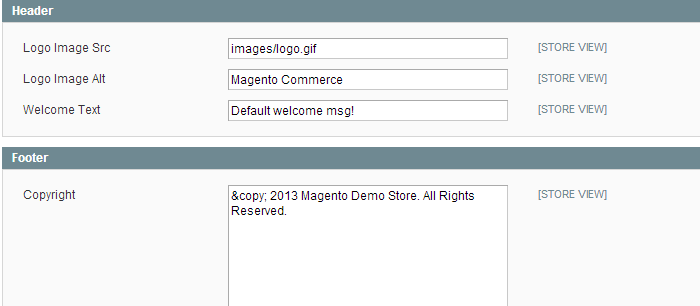 Currency Setup
Another important aspect of your Magento store configuration is your currency setup. You may refer to the Currency Setup tab via the tab on the left. Here you can configure your default Magento store currency and allow additional currencies that will be available to your clients to pay for their orders.

Store Email Address
Next, you should configure your points of contact. This can be done via the Store Email Addresses tab on the left.

Catalog Settings
After you have your store basic settings applied you should consider change your Magento Frontend Catalog settings. This can be done via the Catalog tab on the left.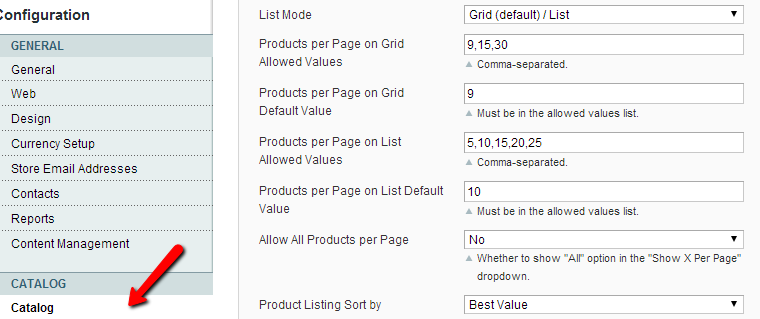 In this section you can configure how your products are displayed (grid or list), how many products per page will be displayed and many other settings.