In this tutorial we will show you how to install a new theme on your Magento store via the Magento Connect extension manager. Be advised that if you have custom theme purchased or downloaded via a different vendor that does not have an extension key you will need to review the installation instructions and follow the steps specific to your theme to install.
Free Magento Theme Installation
FastComet provides free premium support services with all Magento Hosting Packages. This service includes free Magento installation, free Magento Theme installation as well as free Magento Extension installation.
To install a Magento theme via the Magento Connect manager you should first obtain the theme extension key. This can be done directly from the official Magento website.
You need to be registered and logged user in the official Magento website in order to obtain the extension key. When you choose the desired Magento theme you can obtain its extension just like any other Magento Extension by click on the Install Now button. This will give you the option to select the desired Magento Connect version and obtain the theme key when you agree to the Extension License Agreement.

Copy the Magento Theme extension key and refer to your Magento Connect manager available in your Magento Admin panel under the System → Magento Connect → Magento Connect Manager menu. If you are not exactly sure how to access your Magento Connect, please check our tutorial on the matter.
When you are logged in your Magento Connect Manager paste the Magento Theme extension key and click the Install button.

If you see the theme ready to install in the dependency menu you can safely proceed with the installation by clicking on the Proceed button on the right side.



If the Magento Theme installation is successfully completed the terminal screen should report that the extension installation is completed and your Magento Store cache has been flushed.

Now when the Magento Theme has been installed on your Magento we should configure your store to use the new theme. This can be easily done via your Magento Admin Dashboard by navigating to System>Design menu from the top navigation.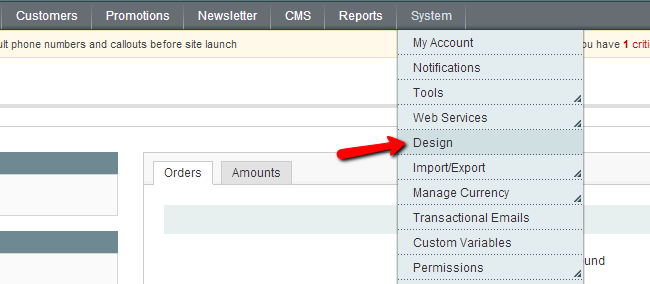 On the next page click the Add Design Change button on the top and select your new theme via the drop down available.

When you are ready click the Save button on the top right. Your new design should be applied now. Please check your Magento store front page.
Magento Cache
In case the new design is still not properly displayed, please clear your Magento cache via Magento Admin panel -> System → Cache Managment.