Setup Google Analytics Tracking
Updated on Mar 8, 2019
Google Analytics is a powerful free service provided by Google which can give you a full overview and detailed insides about your website traffic. One of the most distinguished features of Google Analytics is the Live traffic monitoring, site referrals, your top key words and search terms as well as advanced SEO data.
Get Free Google Analytics Integration
FastComet Magento Hosting package is specially optimized to provide fast and secure hosting environment for Magento with free 24/7 Magento Technical Support.
Before being able to setup and integrate Google Analytics you will need to sign up for a free Google account or use your existing one if you have such.
After the straight forward registration process you will be able to add your website at the Google Analytics Dashboard and you will receive your unique tracking code (Account Number such as UA-12345678-1). You should copy this code as it will be required latter in your Magento Admin panel configuration settings.
When you have your code obtained, please refer to your Magento Admin panel → Configuration menu.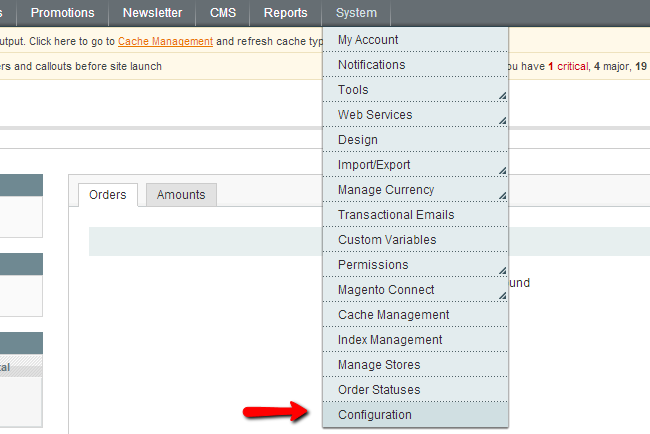 From this page, scroll to the SALES section of the menu on the left and click on the Google API menu.

Expand the Google Analytics section and fill in the Account Number you have obtained after setting the Enable option to YES from the drop down menu. Save the settings and allow a few minutes for the Google Analytics Dashboard to start receiving data.