Changing the Logo of your community
Updated on Dec 14, 2015
Part of the customization of your social community will be changing the logo of your website. No matter if you are changing the default logo after successful installation or you are updating your already used logo the method is one for both of the cases.
To change the community logo in Doplhin, you will need to:
Step 1

Access the Logo Modification page

First you will need to have a logo image prepared on your local computer as the method of changing your logo does not allow for the logo to be directly included with a link.

Next you will need to login into your Boonex Dolphin platform administration area and navigate to Settings>Basic Settings.

There you will notice the second interface at the center of the page simply called LOGO.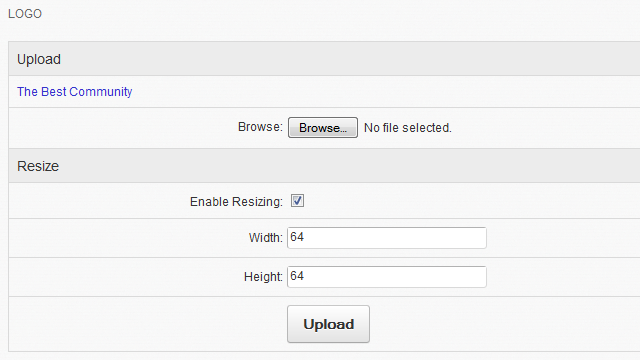 Step 2

Upload your New Logo

In order to upload the logo you should point where it is located on your local computer using the "Browse" button. Once the logo image is pointed you should edit its size as you might want to have different than the preconfigured size of 64x64px.

At last you will need to simply click on the Upload button and your logo will be uploaded and activated.

Keep in mind that the logo will be displayed at the header of your website. If you have performed a default installation recently the default logo will give you best suggestion how your logo should look like.

Congratulations you have successfully uploaded your brand new logo!
Advice
Keep in mind that png images provides options for transparency especially useful if you would like the logo to nicely fit your background. Another advice we can give here is that you should avoid using images with massive proportions of width and height if of course you would like to achieve nice and user friendly design.