Customizing the Registration Page in Dolphin
Updated on Dec 14, 2015
The registration form of your social community is the place where your new members will be signing up for an account in your Social Community. It is important to provide the new members with easy and secure way to register a new account on your application. Thus you most probably would like to edit the default configuration of theregistration form.
To modify the Registration form in Dolphin, you will need to:
Step 1

Find the Configuration Interface

The editor for your registration for is available under the Administration area>Builders>Profile Fields.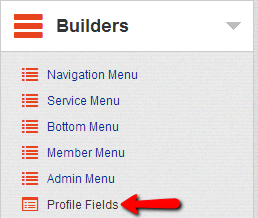 There you will find similar Fields Builder as the one you have used for building your navigation menu and also the blocks on your Home page.
Step 2

Configure the Blocks on the Registration page

The Fields Builder page is separated on 3 groups of items. Each group contains the items which in this case are the actual fields on your registration form:
Active Items – The items displayed on the registration form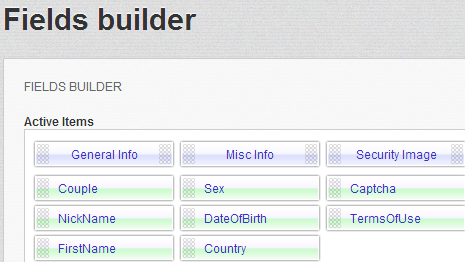 Inactive Blocks – The blocks you can use on the registration page
Inactive Items – The items (fields) available for adding on your registration form
If you would like to add a field to your registration form you will need to drag-and-drop an existing item from the Inactive Items to the Active Items group at the location you would like the new field displayed at.
For example, let's add the Religion field to the Misc Info section of the registration page. This can be easily done if we drag-and-drop the Religion item from the Inactive Items group to the Active Items group under the Misc Info block.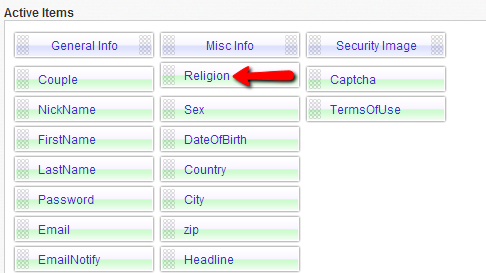 Now if we check our registration page the new field will be displayed correctly.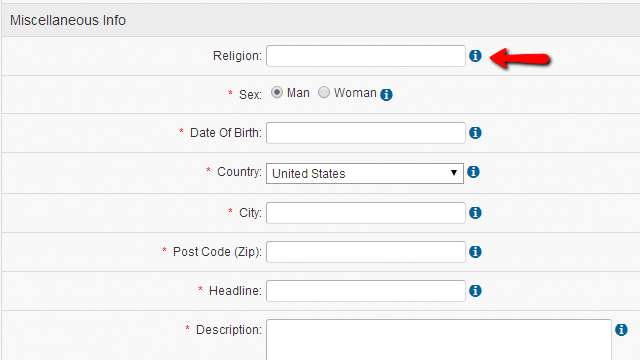 The removal of the fields is quite similar to adding such. The only different thing is that you will need to move the item you would like to remove from the Active Items group to the Inactive Items group.

Now you know how to manage the items for your registration page.