Remote MySQL access
Updated on Sep 7, 2018
If you would like to have access to your database from a remote location or connect an application that is located on a different server to your hosting account databases you will need to use the Remote MySQL Access feature in your account cPanel.
The Remote MySQL Access tool is located under the Database section of your cPanel.
The Remote MySQL Access tool is pretty straight forward - you will need to simply add the IP address of the remote server or computer. If you would like to access your databases via your local computer, you should input your local IP address. You can find out what is your current local IP address by simply typing "What is my IP" into the Google Search box.

Just copy the IP address and add it to the allowed hosts.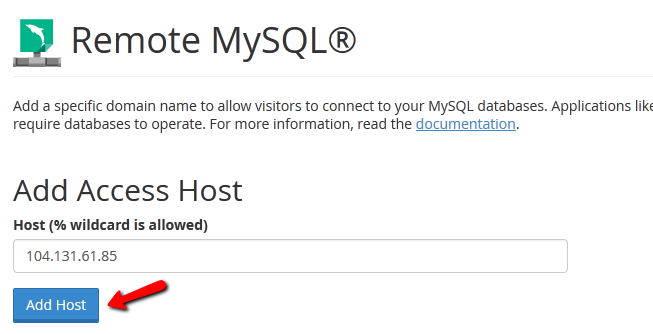 If you would like to allow access from any IP address to your databases, you should input the wildcard sign - "%" - without the quotes. Click on the Add Host button when you have the desired host set in the field.