Set Default/Catch-all Email Address
Updated on Sep 7, 2018
Default email address is another useful email related feature in cPanel. This tool allows you to configure a single email address to receive all incoming messages for your account. For example, if you would like to have several email addresses such as support@ sales@ billing@ but still you prefer to receive all incoming emails into a single email account, you can set it as default/catch-all address.
To achieve this, please login your cPanel and refer to the Default Address icon under the Mail Section.

On the next page select your domain name from the drop down menu for which you would like to have your emails rerouted. Additionally, please make sure you have the correct option selected - Forward to email address and input the desired destination email.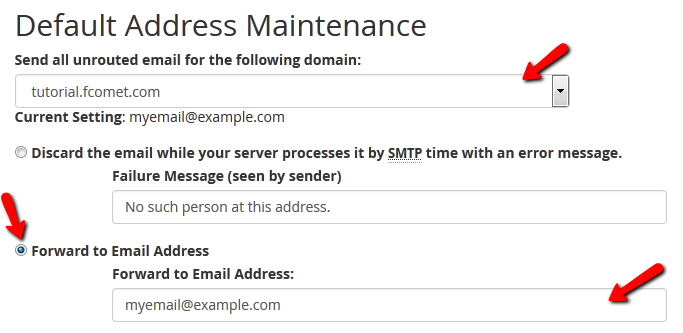 Be advised that in order to have all emails directed to this default email address the destination emails should not exist. In other words, if an email account exist, a message sent to it will not be directed to the catch-all mail box. You will need to set an email forwarder for your existing accounts if you would like to have their mails forwarded as well.
When you are satisfied with your settings click on the Change button to save your default email configuration.