If you have your domain name pointed to your hosting server via the name servers records this means that your DNS zone is managed via your hosting server. In this case, cPanel provides with two different tools to create and manage your DNS zone via an easy to use interface.
Step 1

Simple Zone Editor

If you would like to simply add an additional A record for your domain name or point a subdomain to a remote IP address you can use the Simple Zone Editor located under the Domains section in your cPanel.

 

To add a record, please select the desired  domain name and input your subdomain name and the destination IP address.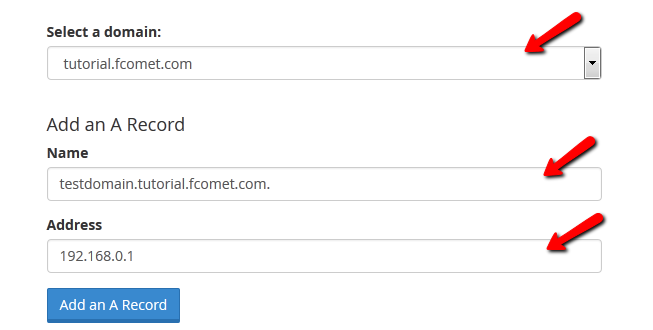 When you are satisfied by the results click on the Add button to create your DNS record.
Step 2

Advanced Zone Editor

If you would like to perform more advanced operations on your DNS zone or you would like to edit an already existing DNS record you should refer to the Advanced Zone Editor in your cPanel under the Domains Section.

 

In the Advanced Zone Editor select the desired domain name and scroll down to the DNS records list for the desired domain name.

Here you can edit or remove your records using the Action links on the right side of your screen.

Via the edit interface you can modify your record canonical name, TTL, record type and the destination.

When you are satisfied with your changes, click on the Edit Record to save your settings. If you would like to disregard your changes, please click on the cancel button.
If for any reason you would like to restore your DNS zone from our backup you may do so via the cPanel Restore Manager following our tutorial.