Every FastComet web hosting account, cloud or dedicated server includes cPanel completely free of charge for our customers. To access your hosting account or server control panel, please review your hosting account welcome email. You should be able to locate your cPanel URL, cPanel username and password.
By default cPanel is globally accessible on cPanel/WHM-based servers by typing any domain or IP associated/pointed to the server. If you domain name is already pointed to the server simply type:
http://example.com/cpanel
Remember to change 'example.com' with your actual domain name. Alternatively, you can use the server hostname or the server IP address to access your cPanel. Both the server hostname and the server IP address are included in your welcome email if you have signed up with FastComet.
When you access the cPanel URL you will be directed to a secure login page to input your cPanel username and password.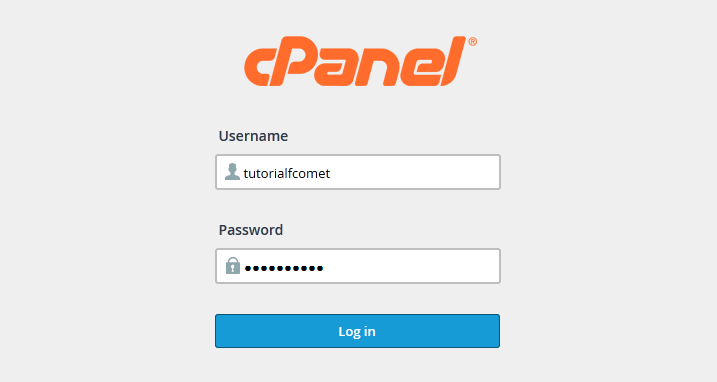 To login, please enter your cPanel username and password and click on the 'Log in' button. Be advised that your cPanel username and password may be different from your Client Area login details.
If you are not able to access your cPanel by using /cpanel with your domain name, the issue might be caused by the non-standard cPanel port 2082/2083 which is sometimes blocked by local Internet service providers. As an alternative to the standard URL you may use the so-called cPanel Proxy URL which uses the standard HTTP port 80. To access the cPanel via the cpanel proxy, simply use:
http://cpanel.example.com -- remember to replace 'example.com' with your actual domain name.

If you login for the first time in your cPanel you will be displayed with a welcome box which provides some basic guidelines on how to manage your account. For more information you may review the Get Started Now tutorials in your cPanel or skip this tutorial by clicking on the "No, I'm fine" button. Anyway, you can always access these tutorials later via the 'Video Tutorials' icon in your cPanel.