How to edit default OpenCart 2 pages
Updated on Sep 8, 2016
By default OpenCart 2 comes with several default pages with sample data. These pages are created for your convenience and can be easily edited via your admin dashboard. To edit the default About us, delivery information, privacy policy and your store terms and conditions, please login your OpenCart admin dashboard and refer to the 'Information' section under the Catalog menu in the main navigation.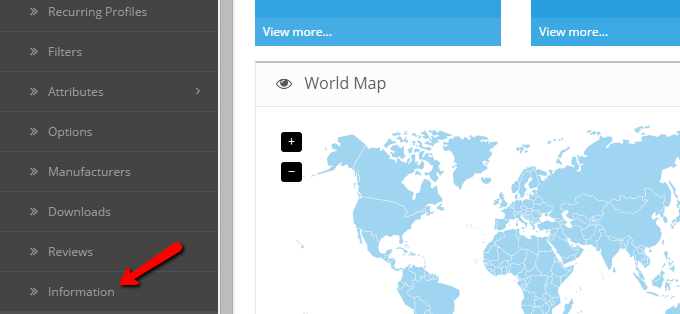 Under the Information page list you will find all default pages of your OpenCart 2 store. To edit any of the pages, please click on the edit icon next to the page name.

Via the edit page you can modify your page Title, Description and SEO data. Via the Data tab you can select for which stores this page will be available and the page SEO URL. Additionally, you may show or hide the page from the footer menu by checking the Bottom option and set the sort order for the page. The sort order configures the position of the page in compare to other Information Pages. The smaller the sort order number, the higher position will be applied for the page in the menu.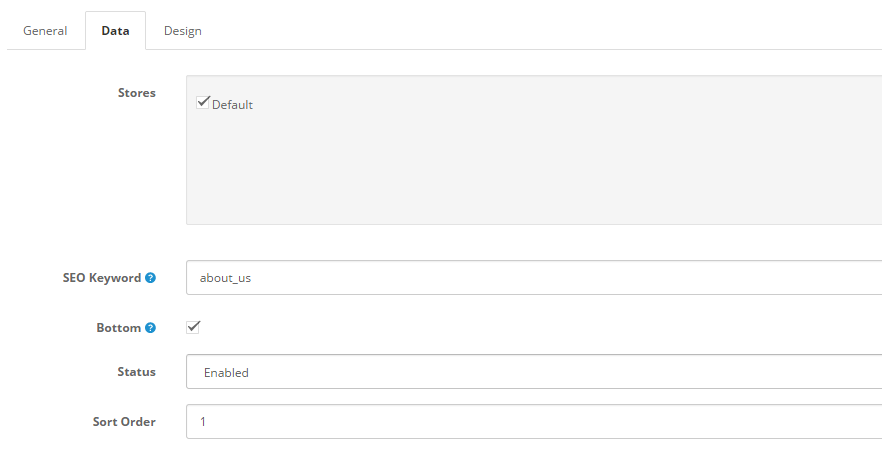 Via the design tab of your page settings you can select a custom layout for your page. If your theme requires a special layout to be selected, please choose the required configuration. Otherwise you can leave the default settings for your page.
When you are ready with your modifications, please click on the Save icon to apply the changes.