How to Manage User Groups in PHPFox
Updated on Dec 18, 2015
In PHPFox, you can divide the users on your website into different User Groups. This is a good way of allowing certain features for some users and deny access to them for others.
The user group management in PHPFox, includes:
Step 1

Default User Groups

Let us review the default user groups that come as pre-defined with the initial PHPFox installation. There are 5 such groups:

 
Administrator - This is the most important user group. At first, there will be only one user in it, which is the administrative account created during the installation of PHPFox. The accounts within the Administrator user group will have access to all features of your website and will be able to edit them as well.
Registered Users - This is the second user group that come pre-defined with the initial PHPFox installation. It will be assigned to all of the users that register on your website. They will have their own profile area, they will be able to edit their information. However, they will not be able to edit information for other customers, add new information fields, etc.
Guest - A guest user does not have much access in PHPFox. In most of the cases, they will not be able to get past the registration form.
Staff - You can place your website's moderators into this user group. They will be able to edit certain information, change subscriptions, edit blogs, etc.
Banned - The banned user group is for users that you wish to deny access to your website. They will not be able to place new registrations at all.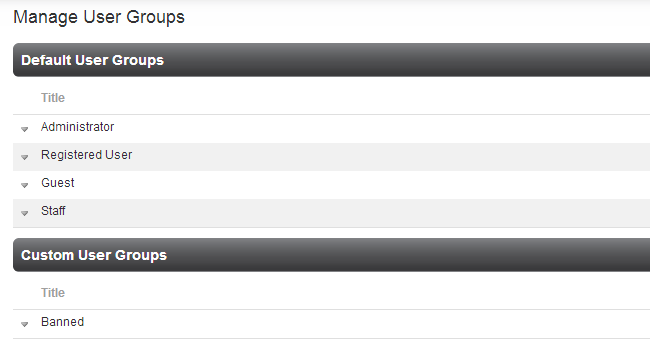 Step 2

Change Permissions

To change the permissions of a certain user group, you need to access your website as administrator and then click on the AdminCP button at the top-right corner.

 

Select the User button at the top menu and then User Group Manager > Manage User Groups.

Click on the Arrow drop-down box next to the user group that you wish to edit. Then, simply click on the Manage User Settings option.

Select the actual module that you wish to change the settings for. For the purpose of this tutorial, we will allow the user group to have custom fields. Thus, we select the Custom module. Then we change the Can have special custom fields? option to yes.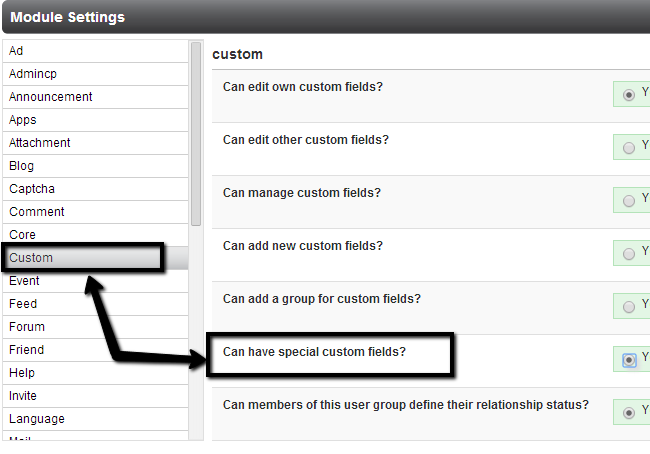 Click on the Save button to keep the changes on your website.