How to Add a Custom Field in PHPFox
Updated on Dec 18, 2015
With PHPFox, you do have a number of pre-defined fields for each of your users. However, you may want to add a custom one that is not within the default information fields. There is a way for achieving that.
Access your website as administrator and then click on the AdminCP button at the top-right corner.

Select the User button from the top menu and then Custom Fields > Add Custom Field.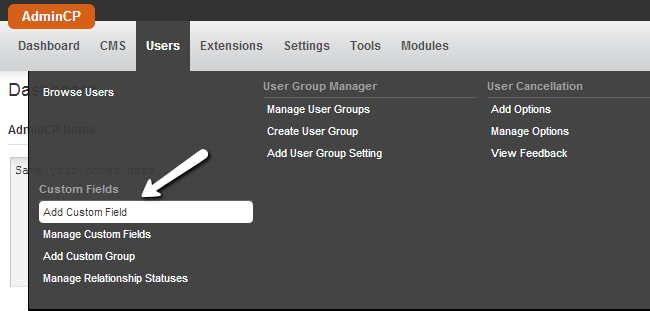 Edit the following options:
Product - Select Core from the drop-down box
Group - Select the Group where you wish to place the new custom field.(this is not a user group, but a group of fields)
Location - Choose the location of the custom field. When someone is accessing a user profile, all of the fields are grouped in a certain way. Select the Basic Information section if you wish to group this field with the others. Select the Main Section if you wish to separate the new custom field from the pre-defined ones for PHPFox
Required - Make the new custom field required for your users
Include on Registration - You can include the custom field during the registration process on your website
Type - Select the type of the new custom field. You can set it as a selection, text area, radio buttons, etc.
Name - Enter the name of the actual custom field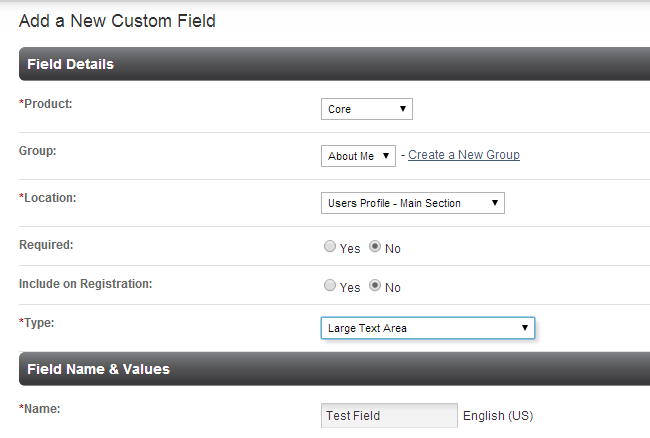 Click on the Save button to create the new custom field.
For the purpose of this tutorial, we have edited the new custom field on our admin profile and here is how it looks on the front-end of PHPFox.