How to Add a Custom User Group in PHPFox
Updated on Dec 18, 2015
You have the ability to add custom user groups on your PHPFox website. This is a good way of setting your own preferences for the users on your website and their needs.
Access your website as administrator and then click on the AdminCP button at the top-right corner.

Select the User button at the top menu and then User Group Manager > Create user Group.

Edit the following fields:
Name - Enter the name of the new user group.
HTML Prefix - Enter an html prefix for the user group (optional).
HTML Suffix - Enter an html suffix for the user group (optional).
Icon - You can upload an icon for the new user group.
Inherit - Select an existing user group from your website. The new user group will inherit all of the settings from it, instead of manually adding them during the creation process. Note that you can still change all of the settings for the new user group later.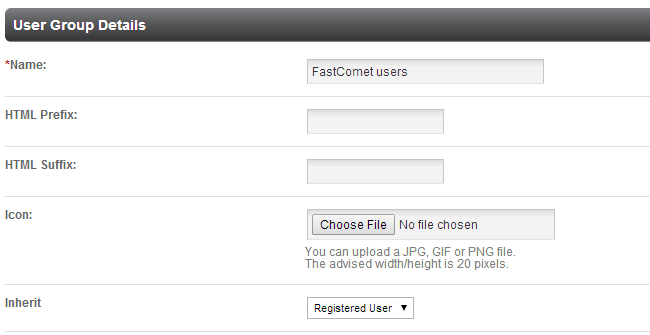 Click on the Add User Group button to keep the changes.
Additional Information
Upon completion, you will be taken to the User Groups management panel, where you can make changes for the new group. You can review our tutorial on how to manage PHPFox user groups for details on that..