Check the Domain Transfer Requirements
If you consider transferring your domain to a different registrar you will need to make sure that the new one supports the extension of your domain name. Most common domains such as .com, .net and .org are usually supported by most companies, however, some country specific domains and uncommon extensions might not be supported by your new domain registrar.
In order to initiate the domain transfer process you will need to obtain the EPP/Authorization key for your domain. The EPP/Authorization key can be generated by your current domain registrar upon request. The key is required in order to submit your transfer order with the new registrar for your domain name.
Be advised that EPP/Authorization key has an expiration period of up to several days, so you should submit your domain transfer order soon after the key is generated for you or regenerate it to make sure it will be valid by the time your transfer order is submitted.
In general, the following requirements must be met in order to have your domain successfully transferred to the new registrar:
The domain name to be transferred should be in "ok" or "active" status (check) domain status codes
The owner of the domain should have access to the domain's administrative email address.
The owner of the domain name should have access to the domain's EPP/Authorization code.
The domain name must be at least 60-day old.
The domain name should have more than 15 days before expiration.
The domain name must not have an active ID protection service.
After the domain transfer process is initiated you will receive an email with a confirmation link. This link will be valid for 5 days and you will need to click on the link to confirm and start the transfer process.
As soon as the domain transfer process is complete, which might take from a few hours to up to several days, you will receive a second email from the new registrar to confirm your domain WHOIS information. This is an important step as well and you need to confirm your domain information, otherwise the domain will be deactivated due to ICAN regulations.
Both the domain transfer and whois verification emails can be resent any time by the new domain registrar, so if you miss any of the emails you can request to have them resent to you.
Transfer Your Domain to FastComet
FastComet provides domain transfer services to all existing customers. Transferring your domain to FastComet will give you access to our user-friendly domain management interface to take full control of your domain. Additionally, all transferred domains to FastComet will be renewed for one additional year completely free of charge and you will always renew your domain on the same great price.
To initiate the transfer process for your domain name, please make sure that all requirements for a successful domain transfer are met and you have access to your domain administrative email address. If you no longer have access to that email address you may request to have that email changed by your current domain registrar.
When you are sure that all requirements are met, login your Client Area and click on the Domain Transfer link under the Domains section in your Client Area.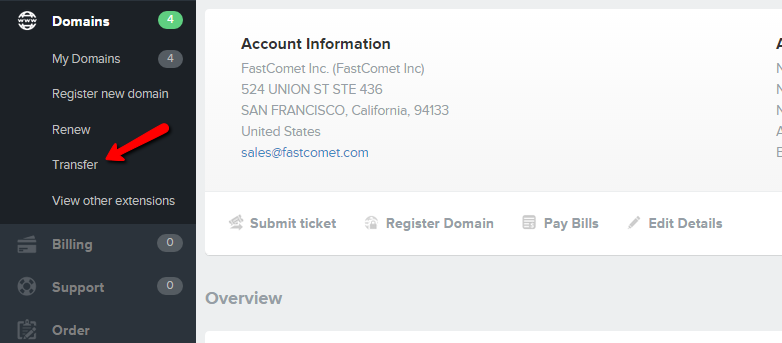 Input your domain and select your domain extension to check if the domain transfer is available for your domain. If you do not find your extension in the list, contact our technical support for additional information via your client area get support section.

If your domain is available for transfer, click on the Add to Cart button to proceed.

Next you will be asked to input the name servers for your domain. Be advised that these name servers will be set after your domain transfer is complete. During the transfer your domain will not be modified by our registrar.
Complete the check out process to submit your order. If all requirements for the successful domain transfer are met you should receive your domain transfer confirmation email shortly.