How to Access your FastComet Affiliate Dashboard
The first thing you will need to do is to access fastcomet.com, scroll to the footer of the website, and click on the Affiliate option located under the Perks menu.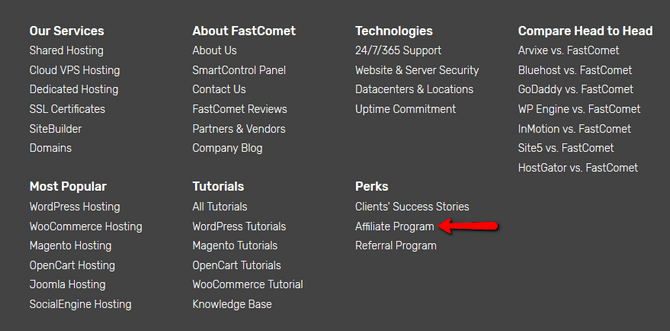 You will be presented with the starting page of our affiliate program on which you can log in to your Affiliate profile.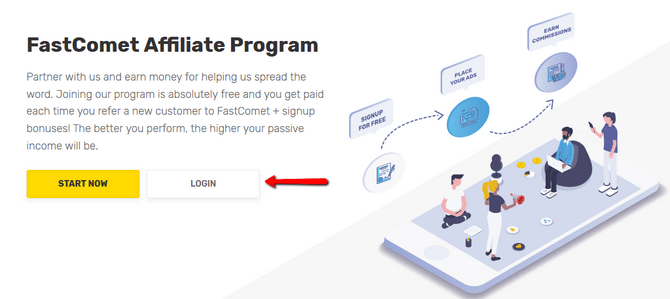 Where to Find Your Affiliate Banner Link and Code
Here you will have several options available to you from the main navigation bar located on the left. Navigate to the Promotion → Banners & Links section.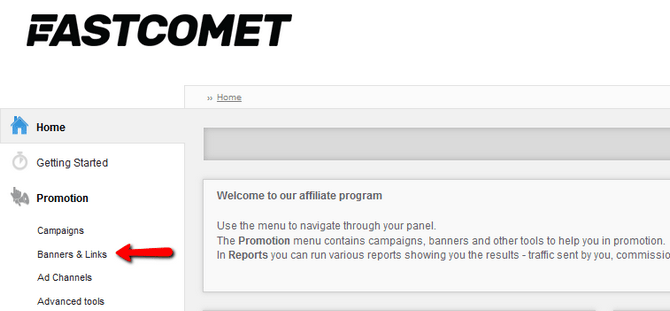 Here you can select the campaign for which you want to list the available banners and select which banner types you want to see.
Campaign Filter
Campaigns are split into Shared, VPS, Dedicated Server and Open Source Hosting. That means that a Black Friday promotion will be present in multiple campaigns with different dedicated banners. Despite that, remember that all of our banners are of high quality and do not contain extreme colors or overexposed animations to ensure a high click rate.
Target URL Filter
The Target URL field will let you search via one of the predefined URLs, which we have added. Taking the example from the note above, if a promotion has a landing page and you select ALL campaigns, you can find all of the banners for it by using that URL in the Target URL field.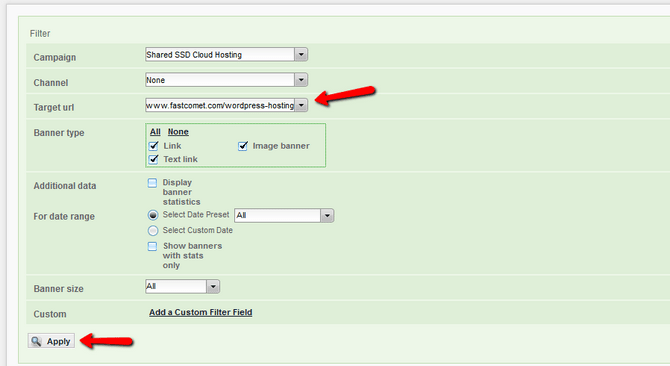 Banner Size Filter
Using the Banner Size filter, you can further narrow down the banners to the ones which will fit in the layout of your website.
Note
A small percentage of banners may not appear in the already defined banner sizes as we provide some unique banners with resolution outside the norm e.g. Facebook page covers, email header images, etc.
When you select a banner with the appropriate type and size, you will be able to click on the Get banner code button to receive the script, which you will need to implement on your website.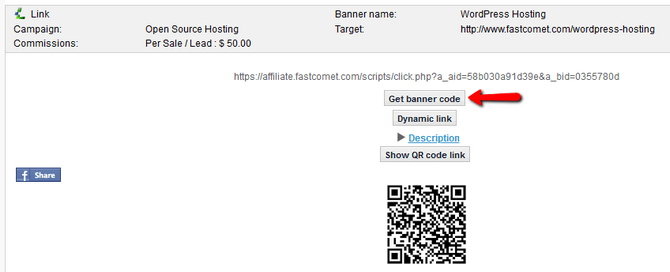 In some cases, there may not be a script but only a link. That is when you select a banner that does not have an image. Image or GIF banners' code will look like the example shown below. Copy the script and paste in on the page on which you want to have the banner show.

That's all there is to it. In just a few minutes, you have created an affiliate account, chose a banner suitable for your needs, and implemented it on your website.
Now all you have to do is to continue promoting and let your passive income accumulate.