How to Configure Shipping Methods in Arastta
Updated on Dec 10, 2015
In this tutorial, we will illustrate how to configure the Arastta shipping methods for your Store. You will get 4 pre-defined shipping methods with the installation of Arastta. Only the Flat Rate shipping comes installed and enabled by default. If you want your clients to be able to use one of the other methods you will need to first install them and then enable them.
In order to setup a shipping method, please follow these steps:
To access the shipping manager you will need to login to your admin dashboard and navigate to Marketplace>Shipping.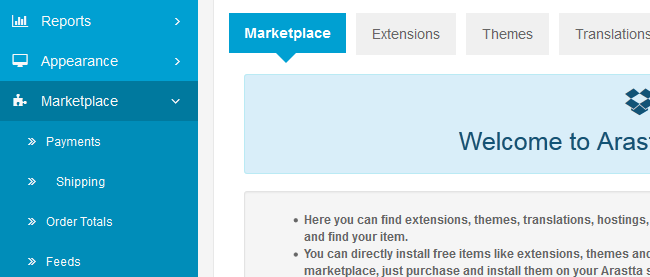 Step 1 Install Shipping Methods
Let us enable Weight Based Shipping. Click on the green Install button corresponding to the shipping method.

After just a second and one click the Weight Based Shipping has been installed. This is indicated by the transformation of the green install button to a red uninstall button.
Step 2 Configure Shipping Methods
This method is still disabled. You will need to enable it via the edit menu. Click on the blue Edit icon.

Here you will see three different sections with options. The main one being the General section as the rest contain only UK related options.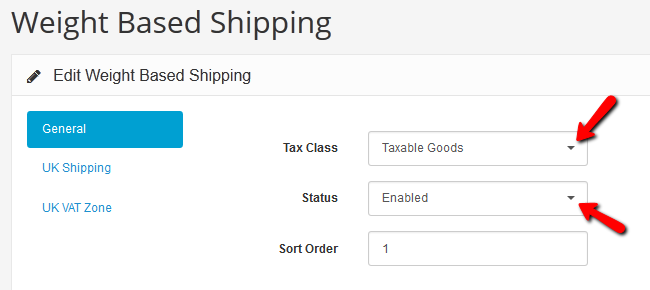 Tax Class - The tax class can store multiple values for tax rates and gives you flexibility when taxing your clients. For more information on how to create new tax classes visit out Tax Class tutorial (LINK TO Tax class tutorial)
Status - Enabled/Disable the shipping method
Sort Order - The location of this shipping method compared to other shipping methods when the client selects them during checkout (1 will be on top of the list) Weight Based Shipping will not show up as a selectable shipping method if the product's data tab weight field was not filled.
Now your clients will be able to use yet another way of shipping goods. Congratulations!