Arastta Discount Coupons
Updated on Dec 10, 2015
Discount coupons are a good way to attract new clients to your website. Setting up the exact amount of released coupons and discount rates is very important for your business's profitability. Thankfully Arastta has a lot of settings you can configure while making your discount coupons.
To Add a new Discount Coupon, please follow these steps:
Step 1 Locate the Coupons in Arastta
To create a new coupon firstly you will need to be logged in your admin dashboard. Then navigate to Marketing>Coupons.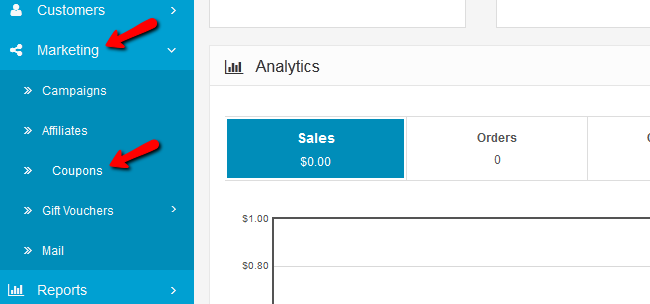 Step 2 Create and Configure a Coupon
You will see a few existing coupons which come with the installation of Arastta. However, they are currently disabled.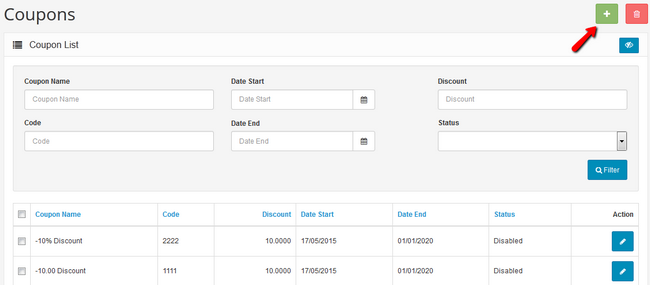 Click on the green Add New button located at the top right corner of the page to create a new coupon.
You will now be able to configure the following settings: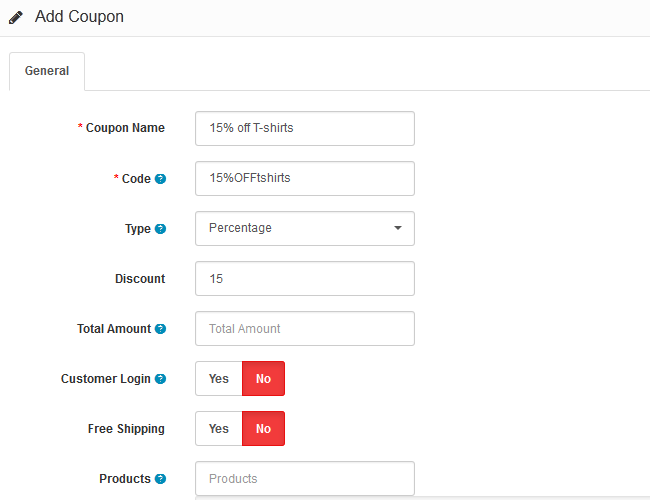 Coupon Name - The name of the coupon
Code – The code the client needs to enter in the shopping cart to use the coupon
Type - The discount can a percentage or a fixed amount from the total amount
Discount - The discount amount
Total Amount - The amount a client must reach before he can use the coupon
Customer Login - Selecting Yes will force users to login to their accounts before being able to use the coupon.
Free Shipping - Selecting Yes will give the client free shipping when using the coupon
Products – You can select Individual products for which the coupon will apply. To remove a product, click on the minus icon in front of the product.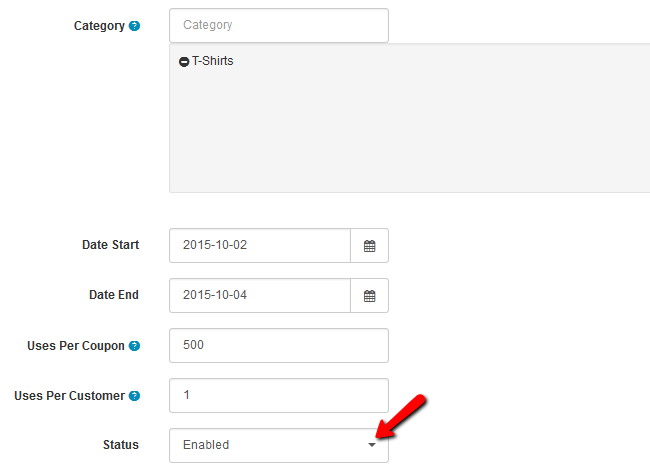 Category – You can select for which category of products you want
Date Start – The date from which the coupon will be active
Date End – The date to which the coupon will be active
Uses Per Coupon – This is the amount of times a coupon can be used
Uses Per Customer – This is the amount of times one customer can use the coupon
Status – Enable/Disable the Coupon
We have created coupon for 15% discount on all items in the category T-Shirt for the weekend which can be used by 500 different customers only once per customer.
Hit the Save button to finalize the creation of the coupon.