How to Backup your Magento 2 website
Updated on Mar 13, 2019
The most reliable and safe way to backup your Magento 2 website is by manually exporting your files and database to your local computer. In this tutorial we will show you the process and actions needed in order to achieve that.
To backup your Magento 2 Installation, you will need to:
Backup Files
The first thing you must do in order to backup your files is to access your hosting account's file structure.
Downloading Files
There are two ways of downloading your files from the server - using an FTP client, following our FTP tutorial, or downloading directly through your cPanel account > File Manager, following our cPanel tutorial.
It is important to locate the directory that contains all of the files and folders of your Magento 2 installation.
If you are accessing your website via http://example.com/ Magento 2 will be located directly within the /public_html directory of your account.
However, if you are accessing your website via a link like http://example.com/store/ where example.com is your domain name and "store" is a subfolder on your account, this will indicate that the Magento 2 application is located in that folder within the /public_html/ directory of your account.
Export Database
To create a backup of the MySQL database used on your Magento 2 website, you need to navigate to the phpMyAdmin service from within your cPanel.

Click on the name of the database used by your website.

Hit the Export button to save the database on your local computer as a .sql file.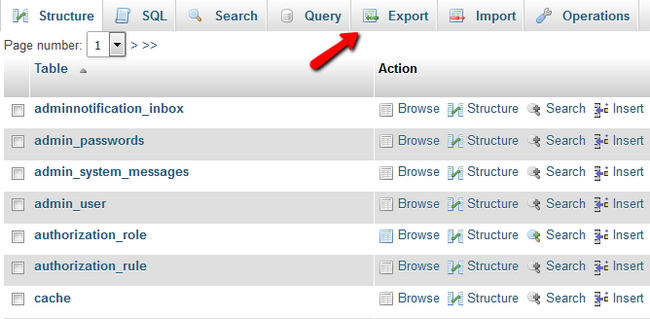 Select the Quick exporting method, SQL as a format and hit the Go button.
With this done, you have completed the backup of your Magento 2 Store.