Pruning a forum means that you will remove all of the topics which are older than a specific age in days which you will be able to select of course. phpBB allows you to perform this action in quite an convenient way via the implemented Prune Forums feature.
In this tutorial we will show you how you should prune a specific forum with topics older than 30 days following few easy steps.
To prune your forums in phpBB3, you will need to:
Step 1

Access the Prune Forums feature

Since the Prune Forums feature is available only in the Administration Control Panel of your Board, you will need to login there and navigate to Forums>Prune forums.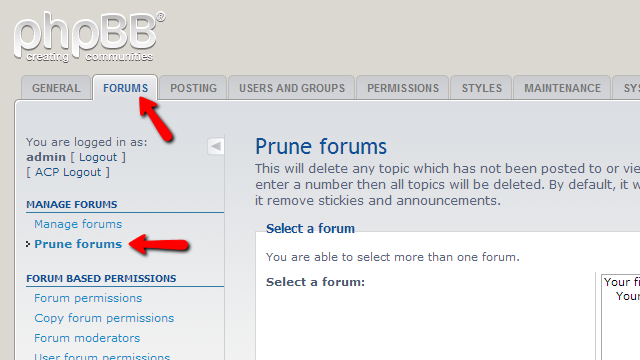 On the Prune forums page you will be presented with more information on what exactly the pruning action will achieve and also a list of your forums where you should select the forum you would like to prune.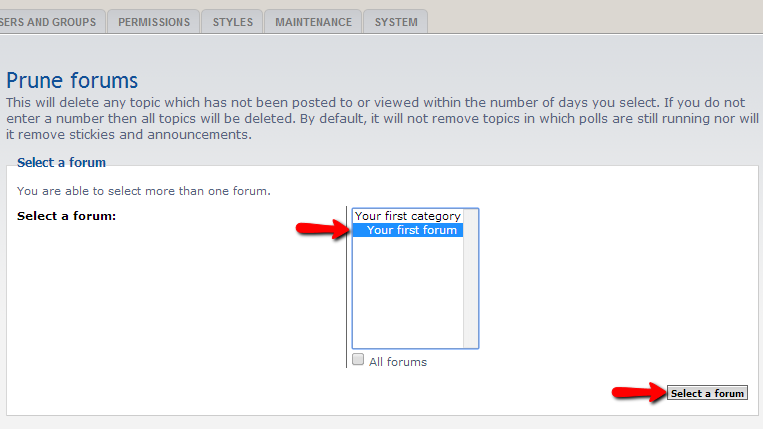 Once you have selected the forum please use the Select a forum button so you can proceed with the pruning process.
Step 2

Configure the Prune Forums feature

On the next page the process continues with the configuration of the terms the forum you have selected will be pruned with.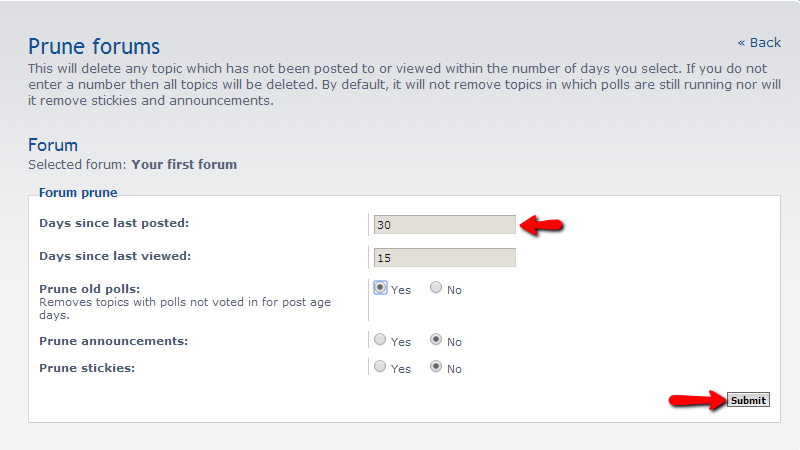 A good practice and maybe a mandatory for you will be to input the age of the posts that should be removed. This can be easily achieved by entering the number of days since the last posts in the forum has been performed. This will ensure that post older than the entered age will be pruned.

Once you have configured the pruning procedure you should click on the Submit button so you can proceed. On the next page you will be asked for a simple confirmation which after confirmed will trigger the actual pruning process for the selected forum.
Finally you will be presented with a statistic for the pruned topics and posts upon a successful pruning.

That is all! You now know how to prune your forums!