Configuring your phpBB3
Updated on Jan 6, 2016
Once you have your Forum installed you probably would like to configure it depending on your personal needs. phpBB provides large amount of options in its configuration and in this tutorial we will show and explain all of these options.
The Board Configuration process includes:
Step 1

Access the Board Settings page

In order to access the configuration page for your Forum please login into the Administration Control Panel and navigate to Board Configuration > Board Settings.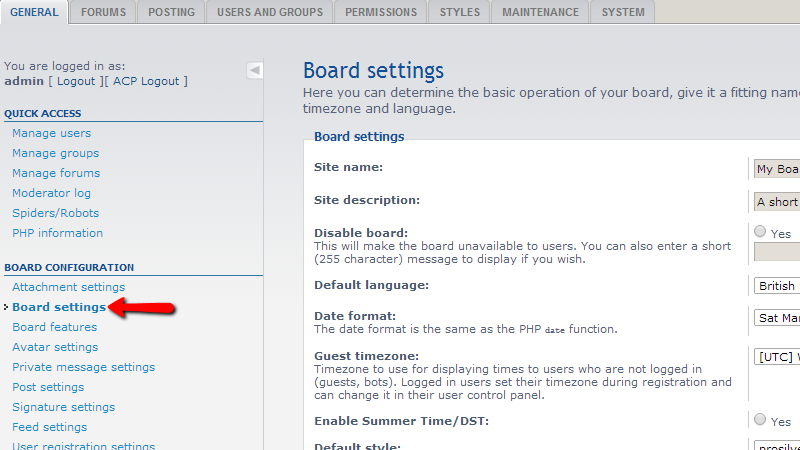 This link will redirect you to the Board Settings page where you can set all of the basic settings for your forum.
Step 2

Page overview and Configuration

The Board Settings interface contains the following fields:
Site Name – The name of your website
Site Description – The description of your forum
Disable Board – Option to disable your forum and present the users with message what is the reason for disabling it
Default Language – The default language your board will be displayed in
Date Format – The format of the date. Note that the date will be displayed on each and every post/topic of your board
Guest Timezone – The timezone of the blog presented to the users viewing your board not as registered members. Usually the bots are also considered as such
Enable Summer Time/DST – If the time on your forum should consider the Summer Time/DST change.
Default Style – The template your board will be using as default
Override user style – If the user selected board template should be overwritten by the default template you have configured in the previous setting
Warning duration – The duration of warnings/notifications. After the configured period the notification/warning will expire
Once you are done editing all of these settings please use the submit button in order to save those.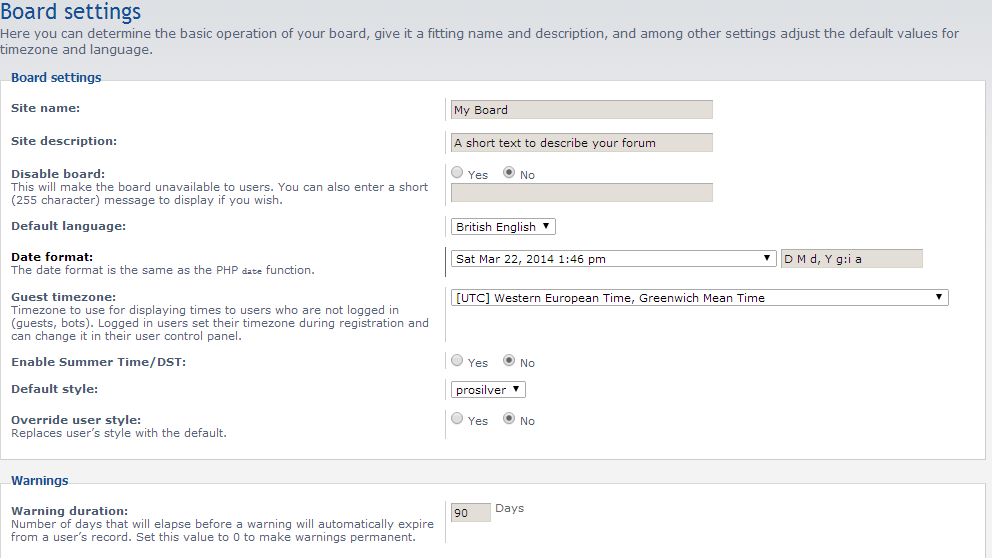 If the options were configured properly you should receive a successful message indicating the change.

The next set of settings is called Board Features and it is located in your Administration Control Panel>Board Configuration> Board Features.

Most of the options on this page are presented as Radio buttons with simple "Yes" or "No" value.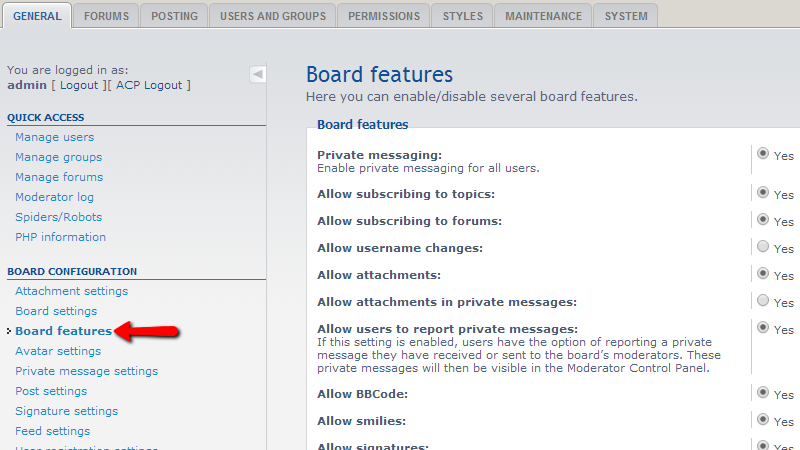 The included features you can enable/disable are quite intuitive and also self-explanatory so you will be able to change them on your needs.

That is all! You now know how to configure your Board once installed!