How to Upgrade your PrestaShop Store
Updated on Dec 10, 2015
Every once in a while the platform for managing your Store needs to be upgraded since its authors are releasing critical upgrades related to the security, bug fixes and new features being implemented.
The upgrade process of the PrestaShop E-Commerce platform is quite easy and straight which basically mean that everyone should be able to handle it.
In this tutorial we will show how you should perform an upgrade of the PrestaShop platform using the build-in module allowing flawless upgrade process.
To update your PrestaShop, you need to complete these steps:
Find the 1-Click Upgrade module
In order to begin with the upgrade firs you will need of course to perform a full backup of the files/folders and the database used by your Store. If you are not quite sure how this process should be handled please check out our other related tutorials on backing up the files/fodlers of your website and also backing up the database of your website.
Once you are done with the backup generation you should find the "1-Click Upgrade" module. Since this is a module you will need to login into your Store's admin backend and to navigate to Modules → Modules.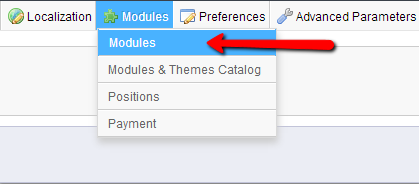 Once you access the Modules home page you should search for a module called 1-Click Upgrade. Usually this module is listed 1stin the list however if you are unable to find it simple type its name in the search box.

Once you locate the module please install it using the Install button located next to the module.
Initiate the Upgrade Process
As soon as the module is installed it is time to begin with the update of your Store. You will need to click on the Configure link located bellow the Description of this module.

Once you click on the configure link you will be redirected to the configuration page of the module where the first think you will probably notice is the Welcome Interface containing useful information you should read and also The pre-Upgrade checklist.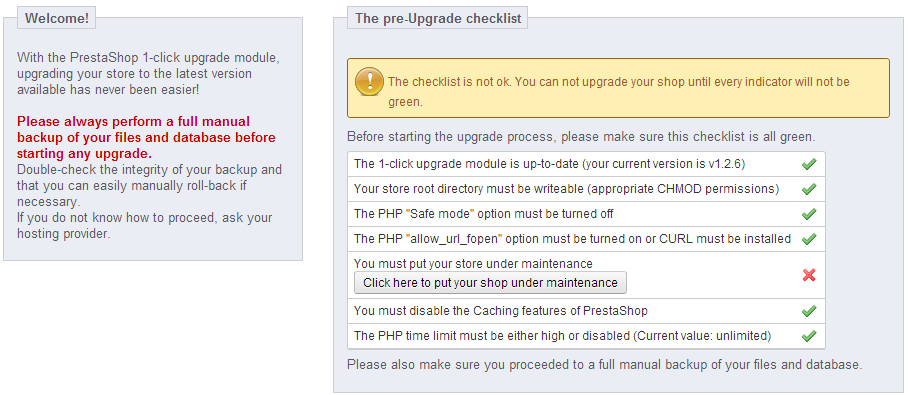 As you can see the The pre-Upgrade checklist will perform a check if all of the requirements for a successful upgrade are met. In this particular case our Store is not in Maintenance mode. We can easily switch on this mode via the button right below this warning.
Once you activate the maintenance mode an all of the The pre-Upgrade checklist is confirmed as checked you should head over to the next interface called Start your Upgrade.

Since we are using the latest version of PrestaShop the upgrade button is unavailable. However if your version is suitable for update you will be presented with the upgrade button which you should only click and PrestaShop will automatically take care for this process for you.
Congratulations! You have successfully updated your PrestaShop application!