Managing the Social Icons
Updated on Dec 10, 2015
Maintaining your own social network pages and groups can bring additional traffic for your Store, especially when you are informing your social group members for upcoming promotions and discounts.
PrestaShop allows easy and quick integration with Facebook and Twitter by with its default setup.
In this tutorial we will show you how easily and quick to configure your links to the social network pages you have associated with your Store.
To manage the Social Icons in PrestaShop, you need to:
Find the Social Networking Module
Since this feature is presented as block on your web-site you will need to activate it and to configure it. In order to find the block please login into your Store's backend and navigate to Modules → Modules.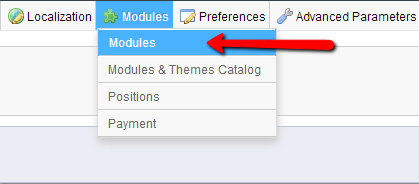 Once you are landed on the home page for your modules please perform a search for a module called Social networking block.

Of course if the block is not installed by default you will need to install it by pressing the Install button next to the module.
Configure the Module
If the module is properly installed you will need to simply click the configure button located bellow the module's description and you will be then redirected to the Social networking block configuration page.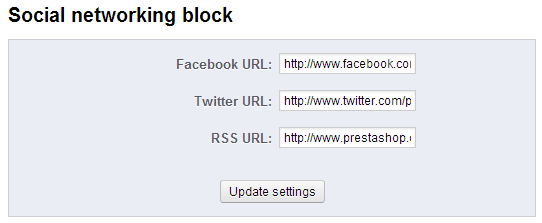 There are 3 fields for each of the supported social icons types.
Facebook URL - The URL to your Facebook page.
Twitter URL - The URL to your Twitter page.
RSS URL - The URL to your RSS feature.
Once you fill all of these fields you should simply press the Update settings button which will save the information you have entered.
By default the social icons will be displayed at the footer of your application on a block called Follow Us.

Congratulations! You can now manage the social icons' links on your Store!