How to enable Maintenance Mode
Updated on Dec 10, 2015
If you are performing some maintenance work on your OpenCart store you might want to temporary disable the public access to your store and allow only your administrative user to access your store frontend. This can be done by enabling the Maintenance mode for your OpenCart store via your Administrative Dashboard.
To activate teh Maintenance mode, please login into your OpenCart admin area and refer to the System → Settings menu from the main navigation.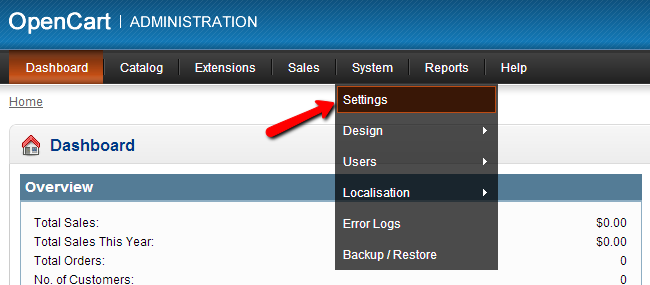 Click on the Edit button next to your store name and refer to the Server tab on the new page.

From the Server tab options, please locate the Maintenance Mode option and set the desired mode.

A maintenance message should be displayed on your homepage now.



Be advised that if you are logged as administrator in your OpenCart store you will not be displayed with the Maintenance message. Still, any of your visitors that is not logged will see the message.
When you complete your maintenance work on your site, you can disable the Maintenance Mode to make your website available for public access once again.