SSL certificates are used to encrypt the connection between a website visitor and the hosting server. This provide an acceptable level of security for visitors so they can comfortably input and submit sensitive information over the Internet such as personal information and credit card data.
Most often SSL certificates are used by site owners to secure their check out and login pages. Having an SSL certificate will greatly improve your website credibility and will present your online store as a trustworthy business.
Prior activating the SSL option for your OpenCart you must have a valid SSL certificate issued and installed on your hosting account. If you do not have an SSL certificate yet you may review our SSL section and purchase a personal SSL certificate for your website.
OpenCart E-Commerce Hosting
Our SpeedUp OpenCart Hosting package includes free GlobalSign SSL Certificate as well as Free SSL setup and configuration.
As soon as you have your SSL purchased and installed you may proceed with the activation of the OpenCart SSL Support option by logging into your OpenCart Admin Dashboard. From the top navigation menu please refer to System → Settings section.

On the Settings page you can see a list of all stores configured in your OpenCart application. Click on the Edit button next to the name of the store for which you would like to enable SSL support. This will redirect you to the settings section for the specific store. From the tab navigation, please click on the Server tab to review the Server related settings for this particular store.

From the server tab, locate the Use SSL radio button and change the setting from No to Yes. When you are done, click on the Save button on the top right corner of your screen.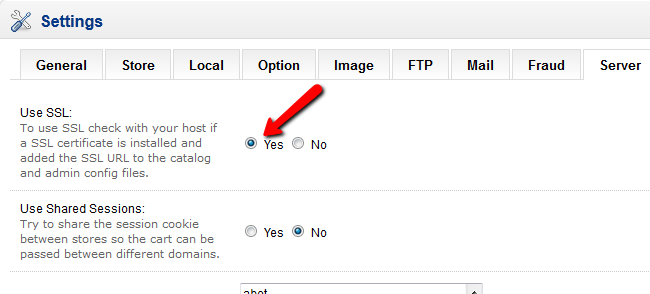 Now you have the SSL support activated and your OpenCart login and check out pages will be automatically processed via https which enables the SSL encryption. To further improve your webstore credibility and show your customers that you have SSL installed you may consider placing an SSL seal on your website.
SSL seals are dynamically generated images which verify that your store have SSL installed. For more information on how to generate an SSL seal for your website and set it up on your website, please contact our support team via your client area, get support section.