How to Send Newsletter in phpMotion
Updated on Dec 10, 2015
The phpMotion application provides you with the option to send a newsletter to all of your members with the integrated newsletter feature in the siteadmin area of your website. In this tutorial we will show you how to use that feature in order to send a newsletter.
In order to access the "Newsletter" feature of your website you will need to login into the siteadmin area and to navigate to Manage > Newsletter.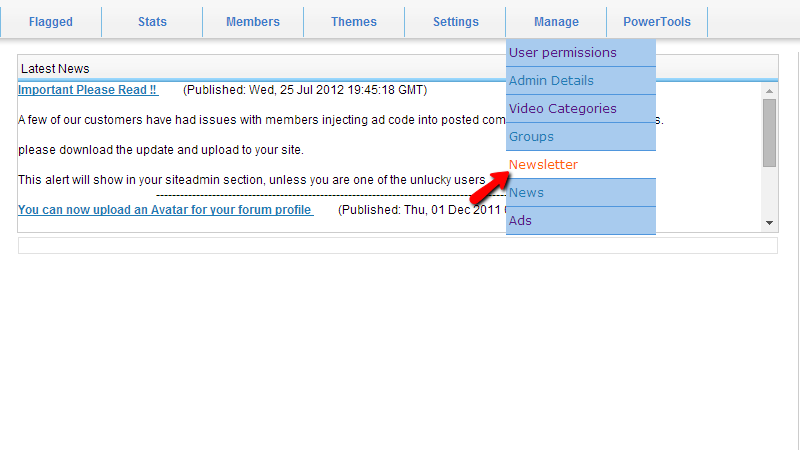 There you will notice a simple form where you will be able to configure the message for your newsletter and to send it respectively.
Let's begin with the configuration of the newsletter. At the top of the page you will notice a grey horizontal line with few options in it:
Send To – This options allows you to select the group of members you would like to send your newsletter to The available options here are All Members and Moderators so you can send the letter respectively to all of the members or to moderators only
Message – the option is for selecting if the message should be send as regular text or in HTML format
Batch Processing – one what interval each batch of emails should be send. By default this option is set to 10 seconds but we are recommending to increase that interval to minimum of 30seconds
Subject – The subject of the message
Finally you will notice a large text field where you will need to enter the message you would like to send.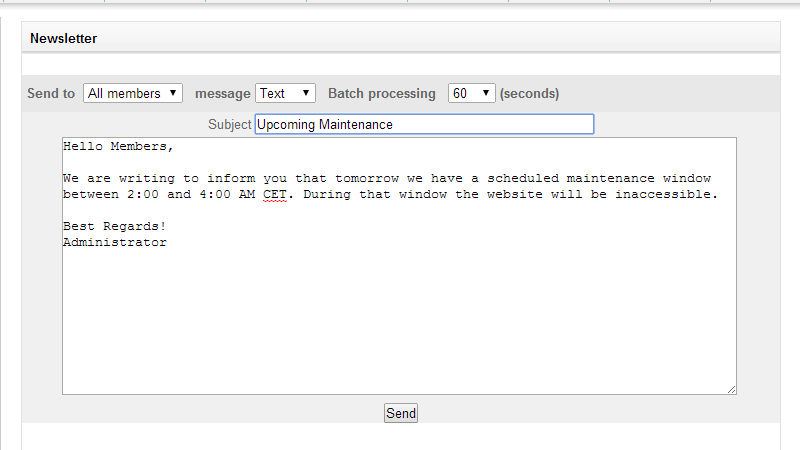 Once you are done configuring your newsletter and you are ready to send the message simply press the Send button so you can be able to start the sending process.

phpMotion will take care for all the rest and it will send all of the emails to the selected group of members!
Congratulations! You can now know how to send a newsletter to all of your members!