How to Manage Flagged Comments in phpMotion
Updated on Dec 10, 2015
Flagged comments can refer to different contents on your website. The users have the option to flag Videos, Audios, Blogs, Pictures, Groups and of course Profiles. In this tutorial we will show you how to manage flagged comments.
Let's begin by logging into your admin area and then hovering over the Flagged menu. There you will notice how the supported flagged comments for the different items on your website are displayed. You can select any of these for which you would like to review the flagged comments.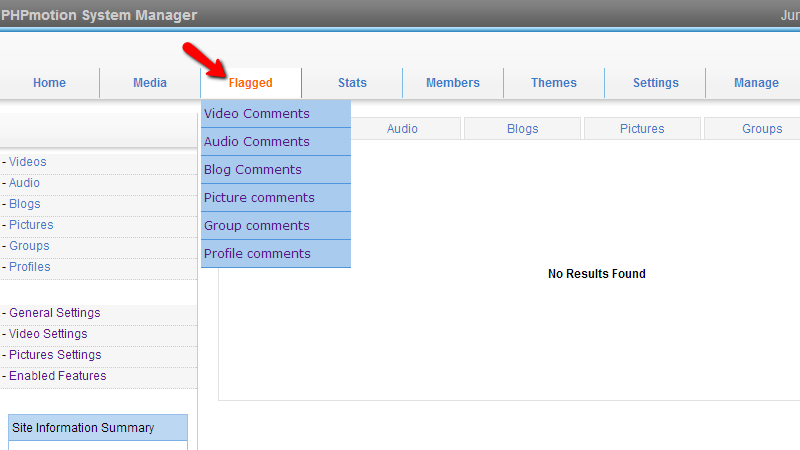 In order for a component of your website to be flagged it will need to reach certain threshold of reports. The threshold is determinate by the Flagging threshold limits setting in your siteadmin area > General Settings and by default is set to 7 which basically mean that if a comment of your blog for example is reported for abuse 7 times it will be displayed under the Flagged > Blog Comments page.
Now let's look how a flagged component should be displayed. For this purpose we have ensured that there will be a flagged comment about a picture we have uploaded. Thus in the Flagged > Picture Comments there is an entry.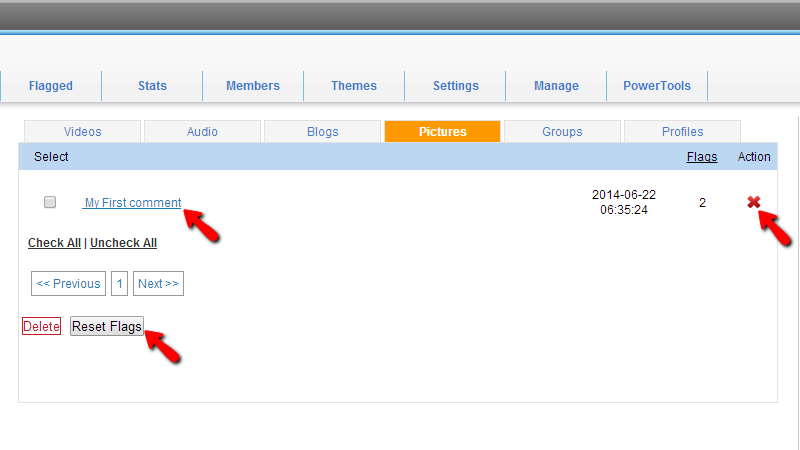 The available actions you can take here are to view the comment by clicking on the same, to delete it by clicking on the red "X" button next to the comment  or to reset its flags by marking the comment from the tickbox and then by pressing the Reset Flags button.
The same goes for the comments of any other component of your website as the are similarly listed in the other flagged comments pages.
Congratulations! You can now manage the flagged comments on your website!