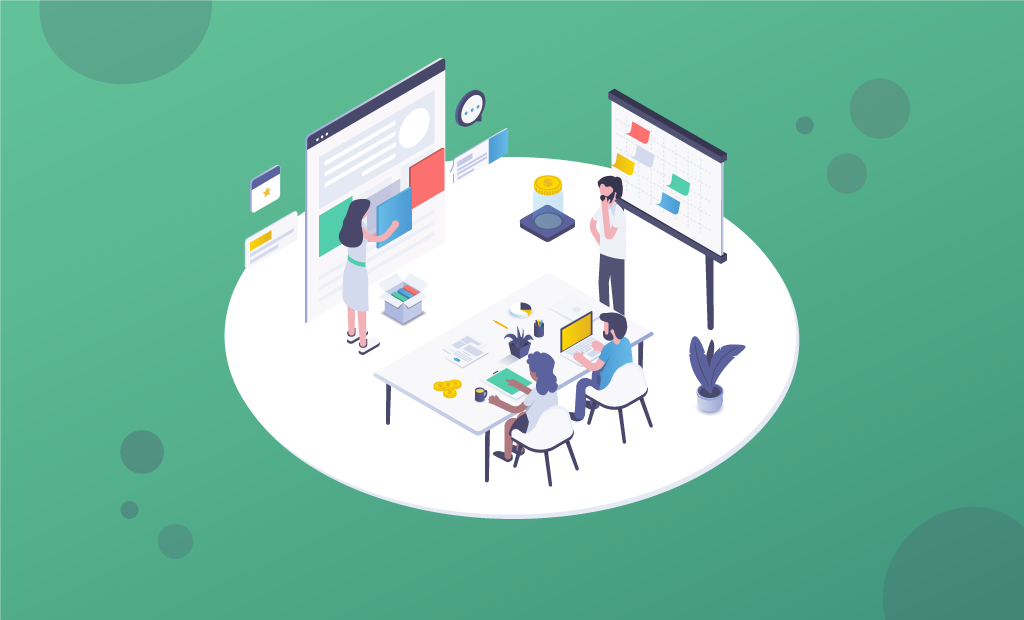 Meet the New FastCloud Hosting Plans and Pricing
This month FastComet turns 5! We believe this is an important milestone for our company that evolved so much through these years and thus introducing the FastCloud Plans. From a humble beginning with a team of four people and an ambitious project, it's been an incredible five years. It was a truly rewarding experience to see FastComet grow into an indispensable service for more than 50,000 clients with the help of 70 employees.
At the beginning of June, we introduced our new company branding and vision on how FastComet will evolve and develop in the future. We created our new platform to represent better everything that changed at FastComet for these years and all the powerful technologies that make FastCloud service unmatched.
What changed
Today, we take most of the features of our service for granted, but they are actually a result of the company development. Heading toward our first aim, being technologically advanced, we have achieved a lot, and we have re-defined what security and speed mean in the hosting industry. FastComet was one of the first Shared Hosting companies to completely abandon the bare-metal infrastructure and move to SSD-based, fully-redundant cloud infrastructure. We were also one of the first to migrate from the Vanilla CentOS to CloudLinux on such an environment and provide cPanel cloud-based hosting on all plans.
We added fully-managed Cloud Virtual Private Servers and Dedicated CPU products to our portfolio. We did this to help our clients scale by building a unified platform. This way, when their websites grow, they wouldn't have to sacrifice performance, security, or any of their favorite features. Our clients' growth and support have always been our first priority, and it always will be.
We made security and performance our top priority by introducing BitNinja Security, SpamExperts, Cloudflare CDN, Free SSL for everyone and free off-site backup for all clients.
An in-house built monitoring system was introduced that created a whole new way for handling incidents, account optimization, and resource monitoring. Up to this day, we are still the only hosting company that does not suspend clients' accounts for resource over usage but works with them to optimize and fix things.
We never compromised on support, and we scaled our team with our growth to make sure you always receive the same level of superior customer service.
What Has Not Changed
We would like to create a unified hosting platform on which every website owner, despite the size of their business, can take advantage of our platform and scale seamlessly. We feel the value of our service is in our ability to help you and your customers to have:
a more performant site; a secure and reliable environment;
tools that make it faster to create rich experiences;
insights into how to improve your website;
integrations that make it easier to extend your site;
all backed by the world's independently acknowledged leading support organization.
Through the years we improved and changed almost every aspect of our service for good. The one thing that hasn't changed over this time is our plans and pricing. Today we are introducing our new shared hosting plans to represent better our service by the value it creates.
FastComet updated plans put a greater focus on customization and flexibility while taking advantage of the company's FastCloud hosting platform. The new plans are meant to accelerate our ambitions to move beyond just cloud hosting. They offer the flexibility for customers to grow on our platform at their own pace, allowing for more agile development experience, and making powerful features such as RocketBooster available. Such features were previously reserved for specific plan tiers. Meet FastCloud, FastCloud Plus, and FastCloud Extra.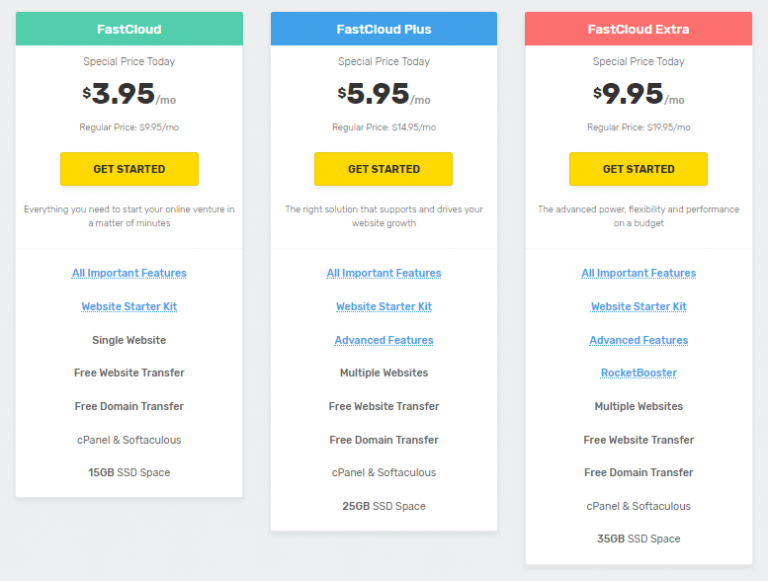 Our customers are always our No. 1 priority here at FastComet. Every decision we make is customer-inspired, and customer feedback fuels our innovation. When you speak, we listen; and based on your feedback, we are making several improvements to our entry pricing model.
Additionally, we want to lower the barrier to entry to our service. The number one pre-sales question we got with the old pricing structure was concerning the setup fee of the monthly subscription plan. This was also the most common con described by our affiliates, partners, and referrals. So, we analyzed the needs of these people and found that there is a massive market for people who want our level of hosting, but our setup fee was prohibitively expensive.
Furthermore, we always strive to be as transparent and fair as possible with our clients. We are now offering lower entry prices and flat pricing model per all billing periods with the lowest possible domain pricing.
Ultimately, our goal was to create a pricing model that represents our service by the value it creates. We believe we can achieve this by providing the lowest possible entry price for people to experience our service – a fair price for those that appreciate our work and would like to continue their online journey with us.
How this Affects our Existing Clients
Our existing clients can take advantage of the new plans and pricing right away. If you would like to start a new project or transfer an existing one, you can do this via our website, your FastComet Client area, or by contacting our Sales team via the Live chat.
To complete the unification of our platform and client base, all existing clients will be upgraded to the new plans completely free of charge. Plans will be upgraded so everyone will keep their existing resource quotas and features as follows:
StartSmart → FastCloud
ScaleRight → FastCloud Plus
SpeedUp Rocket Booster → FastCloud Extra
As per the announcement of our new hosting plan structure on April 10, 2017, all Singe Website, Multi Website, and E-Commerce hosting have been moved to a legacy status. On 14 May 2018, existing grandfathered plans were converted to a plan that is the closest equivalent of the existing plan, at the new plan quotas. This also means:
Former Singe Website →StartSmart → FastCloud
Former Multi Website → ScaleRight → FastCloud Plus
Former E-Commerce → ScaleRight → FastCloud Plus
We will initiate the automatic upgrade on September 15, and all hosting plans that are due after this date will be renewed on the regular prices based on their hosting plan when due. This process does not involve any downtime or data migration and does not require any reconfiguration from our clients.
By having your shared hosting plan upgraded to the new plans, you will be able to take advantage of all new upcoming features the moment they are publicly available.
To make the transition more convenient for our clients, all Biennially and Triennially accounts will be converted to our Annual billing cycle. This will be done without changing their due dates. Also, they will keep all the features and free services.
We understand that some of you may want to continue using your current hosting plan, so we are providing a 45-day grace period. During this period, you can renew your hosting service for an extra year on your current plan pricing rate by contacting our sales team via the live chat or post a ticket to our billing department.
Of course, everyone can disable their auto-renewal, change their Billing cycle, or plan at any time by contacting our sales team or by posting a ticket to our Billing department.
Clients on Cloud VPS and Dedicated CPU plans won't be affected during this process.
Discontinuing the Free Trial Service
As a part of this transition, we decided to discontinue our Free Trial/Demo service. Having one of the lowest entry prices on the market, we believe our service will be accessible enough for people to try and evaluate it now. The Free Trial does not adequately represent our service.
All Free Trials will be discontinued on August 15, and all trial accounts will be permanently removed on September 1, 2019.
When we look back after 5 years in the industry, we are proud to say that, not only most of our employees but also a lot of our clients have been with us since the very beginning. We are grateful for the many clients that use our services to empower their websites. We remain committed to expanding our hosting portfolio to help our customers succeed. Feel free to review our FAQ section on this announcement for more information on the upcoming changes or contact our team 24/7.
The latest tips and news from the industry straight to your inbox!
Join 30,000+ subscribers for exclusive access to our monthly newsletter with insider cloud, hosting and WordPress tips!