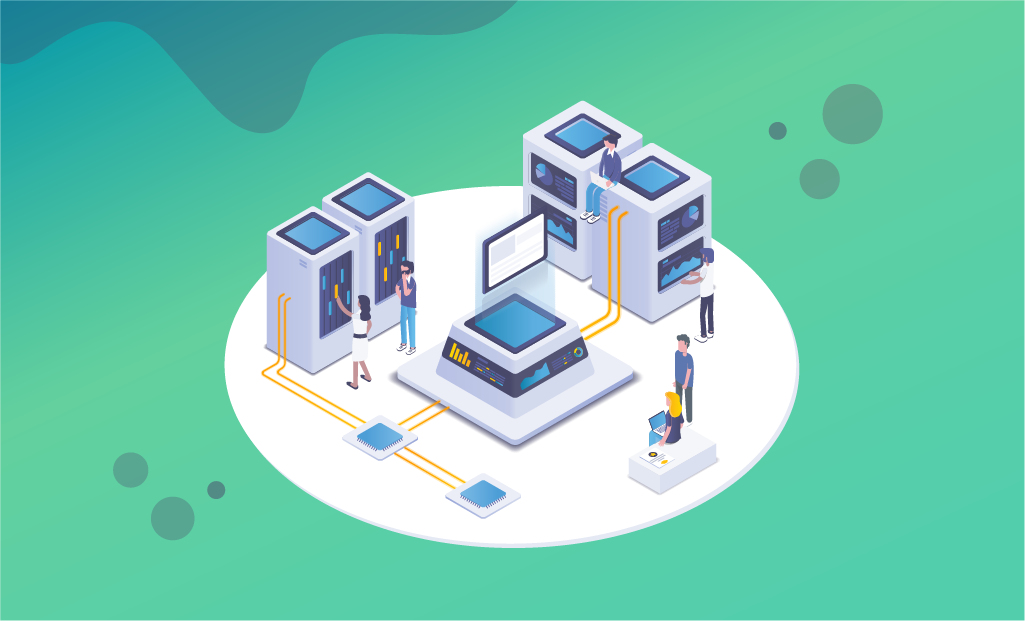 FastCloud Dedicated Server CPU Potential Unlocked
Picking a hosting solution that is the right one for your plans is the prime (and most fundamental) decision you will make for your website. While there are plenty of available options, none can match the exclusivity, versatility, and level of control you'll get with a dedicated server. In our new website release & product roadmap update, we highlighted the push up-stack into our cloud hosting platform, and advanced managed hosting offerings. Our aim was to complement all our products by investing in the expansion of our FastCloud infrastructure offerings and help everyone with building and deploying their amazing apps. Today, we are pleased to announce our high-performance reinvented dedicated servers.
A dedicated server is the most powerful option and is suitable for the most demanding mission-critical websites. This server is only used to run your website and isn't shared with any other users. There's no sharing of CPU time, bandwidth, or RAM, which means that your site will be responsive constantly. You also get full control over the server, so you can ensure your site is more locked-down and performs as well as possible. This gives you access to a lot more resources than you'll see with shared hosting. For example, dedicated hosting would be right for you when:
Getting large amounts of traffic daily;
Running a website or application with unsteady traffic;
You want to install your own operating system;
Handling thousands of financial transactions;
Scaling up resources for a startup with growing demand;
Your website needs custom software.
The Future of Dedicated Servers
The industry is evolving, your business is expanding, and FastCloud's product offering is enhancing to keep up. Our Dedicated hosting platform does not fall into the traditional hosting categories as the infrastructure is different from the traditional Dedicated server setup. In high availability n-tier architectures, the design for security is different. We are using cloud-based server virtualization using KVM with redundant hardware including SSD in RAID 10 configuration. Each tier is provisioned separately, with different security mechanisms and policies in place.
Our Dedicated Server Е5-2680 v3 line has been around for a few years now and continues to outrank all other processors in its class, both in value and performance. Even though the chipset is currently among the smallest of what Intel offers to boast hyperthreading, the performance is still exceptional.
It was not such a long time ago since we've last updated our dedicated server plans and added loads of extra services you may take advantage of. The updated plans featured increased RAM, CPU and space quotas, and came with industry-leading uptime, our rocket-fast 24/7 customer support, and easy scalability, to meet the ever-evolving needs of all users.
Earlier this month, we launched our brand new website. But with great power comes great responsibility. The ultimate goal of a rebranding should be growing the company by serving all customers in a much better way. Sometimes that requires putting client services ahead of the rebrand. Beyond the redesign, we are also rolling a series of product updates.
Meet FastComet Dedicated CPU Servers, dedicated server reinvented with the expected features, including exceptionally easy scalability, load balancing, and rapid deployment provisioning. Deploy cloud instances with dedicated CPU, RAM, and SSD drives, just for you. Enjoy the level of flexibility previously possible only in the virtual cloud. And, as always, you still have ensured 100% dedicated server performance.
Unleash CPU's Full Power
FastComet high availability Dedicated CPU Servers are optimized for workloads where consistent performance is required or where full-duty work (100% CPU all day, every day) needs doing. The agility to do these things quickly and seamlessly is fundamental. The Dedicated CPU Servers are optimized to deliver a well-proportioned balance of memory, dedicated CPU, and SSD storage resources. They're ideal for a variety of application workloads ranging from web apps and databases to larger applications that have higher memory requirements and still demand predictable CPU performance. This includes enterprise business applications, e-commerce sites, agencies with high-profile clients and busy application servers.
We're emphasizing the "dedicated"-ness – that you can spin to 100% CPU all the time, without worry. The underlying CPU resources for these servers are dedicated and shared with no one else. Dedicated CPU threads are assigned exclusively to cores on the hypervisor, so there is no sharing or competing for these resources between servers.
Visit the pricing page for full details and our entire pricing lineup.
Since this hosting plan is managed, you'll never have to worry about your site's performance or security. Our teams are always ready to assist in your journey whenever you are in need of help. We offer support around the clock and we will help you with handling software updates, security patches, and the LAMP stack. We are here to manage the core infrastructure in order for you to be able to focus on your site and business.
Processor Performance Benchmarks
New FastComet Dedicated CPU Servers are backed by AMD EPYC 7501 processor, designed to meet the requirements applications that can take advantage of the higher clock speeds.
How does AMD Epyc 7501 processor compare to formerly used Intel Xeon E5-2680 v3? Epyc. That's definitely not a typo. The new processor offers epic performance results across the industry, packing a benchmark that blows the standard packages in hosting out of the water.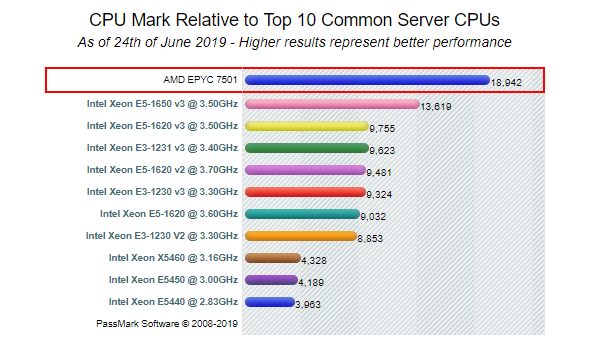 Comes with many more CPU cores: The 7501 includes lots of additional processing cores than what we had in the Intel E5-2680 v3. A large number of cores helps this processor in tackling multiple programs or heavily multi-threaded applications.
Memory bandwidth is significantly higher: The AMD EPYC 7501 has 150% higher memory bandwidth, owing to faster-supported memory. The CPU officially supports DDR4-2666 memory, while the Intel E5-2680 v3 microprocessor is limited to 2133 MHz data rate. Higher memory bandwidth improves performance in memory-bound tasks. However, performance gains in programs that are not memory-bound, will be much lower than 150%.
Handles more simultaneous threads: This allows multi-threaded (not single-threaded) applications to run much faster since more than one thread can run at once on the CPU.
Unlock FastComet Proactive Server Monitoring Potential
And, if the processing power wasn't enough, FastComet Observer Monitoring simplifies your toolset to collect system-level metrics all in one place. It offers insight into resource usage across one's infrastructure. Monitoring gives all administrators that necessary information with graphs made specifically about the health and integrity of the servers like utilization of the CPU, data transfer, and disk usage activity. It is especially lightweight and can analyze the server status with a much higher rate than standard monitoring systems and provides 12 hours of data retention.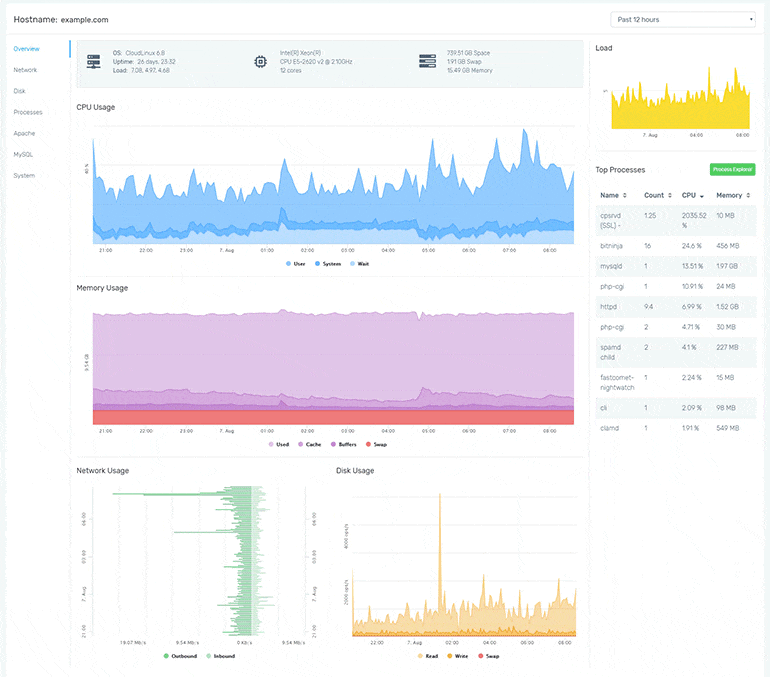 The Observer Dashboard page shows a list of every server currently reporting, along with the three key server metrics (CPU busy, Memory used, Disk space used) and a graphical "traffic light" that tells you at a glance what the overall health of the server is.
Dedicated CPU Server vs VPS – Performance Essentials
Despite being fully independent, Virtual Private Servers share the underlying physical hardware with other VPSes, which means that they still "compete" for the CPU and memory of the hosting hardware infrastructure. This setup architecture gives a Virtual Server guaranteed amount of resources to utilize but does not provide exclusive access to the hardware hosting infrastructure.
The Dedicated CPU Servers, on the other hand, have fully dedicated CPU cores and memory that are 100% available and isolated from any other servers. Despite being a bit more expensive, this exclusive access to the hardware infrastructure makes the DSes suitable for very resource-consuming and high-traffic websites and applications without compromising any of the VPS advantages.
Spin up a Cloud Dedicated CPU Server: Plans and Pricing
The new Dedicated CPU Servers are available in the following configurations and are immediately available in all locations.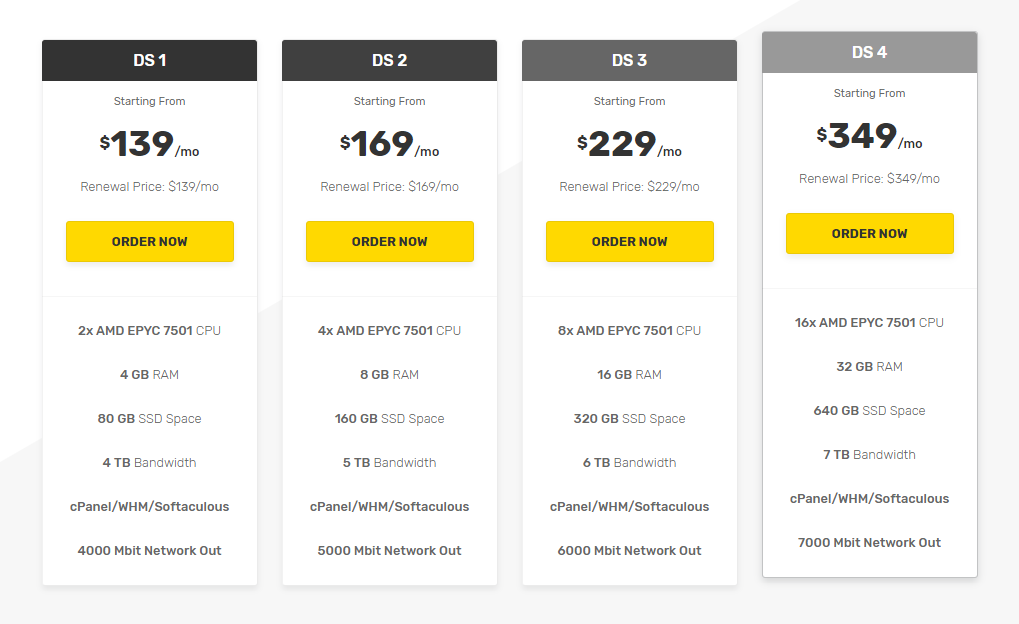 Existing customers are welcome to take advantage of the new offering and upgrade to a corresponding plan. Contact us via our LiveChat for more information on Dedicated CPU Servers or for guidance on how to get started using them.
If your site gets a lot of traffic or you simply want full control over your own server, be sure to head over our most powerful and comprehensive solutions page.
Finally, all these offerings can be customized in order to match your personal management preferences and can include matching off-site backups and BitNinja Server Protection products, which keep your server exceptionally secure and running smoothly.
The latest tips and news from the industry straight to your inbox!
Join 30,000+ subscribers for exclusive access to our monthly newsletter with insider cloud, hosting and WordPress tips!