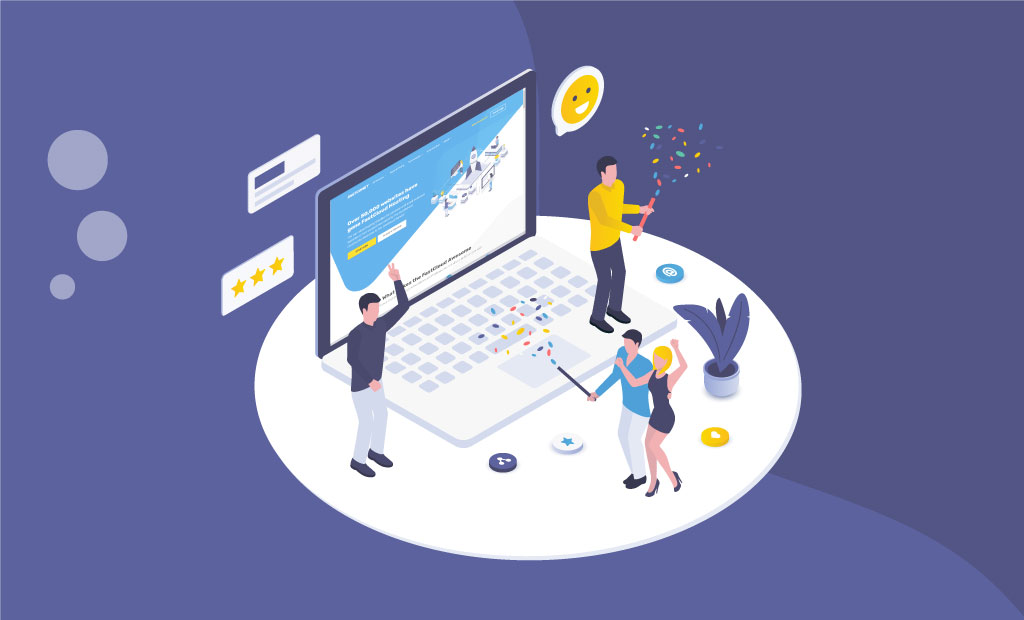 Introducing The New FastComet.com
If you are a returning user, you probably have noticed that our site is looking quite different in the last 24 hours. Our team has been working around the clock for the previous few months, and you are now looking at an entirely new FastComet.com! Today, we are delighted to share that our website design evolved to make all of its content more discoverable, more comfortable to experience, and hopefully more informative!
Following our previous hints on the design changes you could expect to see, in this blog post, we will give you a peek behind the scenes of the brand updates, and why we made them. Keep reading to find out about the whole strategy behind the changes, details regarding the evolving technologies, and to get a look at the whole process – from sketches to actual production!
So, why the change?
How we started
FastComet is six years old. We began as a cloud hosting company with the insight that all web hosting users have been in need of some help with improving the speed, scalability, and security of their websites, as well as expert service, to guide them through their most challenging steps of growth. Over time, this insight was what helped us evolve into managed hosting, taking more and more back-end "jobs" off the hands of our customers so that they could focus on creating their sites and growing their businesses.
Over the years, the landscapes of technology, marketing, and business managed to evolve exponentially. We have been bootstrapping our path to success, with our prime focus remaining on the hardcore growth metrics. We made sure that our platform is constantly expanding by introducing new features, improving all existing capabilities, and scaling our caring 24/7 expert support team, as well as adding new partnerships. We can proudly say that now our products are more advanced, our audience is much wider and our mission is greater.
What we have built
Probably the biggest concern for business founders, digital marketers, agency owners, creative designers, and developers is the good condition of their website. They want to be sure that the business websites they create are appealing, agile, intelligent, secure and that they can count on support 24/7. FastComet is in a strong position to guide businesses on their transformation journey through our partnerships with providers such as BitNinja, Cloudflare, Linode, and SpamExperts. In a commoditized industry where the majority of hosting providers use standard, ready-made solutions, at FastComet, we create our own systems to make sure all websites hosted on our servers are as fast and safe as possible. Some of our competitors offer the one-size-fits-all solution, but that is just not how we work – it's all a part of our desire to provide all our clients a premium experience that surpasses the genuine managed service. So the new brand identity's goal is to present FastCloud technology and how it delivers the unrivaled customer experience.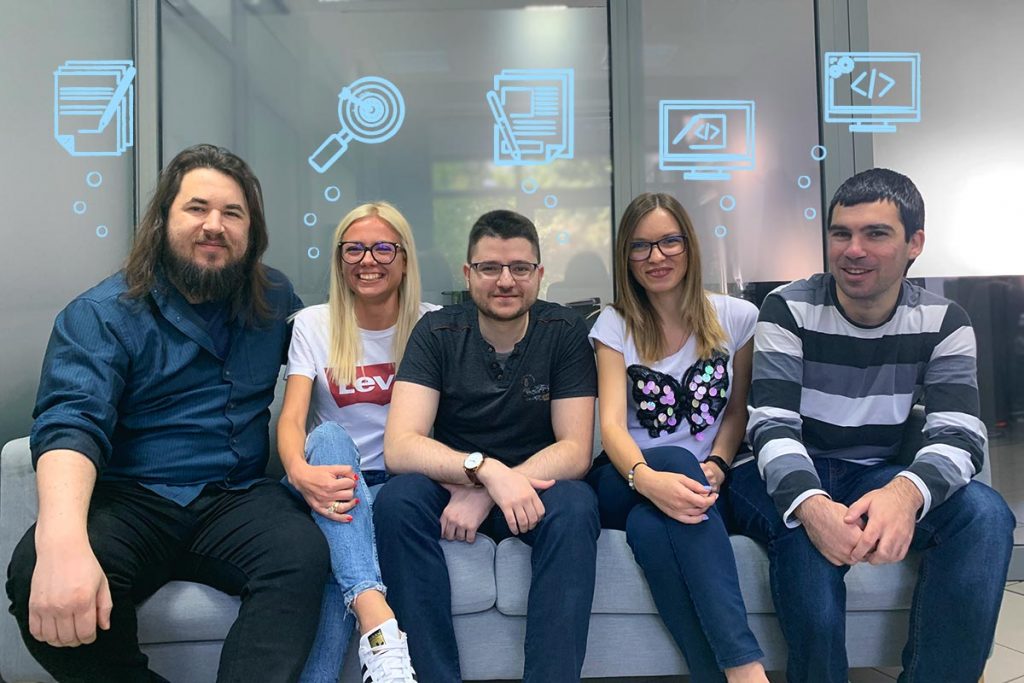 For a company of our age and current scale and positions, this new site is not just a redesign, and it is a reflection of our overall vision of us as a technology company, the services we offer, and how we would like to communicate our technologies and infrastructure to the visitors to our site. We wanted to resonate more with our audience and express all of our key value propositions in a much better and more comprehensive manner.
Another reason to take this step is our desire to change the concept and the way we present our product. The main problem is that we find the idea of package presenting – for example, Joomla/Drupal/Magento, etc. Hosting Package and so on to be outdated. Since the development of the company, we have done many things over the years, which we can not communicate in the most comprehensive way in the context of the packages. The reason for this is that most of the things we've done are service-specific and can not just be added to a single package whose focus is the open-source application itself. For example, our in-house built Observer monitoring and the whole way we handle incidents, account optimizations, as well as resource monitoring – there is no adequate way to describe them in the context of the application related hosting package.
We focused on two key design themes: agility and forwardness. For agility, thanks to our FastCloud hosting platform and technology, we take away all the technical complexities, letting you focus on the growth and success of your website with complete peace of mind.
For forwardness, we added the italics as part of the FastComet logo — celebrating the brand's heritage, and affirming a more forward-thinking spirit.
What we Envision
FastComet equips you with a suite of solutions for agile business transformation. It's the perfect combo of intelligence, performance, and integration solutions. This combination aims to ensure all our clients that they can build and deploy a range of online experiences from campaign sites through content hubs to eCommerce extensions. From the quality of service, growth, and engineering, to sheer speed, security, and site performance, our platform is specially built for agile teams. Our FastCloud hosting platform takes away the complexities of setting up your website and allows you to go live in minutes. We are committed to delivering the fastest possible performance, unmatched security, and seamless scalability for your sites. FastComet is here to help, reworking our design to fit this purpose best and to respond to the users' goals and challenges.
The New FastComet.com
Times are changing. So is FastComet. While the former FastComet website was great for its time, our industry moves at lightning speed. Early in the redesign process, we decided to abandon our legacy codebase, allowing us to start from a clean slate and build the website with a modern approach. Our teams spent several months creating a design system that provides scalability, maintainability, and flexibility. The result is a beautiful website that addresses customer needs, a codebase that is built on modern standards, and a style guide to keep us going in the right direction. We have redesigned our website from the ground up, including a brand new logo, color scheme, layout, and simplified navigation. Go ahead and take a look around → https://www.fastcomet.com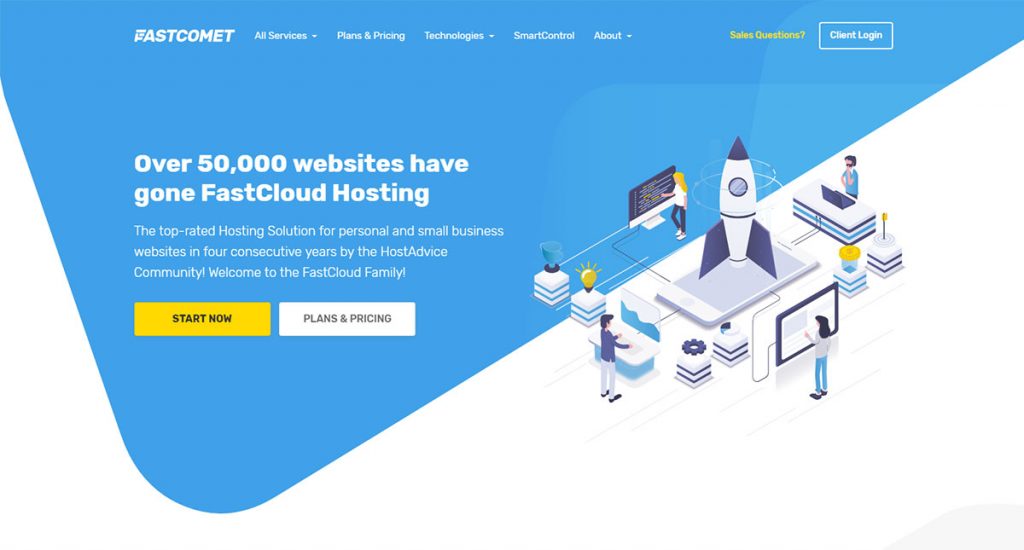 With our new site design, we set out to build the showcase for fastcomet.com as the product demo for our platform. From UX to our infrastructure system to the technology underlying our website, we were aiming to show both the Speed of Cloud and FastComet Performance and to create an easy-to-grasp way all the powerful technologies that make FastCloud service unmatched.
Beyond the thorough redesign, we've also built out some new pages based on user feedback that we've been receiving over the past years. Many of our clients wanted to know more about our infrastructure and the way it works. Therefore, we now have extra content which is to cover these topics in more depth. Such as how FastComet scaling works, info about the hardware we use and the software stack, as well as details on server-level caching, uptime, etc. Check out our Technology section. Keep an eye on this one, as we will be adding a lot more in the upcoming weeks.
In our client success series and extensive reviews that have been posted on social media, we kept hearing one thing we already knew: our customer support is head and shoulders above the rest of the hosting industry. We never felt our support team had the proper billing on our site, but we think we are going in the right direction now. We are always trying to provide rich content when it comes to learning about WordPress, the latest technologies, and business development best practices. Because of this, we have built a completely new resources section. Our customer support articles and Frequently Asked Questions (FAQs) now live in the Knowledgebase section. We have retired our Community, but you will find existing, as well as new posts in the new Knowledgebase.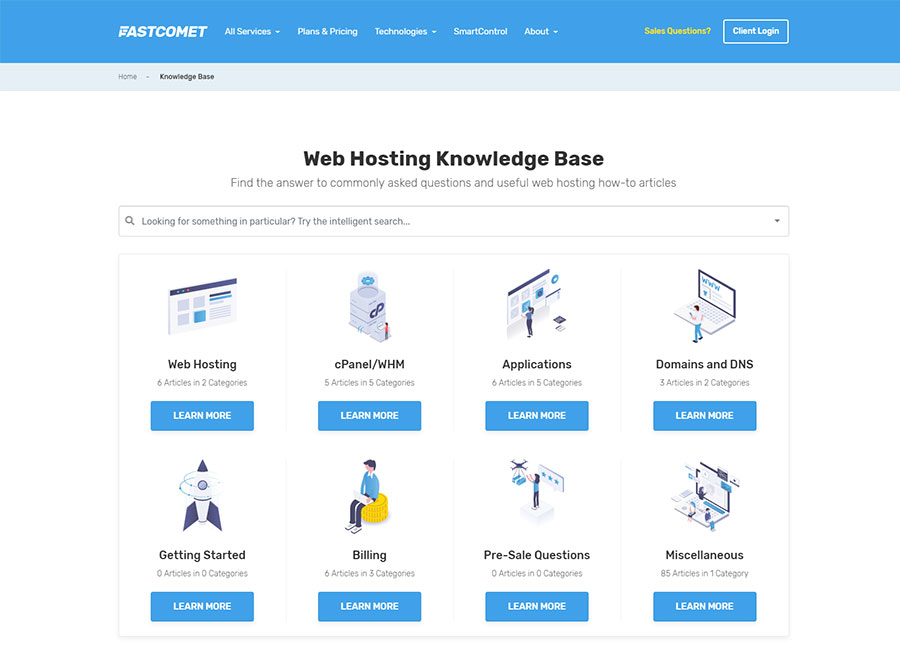 Now you can find articles quickly, no matter where they are located on our site. New intelligent searches can be found at the top of each blog post, Tutorial section, and Knowledge Base article.
You are free to poke around the new FastComet Аbout Us page and get to know a little better the story behind FastComet and meet the real people who come in here every day to make great products and provide stellar service. Amidst the sales inquiries and client migrations, we also know when to have fun! From Halloween festivities to attending a WordCamp or two, there is never a dull moment at FastComet.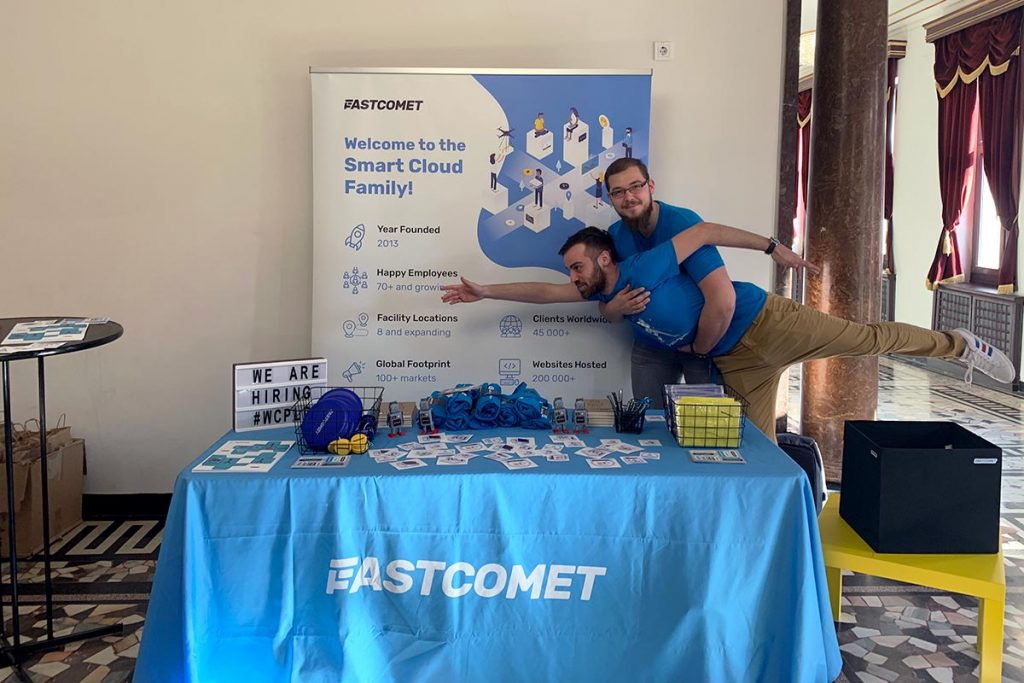 Of course, our Blog got some love, too. We have been excited about the Gutenberg Editor and its potential for a long time, and while this is technically under the hood, we are enthusiastic about the storytelling possibilities that Gutenberg will bring for our team. Featuring new image sizes, layout options, and custom Gutenberg blocks, we are full of ideas and we will definitely be experimenting, with the ultimate goal to provide you with the highest quality of content possible. On the visual side of things, no more sidebar, new fonts weights plus a lot more spacing, minimal sharing icons. We hope this all makes for a more enjoyable and less distracting reading experience!
Our New Logo
Through all of this change and growth during the last six years, there is one thing we never did: alter our brand. Today we are launching a new logo, as we start to refresh our look in general. We loved our old comet logo, and look, and know many felt the same. And yet, here we are to pull back the creative curtain to share why we decided to evolve it.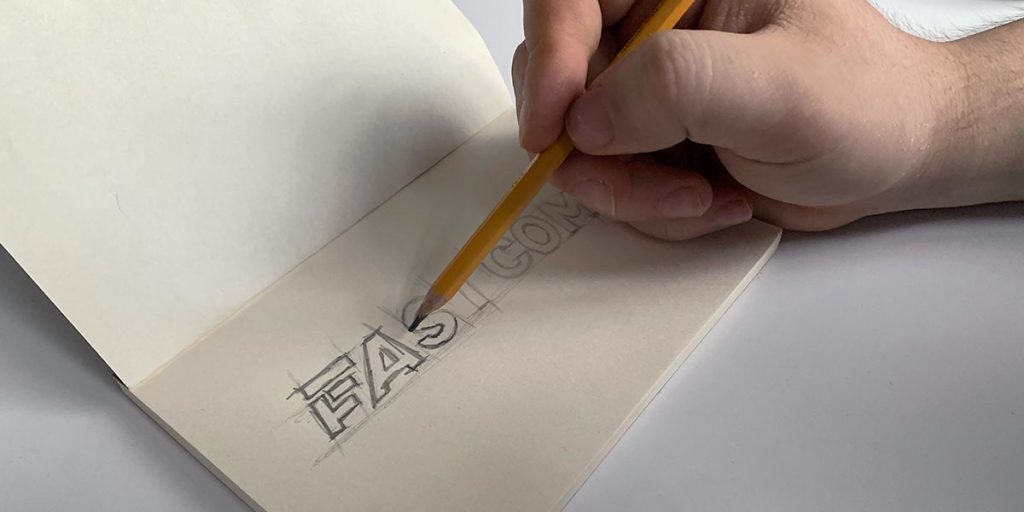 The goal here was to develop a look and feel that would complement the growth of our company growth and its current status; not just to go with something different. We took the FastCloud agility and performance that drives your business forward faster and applied them to the logo concept.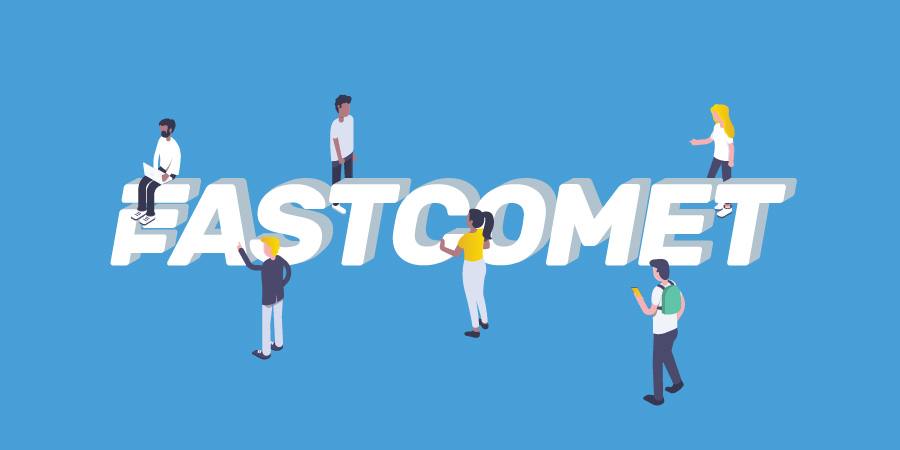 As demonstrated by other users, the use of italics conveys movement. We implied this motion by making the text appear to be trying to go somewhere. Since we read from left to right, pointing right signifies moving forward. You definitely would notice the little bits of horizontal racing stripes applied to the letter F. Horizontal lines are also used to represent speed and movement. FastComet is now all uppercase and is in grey font.
The Colors of FastComet
As part of the new look for the FastComet brand, we chose to update our core colors. We set out to establish a well-thought-out meaning behind each color we picked.
Blue is synonymous with trust, security, and reliability. These adjectives represent how we approach our FastCloud hosting services.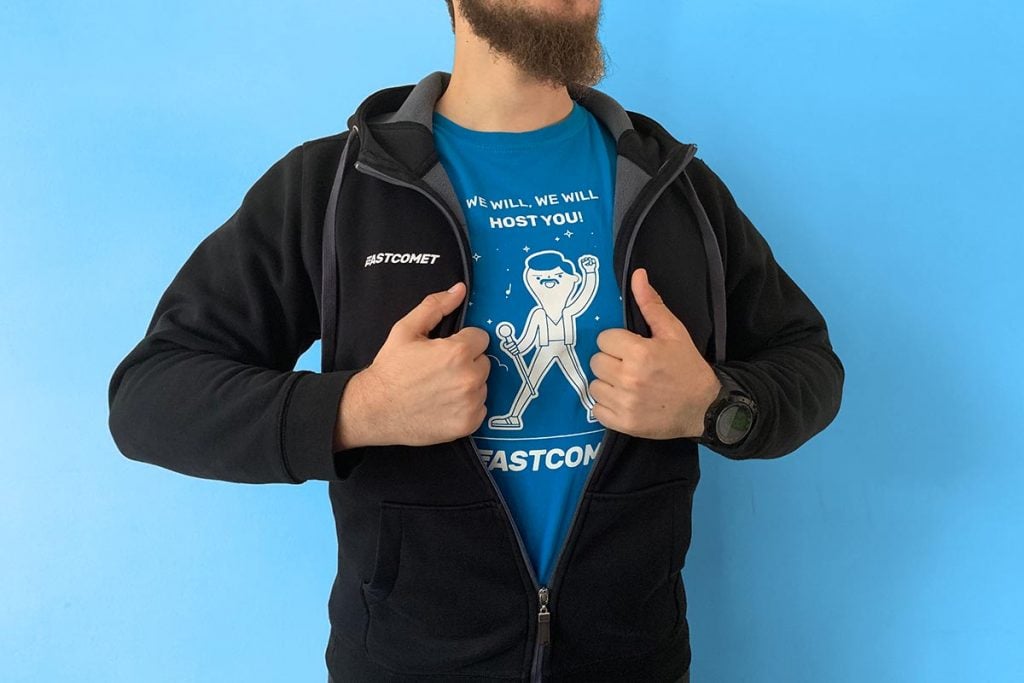 Final Thoughts
At the core of our brand, we actually did not change too much. We are still the same FastComet you have always known and loved. This refresh means that we took a long hard look at the FastComet brand and polished it up to reflect who we've become and still strive to be. It's the groundwork that will allow us to continue pushing forward with even faster momentum.
What is to come?
To that end, we are only getting started. In a way, we see our website as a presentation of the FastCloud product and this release just as version 1.0. In the upcoming weeks and months, we will be announcing more new features to enhance our whole new website.
Finally, I want to offer a big thank you to our customers, who have made FastComet what it is. Everything we do is for all of you, and you inspire us daily.
We would love to hear your thoughts on the redesigned FastComet, recent improvements, and product roadmap. Reach us on Twitter, Facebook, or comment below to share your valuable feedback.
The latest tips and news from the industry straight to your inbox!
Join 30,000+ subscribers for exclusive access to our monthly newsletter with insider cloud, hosting and WordPress tips!