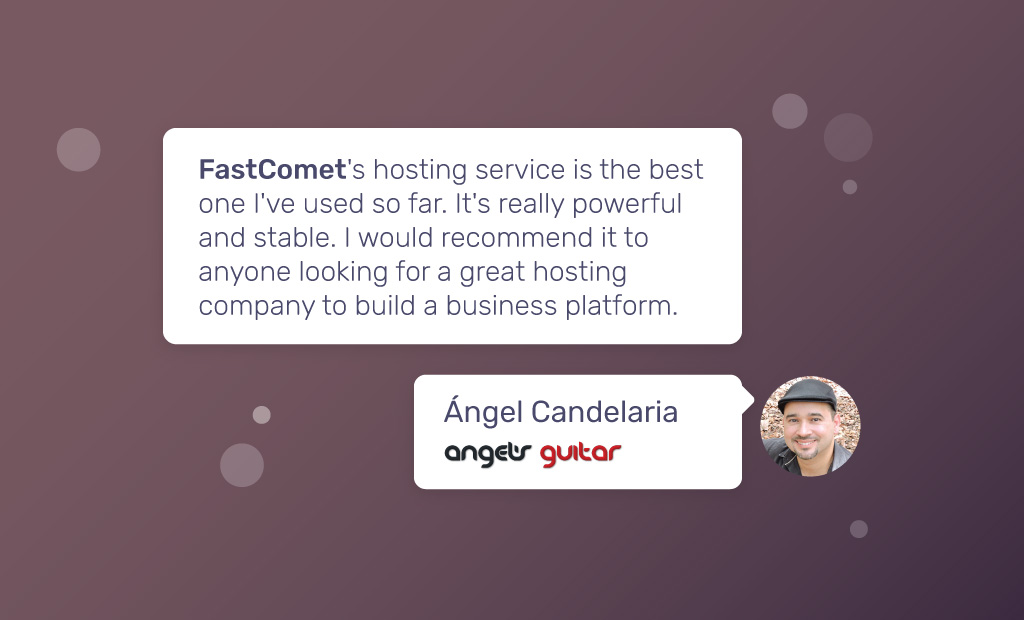 Spotlight: Ángel Candelaria on Music, Hosting and Teaching
The story of this spotlight is a bit more special as it began long before our Showcase Contest. We worked with Ángel Candelaria on this in the past with the entire interview in Spanish. However, we have scrapped this idea due to the majority of visitors preferring content on English.
After we announced the contest, Ángel participated with a re-done showcase including more and updated information. This time it's written more accessible for our visitors. That is also one of the reasons why his interview deviates from the questions in our participation form. As his story is quite unique, and his persistence is admirable, the team decided he is worthy of being a Grand Prize Winner.
The Interview with Ángel Candelaria
FastComet: Hi Ángel! Can you tell us a little bit about your professional career as a musician and teacher?
Ángel Candelaria: As a musician, in the sense of working & collaborating with recognized artists, my career has been rather short. But this wasn't by accident or because I didn't have many opportunities. Moreso because that's what I chose.
I had my first gigs when I was still a student in the Conservatorio de Música de Puerto Rico. There I got my bachelor's degree in Music Education during the '90s.
After I finished my studies, I started to get more gigs by word of mouth and recommendations. I had the opportunity to work with various Latin Christian singers such as René González, Noemí Luz, José Flores, Hosannas de Borinquen, and Edwin Cotto, among others. I also worked for two seasons on the reality Objetivo Fama as a guitar player & music arranger. Additionally, I worked with international artists Jerry Rivera and Anaís (shortly after she won the 1st place award of the reality show Objetivo Fama).
However, after experiencing for a while the "gigging musician life," I discovered that it wasn't what I wanted to do the rest of my life. So I decided to quit gigging and dedicate myself to teach since I've always felt a strong passion for teaching.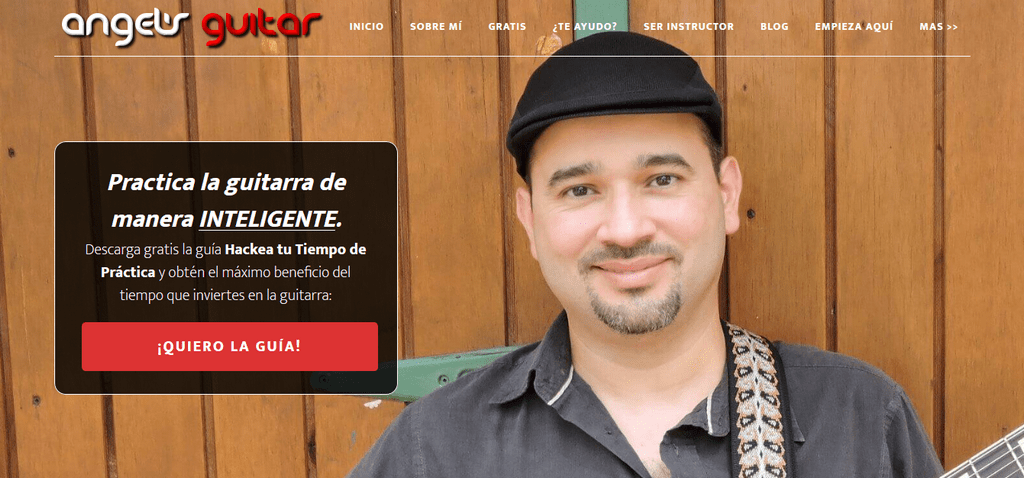 At that point, my website "Angel's Guitar" was already active (I began it in the early 2000s). But it was an old school HTML static web page since I treated it more like a hobby. However, an unexpected life event made me reconsider. My wife was diagnosed with Chronic Fatigue Syndrome and had to quit her job.
Now we (my wife and I) needed to find ways to get additional income. At that time, I already had some music books written that I had not published, and my wife suggested me to self-publish them online. I thought it was a great idea, and after doing some research, I self-published them on Amazon and other online stores.
Now, books don't sell themselves, so I figured I needed to take action. With that in mind, around 2011, I decided to get more serious about Angel's Guitar, to get people to know about my work. So I transform it into a dynamic page with a modern CMS. I tried several options during the following years—Google Pages, Drupal, Joomla!—but finally settled with WordPress in 2012 for its ease of use and a lot of resources available.
So Angel's Guitar transformed into a full-blown blog, and I started to post lessons more often. I also created profiles on several social media sites to connect with my followers. Later on, I created some courses, which I initially sold on Udemy.
I kept hustling my way online while working on the Escuela Libre de Música de Arecibo as a guitar and Puerto Rican cuatro professor. However, another life-changing event happened: hurricane María hit the island of Puerto Rico (where I lived) in 2017. This event was a wake-up call for us. It made us think about what were we doing with our lives now, what we wanted to achieve and how much time we were going to keep postponing it. So after thinking about it, I decided to quit my job at the music school, move with my wife to the USA and work full time on scaling our online business.
In 2018 I finally launched my online guitar school Cursos de Guitarra Pro—a dream I've had for several years now. As I said, I'm very passionate about teaching. It gives me great satisfaction to have the opportunity to help other guitar players from different places around the world.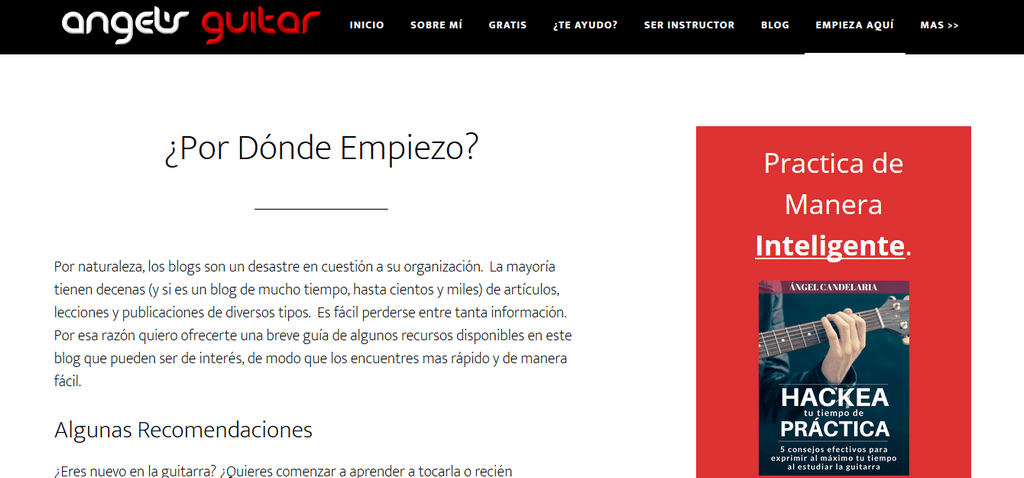 FastComet: As a musician, what are your musical influences?
Ángel Candelaria: Eric Johnson is one of my favorite guitar players. I love his sound and phrasing, especially the way he uses pentatonic scales.
One of my favorite recordings of all time is Larry & Lee, by Larry Carlton and Lee Ritenour. Their playing is not flashy, yet so melodic; a perfect reminder that the most important thing for being a great guitar player is musical taste over flashy licks.
I also love listening to Blues. In this genre, the first guitar player that comes to mind is Stevie Ray Vaughan. He had such an incredible tone; I wish I had the opportunity to hear him live. Another guitar player I admire a lot is Phil Keaggy. Very gifted and versatile player. There are a lot more that somehow had been an inspiration to me, but the list would be too long to include here.
FastComet: In your experience as a teacher, what's the most important thing a beginner should have to learn online and make progress?
Ángel Candelaria: I would say that the essential thing to have success, not only regarding guitars but with anything in life, is to have a strong "why". A solid reason that drives you forward.
Often people say, "I want to learn guitar", but when you ask them why they don't have a clear idea or say, "I just like it." That's not good enough. And someone who "likes guitar" will probably quit it when faced with common difficulties that guitar students face, like lack of time to practice.
If you want to succeed at the guitar, you need to find a reason to make it a vital part of your life. A reason, so strong it won't allow you to quit.
For example, a lot of my guitar students are Christians and want to learn guitar to play at their churches. They feel serving the Almighty with their instrument is very important to them—a calling they just can't ignore. Now, that's a solid reason and one that will keep you moving forward no matter what.
However, your reason why doesn't need to be something complicated, like "becoming the next rock star" or "being an international artist." It can be something simple, like wanting to share music with your kids or making your life long dream of learning guitar come true. As long as it's strong enough to keep you moving forward and not quit, it will work out for you.
I firmly believe this because I've seen it for many years. My most successful students are those who find a solid reason why to learn guitar and stick with it.
FastComet: We know that regular practice of the instrument is essential to make progress as a guitar player. What advice would you give to those who need help organizing their music practice time?
Ángel Candelaria: I always emphasize the importance of carefully planning out your practice time based on your goals.
One of the most common mistakes a lot of guitar students make is that they don't plan their practice time taking into account their goals. They go to YouTube and start looking for random tutorials, with no clear goal in mind. Eventually, they feel discouraged by their lack of progress and give up.
There's a lot of information out there, and it's easy to get overwhelmed and frustrated. That's why, now more than ever, it's very important to take some time to plan your practice time. To be more efficient when practicing the guitar, and filter out those distractions that won't help you make progress.
Once you got that covered, there are some techniques you can implement to get the most out of your practice time. One of them is the Pomodoro Technique which, although not a music-specific technique, one can successfully apply it to musical practice. A while ago, I published an article in my blog (in Spanish) about it, with examples of how you can design your practice schedule applying the technique.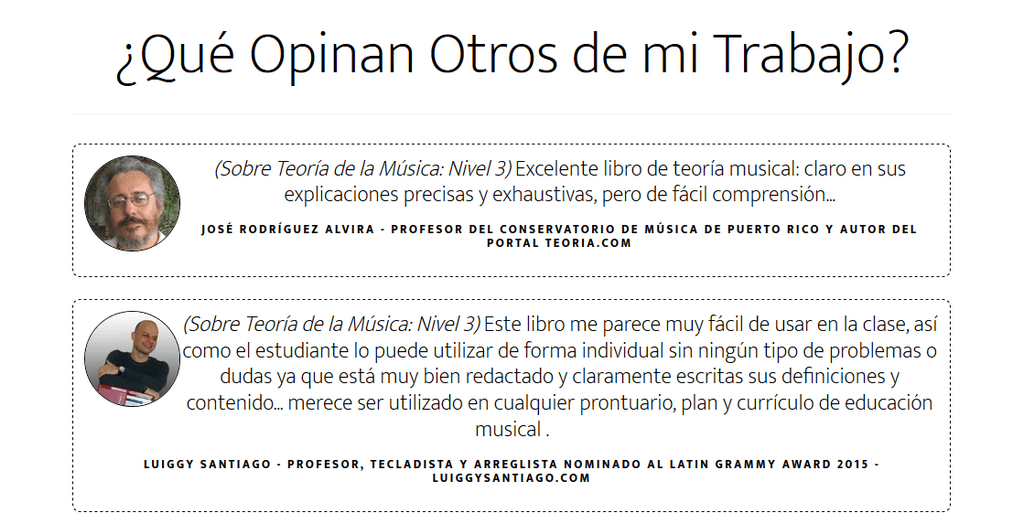 FastComet: What do you like most about being a guitar professor?
Ángel Candelaria: What I enjoy the most is seeing progress in my students. It gives me great satisfaction when I see that the time and effort of a student is starting to get results.
Especially in cases of students that came to me knowing absolutely nothing about the guitar. Witnessing the evolution of a student— from the first notes and concerts to opportunity to play in a band. Sharing with those students every step of their way, including wins and losses. Honestly, it's priceless for me to have the opportunity to be part of this process and make a long-lasting impact on their lives.
FastComet: How did you learn about FastComet, and why did you choose our hosting service?
Ángel Candelaria: I first learned about FastComet through a Google search. I was looking for Mautic hosting at that moment, and FastComet popped among the first page results (by the way, excellent SEO work!).
At that time, I've never heard about FastComet, so I began to look online for reviews and experiences of people who had used the company's services. After seeing that most of the feedback is very positive, I decided to give you guys a try. Curiously enough, I discovered FastComet looking for Mautic hosting. But, I decided to use Mautic in the first place, due to the time I would take me to maintain. Mautic is a great marketing application, though, and I might return to it in the future). However, I liked so much the FastComet hosting service and support, that I decided to move all my blogs and websites to it.
I've been a FastComet customer since 2016. At the time of this writing, my sites and blogs are running on the SpeedUp plan, and I couldn't be happier.
FastComet: How does FastComet help you to develop your online presence?
Ángel Candelaria: Having a reliable hosting is essential when you run a strictly online business because your online presence depends on it. You can't have a significant online presence if your hosting is constantly crashing and going offline. And after several years as a customer, I can genuinely say that FastComet is a reliable hosting I feel I can trust.
Believe me. I've tried several other hosting companies; some of them good and other a complete disaster. Of all of them, FastComet hosting service is the best one I've used as a customer so far. It's really powerful and stable. I would recommend it to anyone looking for a great hosting company to build a business platform.
Share Your Story with FastComet
We would like to express our gratitude to Ángel, for his participation in our contest and for telling his story. Do you also want to show the world your project and how FastComet helped you in making it a reality? Please let us know.
The latest tips and news from the industry straight to your inbox!
Join 30,000+ subscribers for exclusive access to our monthly newsletter with insider cloud, hosting and WordPress tips!