How to configure SMTP in Thelia
Updated on Dec 10, 2015
The use of SMTP for the mail service of your Thelia website will ensure the properly delivered emails to your clients. This will also allow you to configure the mail service with a specific domain, which will make emails look more professional.
To get SMTP mail service to work with Thelia, you need to:
Create an Email Account
The first step of the process is to prepare the email account you will be using for the mail service on your website. If you do not have such an email account, you can simply create one via your cPanel account. You need to locate the Mail section and then Email Accounts.

Edit the following details:
Email - Enter the name of your new email account. Note that if you have any parked/addon or subdomains, you will be able to select them here
Password - Enter the password of your new email account
Password (again) - Enter the password again for verification
Mailbox Quota - Set the limit for the mailbox quota in MB or choose unlimited for no limitations
When you enter the details above, simply click on the Create Account button to proceed.

Configure SMTP in Thelia
The next step is to configure your Thelia installation with SMTP. You need to access the administrative area of your website and then click on the Configuration button at the top menu.

Locate the System Parameters tab and click on Mailing System.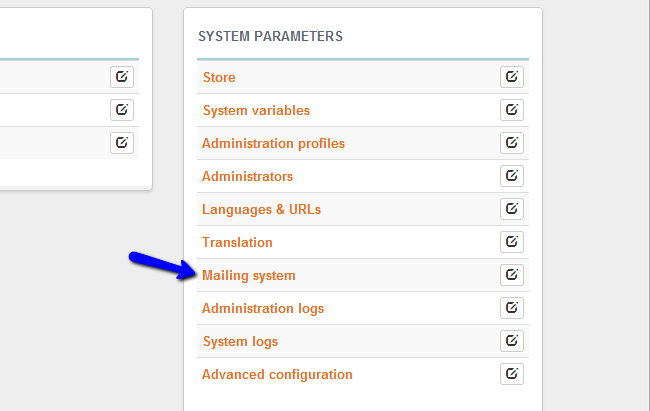 Edit the following options:
Enable remote SMTP use - Yes
Host - mail.domain.com (where domain.com is your actual domain name)
Port - The port on which the SMTP connection will be established. Set this to 25 or 2525
Encryption - Leave this field blank
Username - Enter the email account that you created during the previous step
Password - Enter the password for your email account
Auth Mode - Set that to "login" without the quotes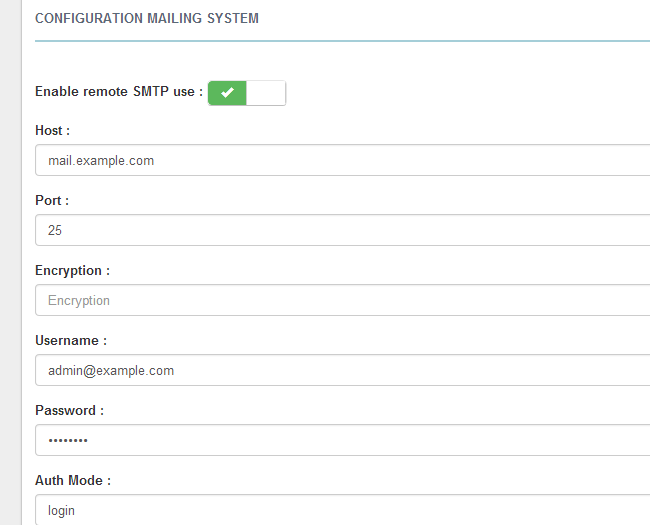 When you edit the details above, simply click on the Save button to keep the changes.