How to manage currencies in Thelia
Updated on Dec 10, 2015
With the management of an e-commerce website, the payments is one of the most important things that you need to configure first. You need to add the currency that you will be using for your products if it is not available from the list of default ones.
To manage the currencies on your Thelia website, you need to access the administrative area first and then navigate to the Configuration tab at the top menu.

Locate the Product Catalog Configuration section and click on Currencies.

To manage your Currencies in Thelia you need to know how to:
Add a Currency
Click on the plus-sign at the top-right corner of the screen.

Enter the following details:
Name - Enter the name of the new currency
ISO 4217 code - Enter the ISO 4217 code of the new currency. You can review all codes here
Symbol - Enter the symbol your currency is using
Rate from Euro - Enter the rate of your currency, compared to Euro
Once you enter the details for your new currency, simply click on the Create this currency button to save it.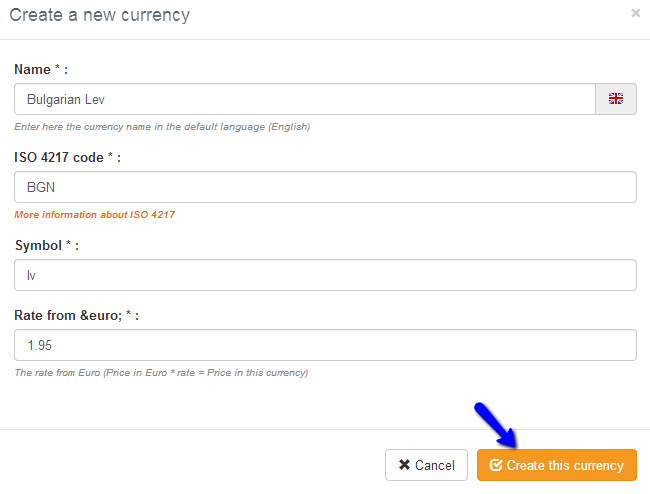 Change the Default Currency
To change the default currency on your website, simply access the Currency section within the administrative area again. From the list of available currencies, enable the one that you wish to use as default by clicking on the respective button in the Currency section.

Edit or Delete Existing Currencies
To edit a currency on your website you need to access the administrative area first. Navigate to the Currencies section as before and click on the Edit action button next to the currency that you wish to edit.

Edit the details that you wish to change and click on the Save or Save and close button.
To delete a currency on your website you need to access the administrative area and navigate to the Currency section.

Click on the Delete action button to the currency you would like to remove.