Create and manage pages in PHPFox Neutron
Updated on Nov 1, 2018
The pages feature of PHPFox Neutron is used for static information that you wish to place on your website. With it you can create pages like: the About Us page, the Privacy Policy, etc. To manage your Pages you will need to login to your admin dashboard and click on the Pages section in the main panel.

From here you can edit existing pages by clicking on the edit icon next to a page or create a new page by clicking on the Create a Page button. The settings are the same for both so lets create a new page. We will create an About us page as an example.

The main window is for the content of the page. The right side is where you will find other options regarding the page such as:
Title - The title of the page.
URL Title - This will be automatically filled after you type your Title. You can edit it to your liking if you are not happy with the autofill.
Meta Keywords - Specific type of meta tag that appears in the HTML code of a Web page and tell search engines what the topic of the page is.
Meta Description - HTML attributes that provide concise explanations of the content of the page.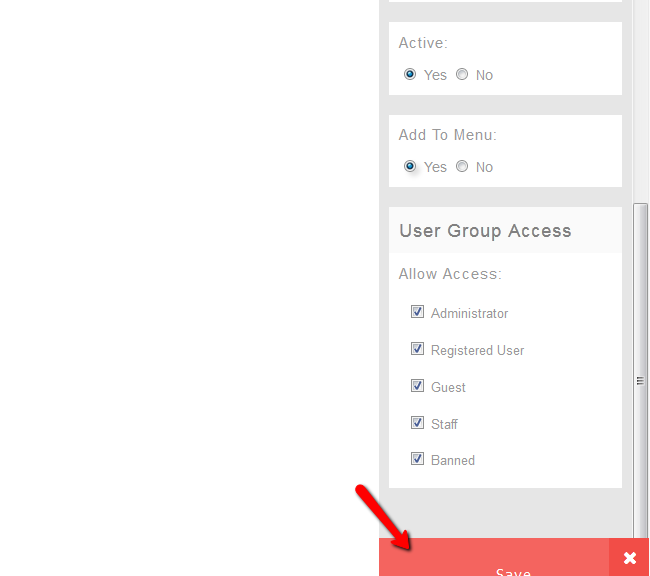 Active - The status of the page.
Add to Menu - Will you wish this page to be added to a menu.
User Group Access - Which user groups will be able to view this page.
When you have configured the page and filled its content clock on the Save button to create the page.
Once you have created a page you will need to make it visible for your users. To do so you will need to Add Menu via the Menu Section of the main panel and configure the Menu.
The most important thing is to select a Module which in our case should be Page, choose the placement of the menu which should be footer for an About us page and the URL to which the menu will refer. This is the URL of the page that we created so in our case we will add about-us.We will also give the Menu the same name as the page and click Submit. Note that the Menu we created will be added in the footer section of our Menus management page.

Now when the frontend of the website is reloaded it will show the working page About Us in the footer.