Create and manage blocks in PHPFox Neutron
Updated on Nov 1, 2018
All of the different components in PHPFox are placed into blocks. Those blocks represent positions on the page and you can assign certain content to those positions. This feature will allow you to re-design the actual way your website looks. To manage your Blocks you will need to login to your admin dashboard and click on the Block Section situated in the main panel.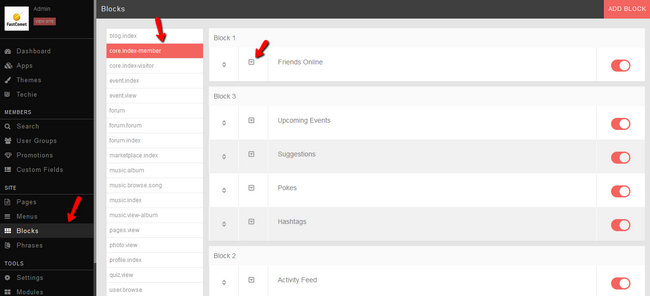 From here you can see all of your Controllers and all of the fucntions currently enabled/disabled on each Controller. For example in order to edit where the Friends Online block is shown on the website, you will need to select the core.index-member Controller, click on the edit drop down button correspoding to the block Friends Online and click Edit.

Here you can see the module for this block as well as its controller and placement. We are interested in the Placement option as it will allow us to move this block. Click on the View Sample Layout in order to see which block corresponds to the place you wish to move the block and then select that block from the drop-down menu. When you are ready, simply click Submit once you are ready with the changes.