Edit User Details in PHPFox Neutron
Updated on Nov 1, 2018
You can easily manage and edit user profiles on your PHPFox Neutron website. To do so you will need to login to your admin dashboard and click on the Search section in the main panel.

Here you can see a list of all users and also search for a specific user via the search options on on the right. Once you have found the user you were looking for you can manage his account by selecting that user. You can choose to:
Approve - Approve the user.
Ban - Ban the user from the website.
Un-Ban - Un-ban a previously banned user.
(Verify): - Manually verify the user(usually used when there is a problem with the user's email account but you are sure he is not a bot).
Resend Verification Mail - Resends the verification email to the email address the user has provided during the registration.
Delete - Delete the user. Note that deleting the user(s) will also delete all of their content from your site. You can also edit the user's profile by clicking on the drop-down arrow of that user and clicking 'Edit User'.

If you would like to actual edit some of the information about a specific user, select it and then click on the Edit User button from the drop down.

Here you will be able to change everything regarding that user's profile, including his Username, password, profile picture and email address.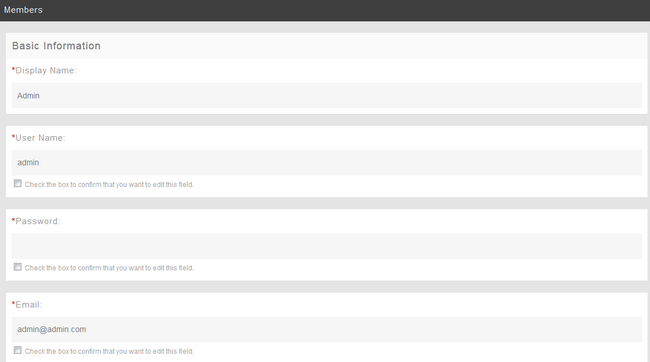 You can also move the user to another user group. To do so you will need to scroll to User Group and select a new group for the user from the drop-down menu.

After you are done with the editing, click on the Update button at the bottom of the page to apply the changes.