How to Create a Backup of Your Drupal Website
Updated on Dec 10, 2015
This tutorial will review the process of creating a full backup of your Drupal website. It is a good practice to generate such backups of Drupal on a regular basis, or at least when you make major changes or installations of any kind. This way, if something goes wrong with your website, you will have a working copy that you can restore it from.
To get a copy of your Drupal based website you will have to:
Backup Files
It is important to locate the directory that contains all of the files and folders of your Drupal installation. For example, if you are accessing your website via example.com/drupal/, where example.com is your domain name and drupal is a subfolder on your account, this will indicate that the Drupal installation is located in a folder called "drupal" within the public_html/ directory of your account.
Once you are sure about the location of your Drupal website on your account, you need to download the whole folder, using your FTP client.
Download Files
There are two ways of downloading your files to the server - using an FTP client, following our FTP tutorial, or downloading directly through your cPanel → File Manager, following our cPanel tutorial.
Backup Database
Once you find the database set on your Drupal website, you need to log into your cPanel account and navigate to the Databases tab and then access the phpMyAdmin service.

Select the database of your Drupal website from the list on the left-side of the screen.
Drupal configuration file
You can locate the name of your database, reviewing our tutorial on how to edit Drupal configuration file.

Select the Export button from the top-menu.

Click on the Go button to export a dump backup copy of your database on your local computer.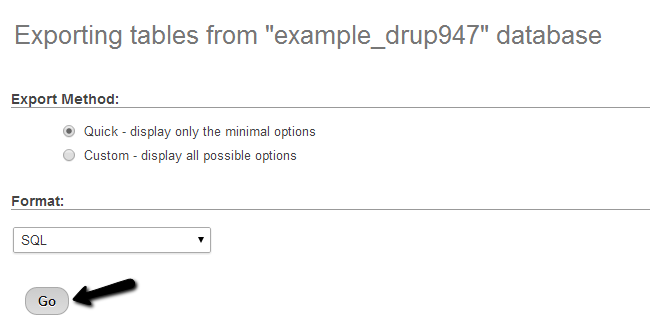 You now have all of the files needed for a successful restore of your website. To learn how to do that, visit the next tutorial in our series - How to restore a backup of a Drupal website.