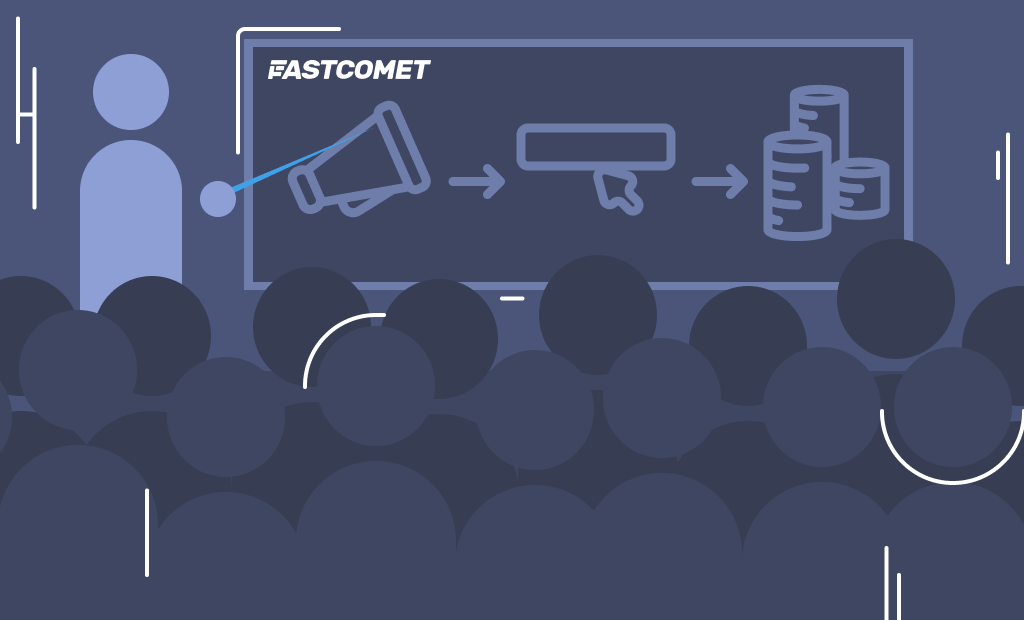 35+ Powerful Affiliate Marketing Tips to Earn Money With FastComet
One of the finest ways to increase passive income is through affiliate marketing. However, it's not as simple as you may imagine. You need to have a sound strategy and focus on your efforts to maximize your affiliate sales if you want to get a healthy monthly income.
We were able to compile some successful affiliate marketing advice. You may put things into practice to make the most of your efforts, grow your audience, establish your authority, and boost your passive income.
No matter the site hosting service or company an affiliate is working with, they can all benefit from the following advice.
Table of Contents:
Affiliate Marketing in a Nutshell
When a person promotes an advertiser's or retailer's goods, they are considered an affiliate. When that person gets their audience to do what the advertiser wants — usually a sale — they are paid.
Bloggers and other content creators can generate money passively by using their followers to promote a brand or website through affiliate marketing programs.
All affiliates have to do is choose a product or service they like, promote it, and receive a commission for each sale they make. Affiliate links are used to track sales.
Businesses gain from affiliate marketing programs as well. Referral programs account for 15–30% of purchases, according to Rewardful.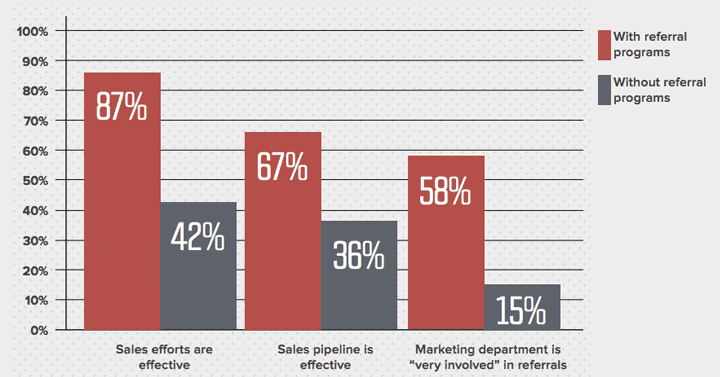 Affiliate Relationships
Three key players are involved in affiliate marketing:
Consumer: They want to buy something.
Publishers, sometimes known as affiliate marketers (affiliates), make money by suggesting things to their audience. They profit every time a customer buys a product from the advertisement.
Advertiser: Also known as a vendor, merchant, or retailer, the advertiser's purpose is to increase sales while increasing awareness of their product.
Benefits of Affiliate Programs
Here are a few reasons why you should learn how to become an affiliate marketer now that you know what affiliate marketing is:
Income from a passive source: If you want to learn how to make money online, affiliate networks are a simple and low-cost way to do it without having to offer your own goods. Unlike a day job, where you have to work before you can make money, affiliate marketing allows you to make money while you sleep. You must register with an affiliate site and create a campaign. When clients utilize your affiliate link to purchase what you promote, you'll continue to earn money.
Affiliate programs can be earned through a variety of avenues, including your social media profiles, email lists, and website.
Affiliate marketing is low-cost, low-barrier-to-entry. There are no signup fees for most affiliate programs; simply establish an account and start earning.
No specific talents required: Becoming an affiliate marketer does not necessitate any special abilities. Although some experience in SEO or digital marketing may be advantageous, the beauty of affiliate marketing is that you can learn and test as you go.
You don't have to limit yourself to just one affiliate network; you can develop many programs. You can also work from home and choose your own schedule.
Drawbacks of Affiliate Programs
While there are numerous benefits to becoming an affiliate marketer, you should keep your expectations in check:
Affiliate marketing programs are outside your control: You are subject to the merchant's rules and regulations. So, if you want to make more money, you must be picky about which partnerships you join.
It takes time for results to appear: It may take some time for your affiliate earnings to increase, especially if you don't have a large following, to begin with. All you have to do now is keep improving your postings. Keep in mind that this is a marathon, not a sprint.
There is no certainty of revenue: Affiliate marketing can provide passive income, but it is not guaranteed. Make it a secondary source of income until you see positive results.
Many people sign up to become affiliate marketers because there is a low barrier to entry.
In most affiliate marketing programs, 10% of affiliates are responsible for 90% of sales. Don't be discouraged, though! Because the affiliate industry is so large, learning to become an affiliate marketer is still worthwhile. Spending in the United States alone is predicted to exceed $8 billion in 2022, nearly tripling from 10 years ago.
How Much Affiliate Marketers Make
If you're on the fence about learning how to become an affiliate marketer, the prospective earnings may persuade you otherwise.
Affiliate earnings can range from $50 to $25,000 per month, depending on a variety of criteria, including:
Industry/Niche;
Size of the following;
Engagement.
Engagement is the most important of these three elements. Micro-influencers are popular with brands because they are less expensive, more relatable, and help create trust with their audiences. Another crucial factor to consider is selecting and developing a niche. If you try to sell to everyone, you'll probably end up selling to no one.
Here are some top affiliate marketer examples:
How to Become a FastComet Affiliate
To become a FastComet affiliate, all you have to do is go to our affiliate page. Click on the Start Now Button to sign up for the program: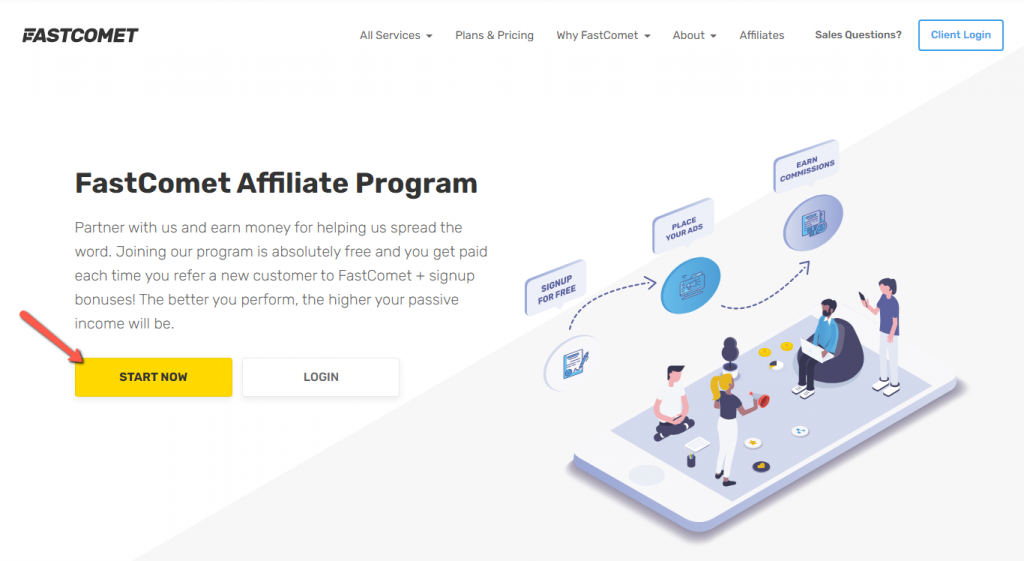 After you do that and set your password through the link we've sent you via email, you can Login to your Affiliate Dashboard and find your affiliate link in the top-left corner of the dashboard:

Top Affiliate Marketing Tips to Become an Expert
With the FastComet Affiliate program and its commissions, you can start earning money and developing a regular cash stream. We aim to assist you in getting the most out of your efforts. To that end, we've compiled a list of affiliate marketing tactics to help you grow revenue, improve conversion rates, and advertise FastComet more effectively.
Let's get down to business so you can start marketing.
Set Proper Expectations
You won't be able to earn a million dollars in a single month. $150,000/year dо not happen overnight. You must have reasonable expectations. Many affiliates dedicate a predetermined period of time to developing their initial sites before committing to a smaller amount of time to continue producing content while launching a new site. Set objectives and strive toward achieving them, whether you have a single site with concentrated continuing development or a collection of initially smaller locations.
It will take time, regardless of how rapidly individuals claim you can make money online. The benefit of online commerce is that things can happen rather quickly.
Even if you may set up a website right now and start sharing material with the world, in order to have an impact and earn money online, you'll need to spread your message and cultivate relationships with others.
This will gradually increase site traffic, clicks, sales, and affiliate commissions. Learn, but also do. Then, as you go along, keep learning.
Take the following into consideration:
What commission will you get?
How many sales will you need per day?
How much traffic will you need to get those sales (roughly)?
Things take time, but if you follow these suggestions and everything else you learn in this piece, you'll have the best chance of using affiliate marketing to accelerate the progress of your goals.
Highlight Your Expertise
Your line of work does not have to be directly connected to the product/service you are promoting as long as you can still provide a compelling argument as to why you found that product good. There can be a plethora of reasons, including the product being easy to use, having high-quality, being a cut above the rest, already established as the go-to in the industry, etc. Still, making a strong connection with your targeted audience that shows them, they can relate to you or your experience will greatly help you in increasing your sales rates.
For example, if you are a mother and you have a blog in which you share your daily life and the obstacles you go through, your audience will likely consist of parents that are either looking for tips on how to make their parenting better or a way to deal with their own issues that stem from parenthood. At a first glance, you would think that you could only promote baby food, self-help books, or toys via reviews to such an audience, but that is incorrect.
You don't need to be a web developer in order to be fascinated by website building or creating a passion project on the side, and that can be a perfect way of incorporating hosting as a topic and your parenting expertise to create an informative and "from the heart" promotion campaign. From knowing how to make a website for the kid's football team where other parents can discuss the latest training session to building a side-hustle eCommerce shop for extra income on top of the 9-5 job, there are a million ways in which you can add value to your audience's lives.
Analyze Your Competitors
Once you find a niche with high demand, little supply (do your Google research), and a reputable affiliate with high commissions, one of the best ways to learn new affiliate marketing tactics is by analyzing your competitors.
Web hosting is a competitive space, but the commissions and lack of supply are truly enticing. In addition to the tips we're providing in this post, don't hesitate to search the web to find out what other affiliate marketers do to boost their revenue.
We've already given some examples of top affiliate marketers. Why not strive to become one yourself?
Implementing platforms like YouTube, Pinterest, Instagram, TikTok, and even LinkedIn is a great way to widen your affiliate network reach.
Understand Your Audience
People hate bad ads, not ads in general, according to studies. Irrelevance is one quality of a poor advertisement. Let's say you manage a website for fishing, but there are ads about desktops and laptops on it. Just because practically everyone has a computer at home doesn't mean that affiliate ads for desktops or laptops should be run. They won't understand it, they'll get annoyed, they'll think you've run out of content, and worst of all, they'll think you're attempting to sell them something subpar to make quick cash. Your clients aren't there for this type of stuff.
Promoting only products/services that meet the urgent requirements and demands of your audience is the key to effective affiliate marketing. They are more likely to acquire a product or service if it is relevant to them, and learning about relevant items or services might be seen as value-added content rather than odd or unexpected advertising. Therefore, constantly consider the reasons why people visit your website, subscribe to your email list, or follow you on social media.
Luckily, you are promoting FastComet web hosting, which can be relatable for many people, and you can include web hosting ads/links/banners in almost any type of posts/pages.
Create The Perfect Pitch
Creating a perfect pitch is perhaps one of the most important things in sales overall. Nothing brings more confidence and trust than concrete proof in the form of your and other clients' experiences. For that, don't hesitate to search for reviews and testimonials regarding FastComet. Make sure to highlight the best opinions about the company—the opinions that come with specific details regarding "why FastComet is the best in hosting."
Also, include screenshots from the FastComet page, such as this one:

You will get even more points when you find a comparison between a popular hosting provider vs. FastComet, especially if people explain exactly why they transferred to FastComet.
Also, don't forget to mention that FastComet utilizes key technologies such as LiteSpeed, Imunify360, and AlmaLinux.
Own the Relationship with Your Audience
Having a devoted, interested audience who is interested in what you have to say is essential in order to succeed as an affiliate marketer. If your content marketing strategies are having trouble reaching them, that is difficult to accomplish.
When affiliate marketers want to promote their favorite products, they frequently start with social media and YouTube channels. However, depending on these online resources is problematic for the following reasons:
To encourage marketers to purchase ads, several algorithms deprioritize organic social media content.
If your account is removed, reported, or hacked, your entire audience is lost.
By asking people to subscribe to your email list, you may reduce that risk and maintain a direct channel of connection with your audience. You have complete control over when and how your affiliate material reaches your audience, and you get in their inbox, which isn't overrun with other messages.
This affiliate marketing advice need not be difficult. Simply incorporate a pop-up box on your website that offers visitors a free checklist or coupon code in exchange for signing up for your newsletter (more on those later).
Add "Proudly Hosted" by FastComet Links and Banners to Your Footer if You Are a Customer
Including a "Proudly Hosted by FastComet" link or banner in the footer of your site is one of the simplest methods to attract visitors to FastComet.
Even though it's in an unobtrusive location, you'd be astonished at how many people will click on these links.
Your frequent readers visit your site because they value your thoughts and expertise. Thus, the fact that your own sites are powered by FastComet will naturally draw their attention.
When using WordPress, you may use its widget system to add material to your footer on the most recent WordPress themes. Make sure you stick to affiliate link best practices. Specifically, utilizing the rel="nofollow" tag or, more recently, Google's advice to use the rel=s"sponsored" attribute.
Alternatively, you may add a Recommended Hosting section to your website, so your visitors can undoubtedly know that you recommend FastComet.
Send Traffic to Conversion-Optimized Landing Pages
If you want to maximize your affiliate sales, you shouldn't just think about the number of clicks you can give to FastComet; you should also think about the conversion rate of the traffic you send to FastComet.
Now that we've optimized every marketing page on FastComet for conversions, the most effective FastComet page will still be determined by the sort of traffic you're delivering.
If you're writing a piece about setting up a PrestaShop store, for example, linking to our specific managed PrestaShop hosting landing page rather than our general homepage will likely result in a higher conversion rate.
The PrestaShop hosting page is designed to convert visitors who are interested in your content into customers (PrestaShop, in this case). That implies you can improve your conversion rate simply by adjusting where your affiliate clicks are sent.
Additionally, you can choose a landing page such as our Optimized Hosting page, our Free Bundled Services page, etc.
Add a FastComet Banner to Your Website
Another simple option to promote FastComet is to place a banner in your sidebar if your site has one.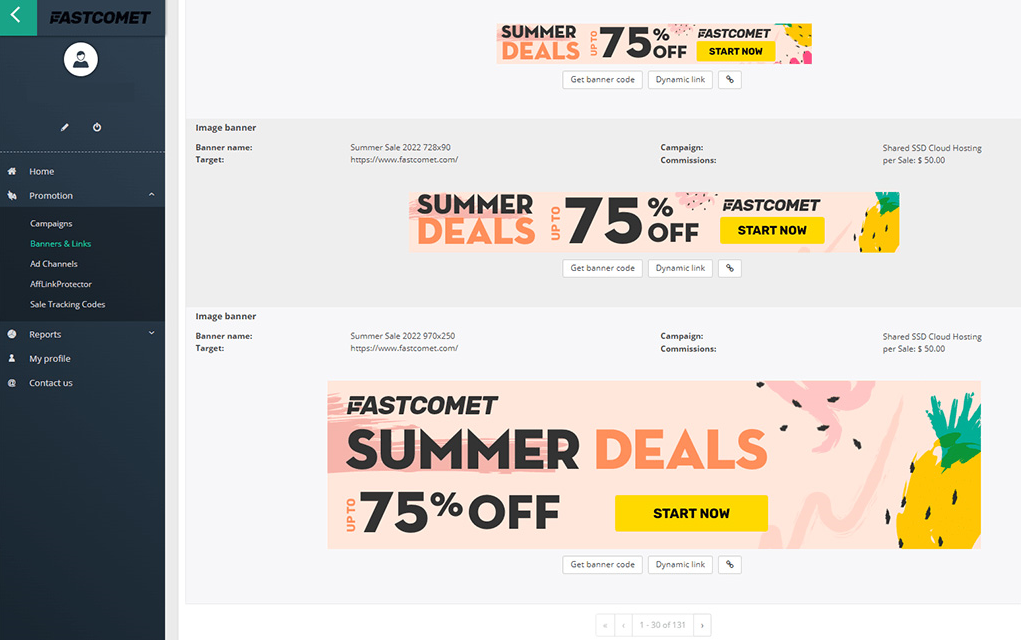 In the Promotion → Banners & Links area of your affiliate dashboard, you may locate more than 100 of our promotional banners, up to 40 of which are linked to the most recent promotion that is currently going on. We have a variety of pre-made banners in different sizes, including:
120×600 px;
160×600 px;
250×250 px;
300×50 px;
300×250 px;
300×600 px;
320×50 px;
320×100 px;
336×280 px;
468×60 px;
728×90 px;
970×90 px;
970×250 px.
We often have separate banners for the Shared, Cloud VPS, and Dedicated CPU Server campaigns, so you can pick the size that works for your site and get a banner that's optimized for your audience.
Depending on the type of information visitors are reading on your blog, be sure to display relevant sidebar banners (for posts that fall under an SEO category, it would make sense to show a banner related to SEO, and for posts under the website speed category, you would better show a different banner). A plugin like Widget Logic can be used to control sidebar banners.
Know the Services You're Recommending
Unfortunately, practically every "make money fast!" program includes affiliate marketing. That is accompanied by a deluge of people who are only interested in making quick cash rather than truly assisting their audience. They frequently fall short quickly.
Having more knowledge than your rivals can help you stand out from the crowd. You need to be known as an authority or, at the least, have a website where people can learn more about the products you are pushing in order to stand out as an affiliate.
Affiliates all too frequently choose a few suppliers without performing any study on them because they think they will be of interest to their visitors. However, even if all you want to do is learn about these things, you still need to understand how and why they are used.
To accomplish this, you should conduct your homework before registering with a new service provider. Before using it, even for the demo version, think about what other people think. People will be more likely to trust the goods you suggest, even though it could take longer to drive sales for your affiliate products/services.
Be Trustworthy
Some people solely utilize affiliate marketing to make money, not to help their clients. Some even try to conceal the fact that a link is an affiliate one by using spammy, dishonest affiliate advertising and promotions. The majority of readers can usually smell them a mile away, but that's good if you're sincere about your intentions.
Your audience won't care about the content as long as the product or service you're promoting is pertinent to them. They might quit and not return, though, if they think you're trying to con them or abuse their reading by placing too much unrelated advertising.
Remember that your most valued visitors are those who return frequently; they are the ones who will link to your website and suggest it to others, expanding your customer base, not the ones you deceived into visiting once. You must treat your customers fairly and honestly while fostering relationships with authentic content. They won't return if all they perceive is a profit motive—that is, that you don't ultimately have their best interests at heart.
You can establish your credibility by addressing any flaws in the affiliate product or service. They won't believe it if you advertise something as being too wonderful to be true.
Instead, emphasize the positives before addressing a negative to build trust. Always mention a workaround to demonstrate how you make it work in spite of the flaw, or mention that practically all comparable goods or services have this flaw, etc.
Self-promotional and blatantly commercial websites never succeed. To encourage repeat visits, you must assist your visitors and offer them high-quality content that they find valuable. Useful information prevails when you examine the websites that score highly for the various terms used in your niche. Do your homework and offer more information or updated details.
Create Solid Content
You must produce high-quality content if you want to use affiliate marketing to earn additional money. Every form of communication you employ contains content. You must be familiar with calls to action, both informational and transactional, and possess clear writing skills.
Additionally, you must center your writing on the reader. Answer their inquiries and give them thorough details in a manner that is readable and interesting.
Recognize your target market and consider what attracts them to your website. Learn what customers want to find on your website by using the search bar. Decide to publish information frequently.
Write a Detailed FastComet Review
Deloitte estimates that 88% of consumers are just as likely to be persuaded by product and service reviews as they are through personal recommendations. One of the easiest ways to get people to join up using your affiliate links is by publishing a review of FastComet on your website. People enjoy seeing personal opinions, especially when they are supported by compelling arguments.
When it comes to writing the review, you'll want to concentrate on the aspects that your visitors consider to be the most important. If you have a user base that lives and breathes performance, for example, you'll want to concentrate on FastComet's server design and hands-on speed tests.
If you have a casual audience of customers who are establishing their first websites, on the other hand, you'll probably want to emphasize how simple it is to install a CMS like WordPress and get up and running with FastComet.
Consider:
reviewing our plans (FastCloud, FastCloud Plus, FastCloud Extra, and Cloud VPS plans);
comparing us to other hosts.
Authority Hacker has some excellent tips on writing compelling product evaluations.
Update Your Review Regularly
We're always adding new features and tools to make your FastComet hosting experience even better. For example, we've been expanding the number of data centers available, switched to AlmaLinux 8, and improved performance by moving from CacheWall to LiteSpeed.
If you want your FastComet review to be as appealing as possible, make sure it's up to date with the most recent list of FastComet features, as those new features could help convert a visitor into a FastComet customer.
You can subscribe to our monthly newsletter or check the FastComet blog on a regular basis to stay up to date on improvements to the FastComet hosting services.
Highlight FastComet's Real-Life Reviews
Testimonials and reviews are among the best techniques to convert potential customers when it comes to promoting services. Your own FastComet review is one piece of evidence, but showing that other people have been pleased with your recommendations can boost their credibility.

FastComet has been reviewed by the biggest web hosting review websites, such as G2, HostAdvice, and Trustpilot. Also, see the following screenshots that highlight some FastComet client reviews: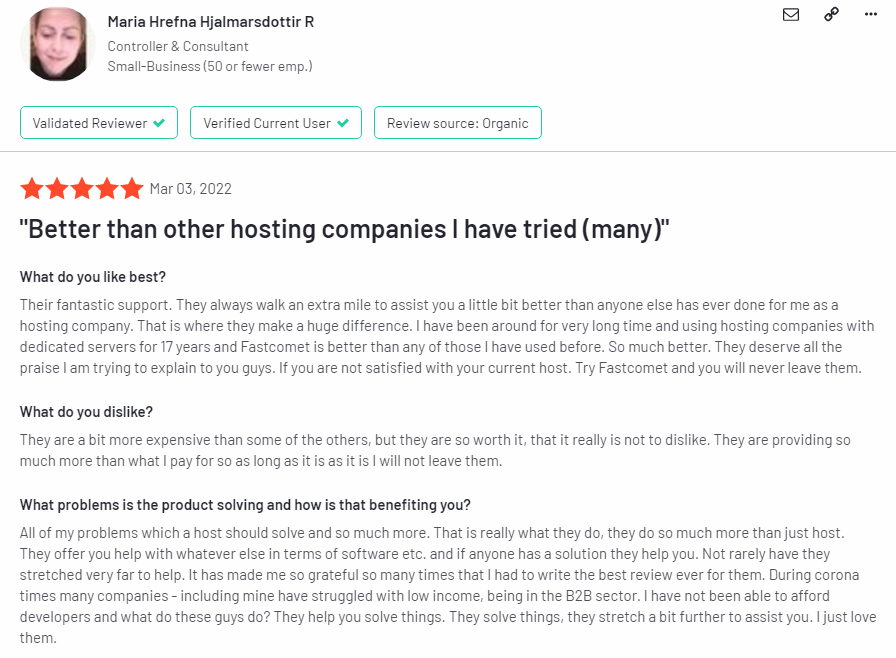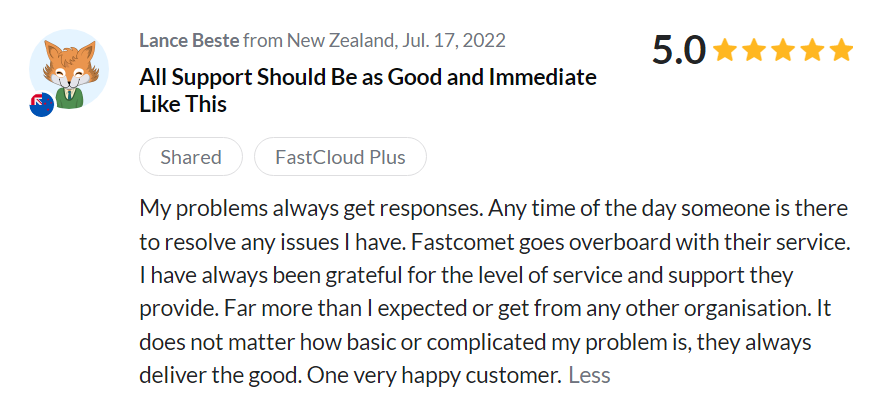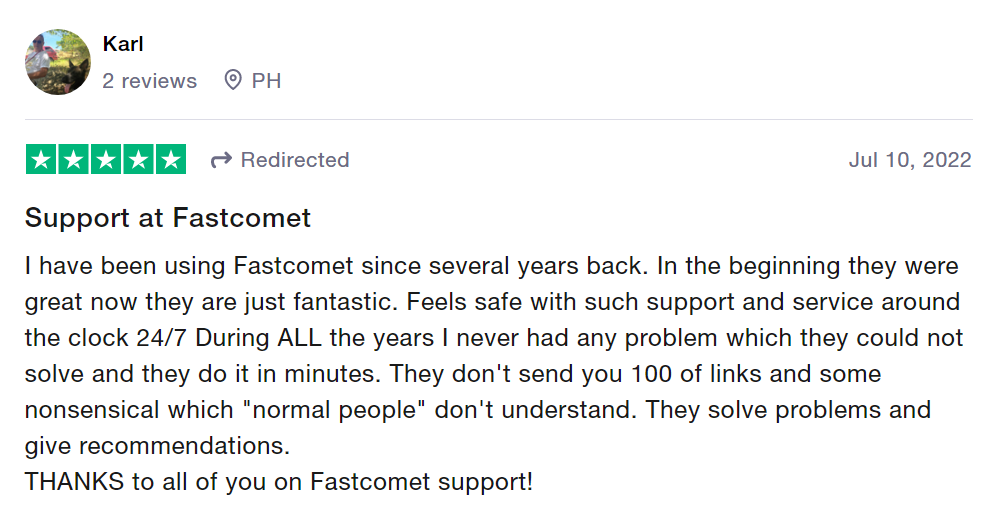 You will be glad to know that our scores are high with each one of them, which would definitely be beneficial for you as one of our affiliates.
Of course, linking to a third-party source has the disadvantage of preventing you from promoting your affiliate link, so the dedicated FastComet landing page is a better bet.
Embed/screenshot favorable FastComet reviews from Twitter or Facebook as another compelling strategy. If you choose this route, make sure you get permission first and/or blur out any personal information.
Create Video Reviews
If a picture says a thousand words, what do you think a video does? You should start concentrating on video evaluations for your eCommerce site as they are becoming more and more significant. You need video reviews for the following main reasons:
Social evidence – A whopping 80% of people claim that seeing product videos increases their confidence before making a purchase! Videos from previous customers increase the buying confidence of potential clients, which is crucial in eCommerce when it is not always possible to try the goods beforehand.
Peace of mind – A lot of customers worry that things won't appear exactly like what they see online. In actuality, this anxiety affects 50% of online shoppers. It can be settled with the aid of videos.
Interactive. The majority of eCommerce companies do a great job of including photographs and having an aesthetically pleasing design. The differentiator is now video. Consumers can skip over photographs with increasing ease. Video reviews make it simple for the 33% of people who want to learn more about things by watching the video.
Reduce costs and time. Professional video production is expensive and resource-intensive. Customers' video evaluations are a free (with the option to pay a modest reward) approach for eCommerce firms of all sizes to utilize video content.
Leverage video reviews and product demos by your very own customers to increase trust, build loyalty, and drive conversions.
Create Unique Photos/Screenshots
Google can tell whether you have copied images directly from the source, as well as when you reuse images that you have taken elsewhere.
Make sure that you take original screenshots and search for chances to include pertinent YouTube videos in your articles. Even if these videos are affiliate product reviews from someone else, you will still gain from them, and you shouldn't worry about losing the commission to another marketer.
The easiest way for a screenshot to be authentic is to add your personal logo or watermark at a key place – where it can't be easily removed without a trace.
Update Old Blog Posts to Include FastComet (Where Relevant)
When it comes to advertising FastComet, don't overlook your most valuable resources:
Your existing content inventory.
While it's quite awesome to mention us in your blog posts in the future, you shouldn't disregard your earlier posts, which probably already have a following.
Check your top-performing content to determine if there are any obvious places to mention FastComet.
While you're at it, check to see if any of your current material needs to be updated. This can help to improve WordPress SEO and the existing content's search engine rankings. Your FastComet links will therefore be viewed by more people as a result of an increase in traffic.
Use FastComet's Other Official Brand Assets/Creatives
We've focused a lot of our advice thus far on how you can use your own website, but don't discount other platforms for reaching your audience, like your email list or social media accounts.
The FastComet blog aims to convert visitors into FastComet clients while simultaneously providing free information. By connecting to FastComet blog posts with your affiliate link, you can advertise FastComet in a natural way that still offers value to your readers while also making money.
Additionally, you can help your audience by providing links to our helpful guides in our thorough Knowledge Base or the FastComet Tutorials.
Publish Comparison Pages
Comparability pages differ from typical product/service reviews. They put two choices against one another and assist a customer in selecting the alternative that best suits their requirements.
By posting comparison pages on your website, you can encourage visitors to click on your affiliate links during that process. Optimize the page for the comparative keyword and encourage visitors to click on your links by helping them make a decision about what to buy.
Start writing a series of comparison posts that perform unbiased, side-by-side comparisons of prominent hosting providers and FastComet in an effort to assist users in determining which choice will work best for their requirements and budget.
Even if many of these hosting comparison articles receive relatively few results, you should still work on creating many of these comparison articles by imagining yourself as someone who is just starting out in blogging and conducting these kinds of comparison searches.
When a reader of your comparative article hits a link in your article and chooses to join FastComet and buy one of our hosting plans, you can earn a commission as an affiliate.
The best aspect is that when it comes to offering extensive web hosting services, the majority of web hosting businesses can't compete with FastComet. Consider sharing a screenshot of the comparison table: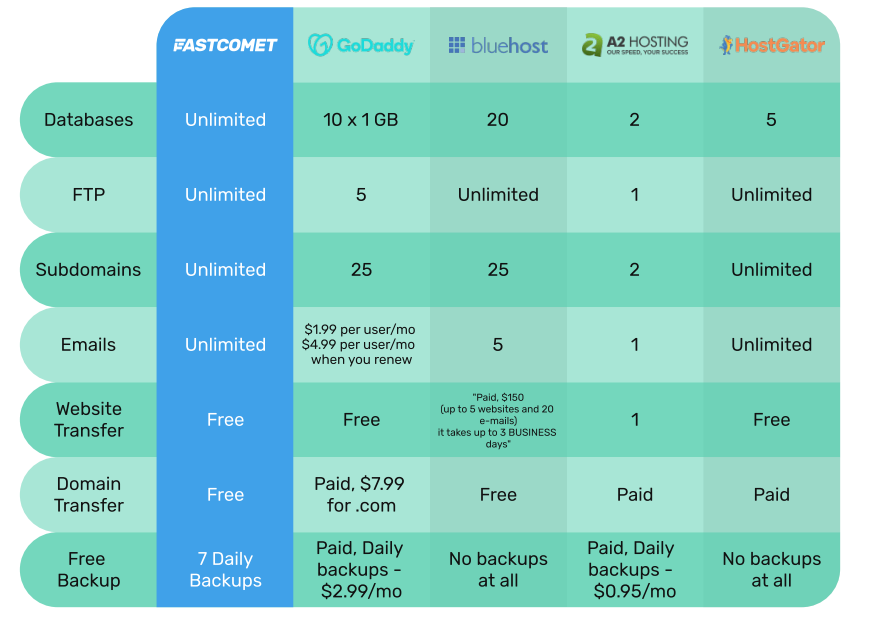 Create a Tools/Resources Page and Include FastComet There
When we talked about adding a "powered by" link to your footer, we touched on this. However, your viewers will also be interested in the tools you use because they value your opinions (since they read your content).
You can establish a dedicated tools/resources page and include FastComet among the other services you use to promote us (and explain why you use everything listed in greater detail).
This allows you to include both your affiliate link and a link to your FastComet review to explain why you suggest FastComet to your visitors.
Promote Black Friday Deals
Black Friday and Cyber Monday sales are offered by many businesses, including FastComet, and if you properly market them, you can easily make three times as much during this period as you would normally.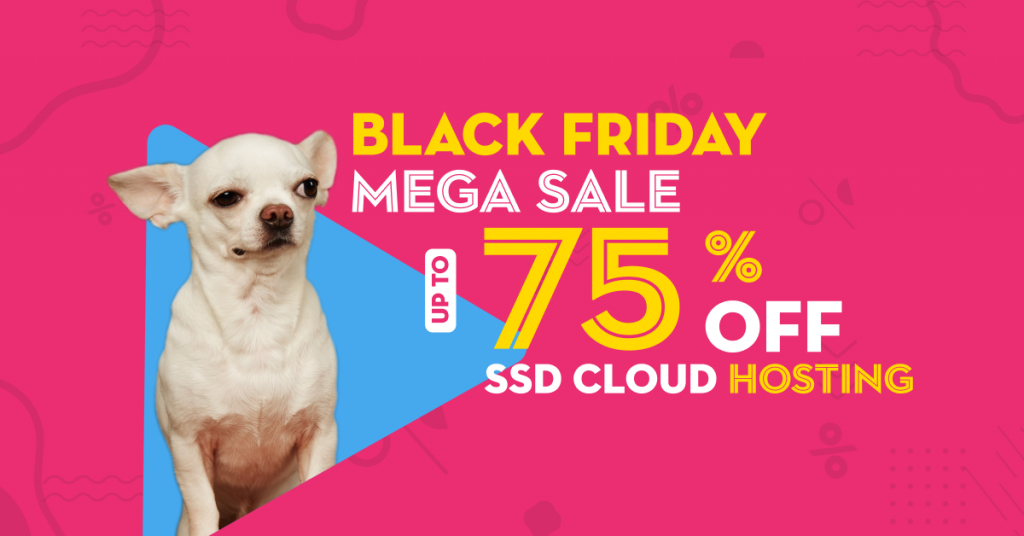 During the Black Friday season, you can make much more than usual. You can create a "Deals" page, but you should mass update all pricing screenshots with screenshots of your affiliate's new Black Friday prices using the Better Search Replace plugin.
Try performing another search/replace to change the screenshots back once Black Friday is over. It doesn't take long, but it works well.
Promote FastComet to Your Clients (For Consultants)
If you advise clients and/or design websites for a living, you may directly promote FastComet and explain the benefits of using a managed WordPress hosting like FastComet in your interactions.
When you're interacting with clients, you'll probably want to focus on FastComet's business case. You can emphasize how characteristics like outstanding support, fast performance, and handy tools can help your clients save money in the long run.
Promote FastComet in Your Podcast
Podcasts are becoming more and more popular. If you have one, you can mention FastComet as a hosting service in the audio and then put your FastComet affiliate link in the show notes. Easy as that.
Get Involved in Facebook Groups
Every topic has a Facebook group. Your conversion rate will increase if you add Facebook polls in which FastComet received the highest ratings, a few Twitter screenshots of migration outcomes, and Facebook Groups discussions. You MUST provide neutral reviews, whether they come from Facebook polls or HostAdvice reviews.
Target Local Audiences
As an affiliate, you will often target audiences worldwide because there are virtually no limitations. Make sure to concentrate on curating information that is appropriate for your local language and community. By doing this, you may design an experience that is more pertinent, focused, and unique. Your website won't face any direct competition if it is customized and targeted because most websites cater to a worldwide audience. You gain a fair advantage by focusing on regional customers, moving you one step closer to maximizing your profits.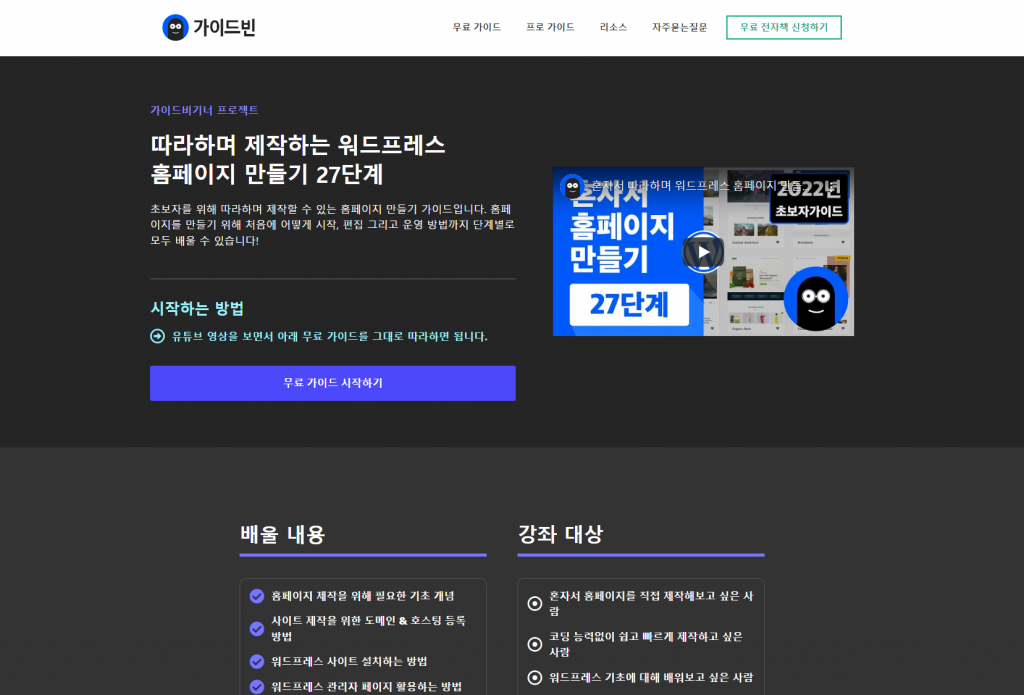 Тargeting local audiences brings some advantages:
Specific Demographics – Reaching particular demographics is one advantage of local advertising. With online marketing, this is extremely crucial. Utilizing your target audience's demographics is a simple approach to ensure that your advertisements are seen by the correct individuals.
More Precise – Reaching your audience through local advertising is a highly targeted and accurate strategy. Your advertising will be significantly more successful as a result of this. You can learn more about your audience when you simply target people in your local market. Additionally, you will be able to interact with them and discover more about their hobbies and demographics.
Higher Conversion Levels – As a FastComet affiliate, using local advertising is crucial for the reason that it increases conversion rates. By using local advertising, you can be sure that your message is being seen by the appropriate audience.
Builds Your Reputation – Building your online reputation is yet another fantastic advantage of local advertising. This is crucial if you're a beginner affiliate looking to expand their clientele because word-of-mouth advertising may significantly boost revenue.
Cost-Effective – As an affiliate, you ought to consider the products/services you promote as your own. Finding opportunities to save money is crucial. It is significantly simpler to cut costs on your campaigns when you use localized advertising. When you launch a large-scale advertising campaign, you risk wasting money on low-quality impressions.
Creates New Relationships – Last but not least, local affiliate marketing is a fantastic approach to connecting with your local audience. First, local marketing enables you to forge new connections with nearby companies. You can improve both your community and professional reputation by doing this.
Build Buzz with Reddit
Reddit serves as the roots of the Internet. Don't sleep on its massive power! It's crucial to take advantage of it and create buzz on Reddit. The biggest hurdle here is making your clients aware that they actually need the service. Once they know that, then you can focus on why it's the best.
A lot of people buy useless products, but not as many people will pay for useless services. The perceived value of what you provide has to be higher, meaning you have to implement as many of the tips we share in this post as possible.
Host a Webinar
Hosting a webinar for your affiliate product is one strategy to advance its advertising. Webinars are a really effective approach to communicating with your audience. You can treat them as if they were a real event since they are approachable and live. As a result, your advertising will be considerably more effective than simply including a standard affiliate link in a post.
Publish a Webinar Replay
Make sure to film your live webinar so you can provide a replay of it on your website for people who missed it and for people who watched it live but want to study the content.
You simply have to offer them the option to do so. To be honest, more people will probably watch it as a rerun than live, which is a wonderful thing. Using screen capture programs like Camtasia Studio or Screenflow makes screen recording simple.
Finally, make sure you give viewers several opportunities to click on your affiliate link in the webinar and on the post where you embed the replay.
Master SEO
SEO is the main source of traffic for the majority of affiliate marketers. One of the best ways to generate steady traffic is through SEO.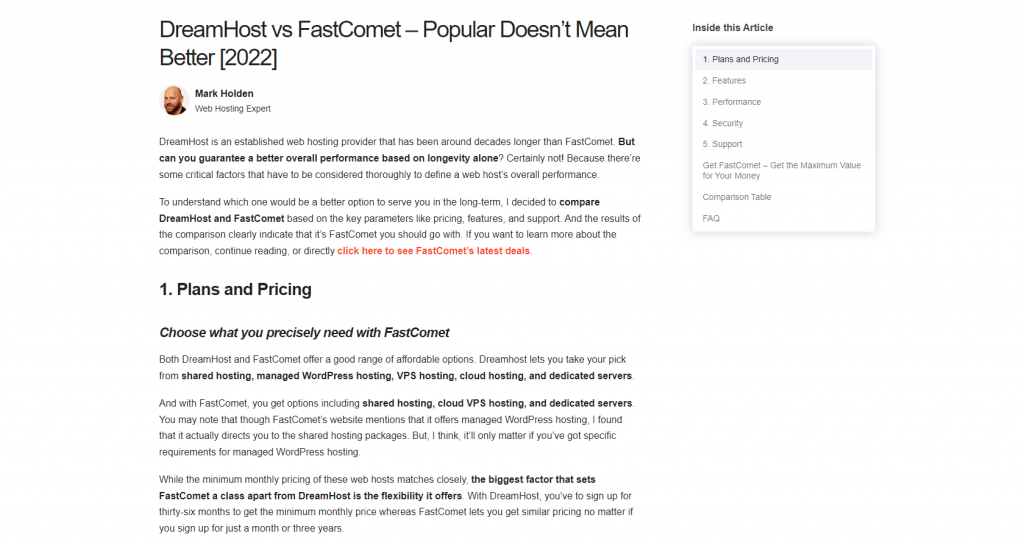 There are some key steps to SEO:
Look up a keyword's competition, search volume, and market share.
Better than anyone in the top results, produce in-depth material.
Make the content accessible (YouTube chapters, table of contents on blog).
Use your keyword appropriately (title, description, content, video file name).
Boost click-through rates (titles, personalized thumbnails, highlighted snippets on Google).
Research your Keyword
Utilize YouTube's autocomplete option to find a keyword (or Google Autocomplete for blog posts). To fill in the blanks, use the character "_". People often search for broad keywords, but those are more expensive. The best keywords have weak content in the top results and are broad (have great volume). You can find out how popular a keyword is on YouTube and Google using vidIQ and MozBar, respectively. Choose wide keywords for videos and particular phrases for blogs because competition on YouTube is considerably lower than on Google.
Develop Comprehensive Content for the Keyword
Depending on how detailed the topic is, YouTube videos can be 10+ minutes long, and blog entries can be 1,500+ words long. Comprehensive yet succinct! If your content is lengthy, be sure to include timestamps in the descriptions of your videos and create an HTML table of contents for blog articles so readers can quickly access particular parts of your writing.
Use Your Keyword In The Right Places
Use your keyword by following the tips below:
in the file name (before uploading) and the description of YouTube videos;
think of a snappy title for the video that strikes a balance between employing the keyword;
The description for the video should be fairly long (use your keyword approximately 2-3 times).
For blog posts, use your keyword in the following manner:
Include the keyword in your post title;
Have the keyword in the permalink;
Make sure that you have the keyword in the SEO (meta) title;
Include the keyword in the post's meta description;
Spread your keyword in the content body (1-2 keywords for every 100 words of copy, once in the first couple of sentences).
Make your Content User-Friendly
The two easiest ways are to use timestamps in video descriptions and an HTML table of contents in blog posts. Get a good camera and edit your videos while keeping up with the trends in your niche.
Increase Click-Through Rates
It all comes down to interesting titles and thumbnails for YouTube videos. A compelling SEO title and meta description, appearing in Google's featured snippets, and utilizing rich snippets like review stars and FAQs are all important for blog entries.
By providing a very succinct response to a question keyword, featured snippets can be obtained (usually with a paragraph or list from the content). Usually, lists are taken from the table of contents or the h3 subheadings. Google will probably utilize your ToC or perhaps a sentence to generate a featured snippet for your keyword: e.g., "how to boost your affiliate marketing revenue."
Create a blog or YouTube channel, identify relevant items or services to direct your visitors to, and earn money through affiliate marketing. Join affiliate networks, make product affiliate links, and include them in your content. The majority of affiliates use Pinterest or SEO to increase traffic.
Links, Links, and More Links
You should connect to previous posts or other materials you've produced while writing fresh content. What about links to the new article, though? You can add links to your new article so that earlier articles that are relevant to it can connect straight to it by identifying existing information that already exists. This can improve how others perceive your authority on the issue and help you rank higher.
Think of your new blog as being titled "why choose FastComet." Editing your posts to incorporate an affiliate link makes perfect sense because you already have a lot of blogs/articles discussing web hosting providers. Maintaining a spreadsheet of the many topics covered, along with what you have written about them and when – makes sense if your website or blog covers a variety of themes.
Revise Out-of-date Content
We've already talked about how to edit your FastComet reviews, but you should also edit all of your content in the same way. Consider modifying and upgrading them if you have a lot of content that is now out-of-date or contains information that has been replaced because things can change quickly. This may be particularly true for some of your more well-liked pieces that have received a lot of traffic and have a high CTR.
Utilize Quora
Many firms underutilize Quora. In fact, more people in upper-income categories utilize the network than LinkedIn, and it has more than 300 million monthly users. Therefore, affiliate marketers have a great opportunity to boost both the visibility of your pages and the volume of traffic that is directed to them.
Finding the top queries and terms on Quora is the simplest way to use the platform. Finding questions that are pertinent to your field is all that remains now. After being located, you compose a lengthy response (with links) and wait for the traffic to grow.
Take your series of articles about freelancing, for instance, as an example: "How do you structure a project timeline?" is the query that someone posted on Quora. Then, in your response to the query, you could include links to any pertinent writings you have already published. Just be sure to provide enough details in the response to sound intriguing; otherwise, few people will click through.
Increase Your Page Speed
Many affiliate marketers focus just on content and overlook the importance of conducting a technical SEO audit. Page speed is a vital component of this. A potential visitor is more likely to change their mind and leave your page the longer it takes to load.
When it comes to attracting and keeping large amounts of visitors, making sure your sites load quickly and that they are optimized for mobile access is crucial. You should frequently monitor this rather than just checking it occasionally. You may improve website loading times in a variety of ways. Among them are the following:
Ensure your host offers high speeds;
Compress larger images;
Reduce the number of HTTP requests;
Set up browser caching;
Clean up any media library (remove anything that is now redundant);
If using WordPress, consider plugins such as TinyPNG or WP Rocket;
Use a CDN (content delivery network).
As a FastComet customer, your site is already speedy, and you can always count on us to help with anything hosting-related.
Minify JavaScript and CSS.
Always verify the functioning of your pages after making any big changes, such as installing plugins, to ensure the page still functions properly. Although many of these solutions can be completed by anybody, some may require IT experience. These include minifying JavaScript and CSS.
Use CTA Buttons
Your call to action (CTA) is an opportunity to inspire your audience to take concrete actions to become a client or a customer. It might make the difference between a convert and a lead. The call to action, according to many, is the most crucial element of your website or advertising campaign. Avoiding the CTA is a serious error that won't be good for your business. There are three reasons the CTA button has become such a standard.
CTAs Motivate Your Sales Funnel
Sales funnels and CTAs go hand in hand. The transitions between the stages of the buyer's journey are provided by the calls to action. They direct the user on what to do next and urge them to act right away. You must compel this action with a strategically positioned CTA in the sales funnel, regardless of whether you want your user to visit your blog, provide their contact information, download an e-book, or subscribe to an email list. Utilize CTA best practices, such as emphasizing the advantages of the button's content. Use "Get More Tips" instead of "Subscribe," for instance.
More people will go forward if you make it simpler for them to do so. A better user experience is produced by your CTA. You provide the solution in an eye-catching, vibrantly colored button to direct your audience to the next step of the purchasing process rather than leaving them to guess and wonder. Your customers no longer need to solve a problem since you've provided them with the quickest path to the next step. Customers are trained to look for and use CTAs. Give the folks what they want to make the buying process easier.
Customers Want Them
Customers demand and expect calls to action, and thus they are crucial for businesses. The CTA at the bottom of the page often prompts visitors to take the next action. They have read your advertisement, are intrigued by your brand, and are looking for the CTA button to find out what to do next. The absence of the CTA can confuse readers and reduce your ability to convert them. CTA buttons make it simple for clients to take the desired action. That benefits both them and the business.
In certain situations, you want your brand to be recognizable. Your business becomes trustworthy and approachable when it is predictable. One area where it pays to be as predictable and logical as possible is the CTA. When they can't find your "Call Now!" or other CTA button, visitors become perplexed and frustrated. The campaign is planned to include strong calls to action on social media, websites, at the conclusion of videos, in copy messaging, in digital advertising, and elsewhere.
CTA Buttons Boost the Success of Digital Advertising
Digital advertising is all about creating excitement about your good or service, attracting customers' attention, and persuading them to make a purchase. The call to action completes the picture by highlighting the effectiveness of the ad language. Your copy messaging will fall flat if you don't include a CTA. It won't have the concluding hook that motivates buyers to move forward. Pay-per-click (PPC) advertising places a lot of emphasis on CTAs. You may better explain the purpose of your PPC campaign to your audience by including a call to action.
Frequently, you only have one chance to make a solid first impression on your target market. There is no time to waste when using PPC ads and other types of digital advertising. Customers may choose the competition over your brand if even the tiniest missed chance causes them to do so. During the construction of ad campaigns, emphasize the need for a powerful, exciting call to action to your marketing team. Make the CTA the main focus of your advertising campaign. Otherwise, there's a chance that your campaign will be ignored. This is a risk that most businesses cannot afford to take.
Use Exit Intent Pop-up Banners
When a visitor intends to leave your website, a popup known as an exit popup, also known as an exit-intent popup, shows on their screen. In essence, website owners are making a last-ditch effort to keep visitors from leaving.
For instance, if a customer is trying to leave your website after leaving the shopping basket, you might try to persuade him to stay and finish the transaction by presenting him with some alluring offers through the departure pop-up.
Exit pop-ups are typically preferable to all other pop-ups because they don't irritate users. They only appear when a visitor attempts to leave and do not disrupt the flow.
Exit popups, as opposed to other popups that may occur at any time, guarantee that the user experience is maintained right up until the very end. Offering visitors something they can't resist grabbing is the best approach to keep them from leaving your website.
Offer a thrilling proposition. It should be interesting to them and compel them to take advantage of the offer right now. The pop-up won't generate conversions if the offer doesn't pique their interest.
Stay Current with Trends
The affiliate marketing industry is highly competitive. You'll need to stay on top of any new trends if you want to remain competitive. Additionally, you'll definitely benefit from a number of the cutting-edge marketing techniques that are always being created.
Make sure you stay up to date on all of these new strategies if you want to guarantee that your conversion rates—and ultimately, revenue—are as high as possible.
Track Your Affiliate Marketing Success
Understanding what has worked in the past is necessary for ongoing success. While you shouldn't set it and forget it, it's crucial to understand how users interact with your website. Of course, factors like social sharing, search ranking, etc., will matter.
To find out more about your visitors, you must use your visitor analytics. What proportion of people is new and returning? Which pages receive the most of your traffic? What pages and links on your navigation bar receive the most clicks? Answers to all of these queries will help you improve and add activities.
Where does your converting traffic come from? Which pages get the greatest traffic before a conversion? Utilize your statistics to find out what fresh material is required or even where specific links should be placed on existing sites.
Avoid Google Penalties
It's certain that you should avoid Google penalties. To do that, consider the following tips: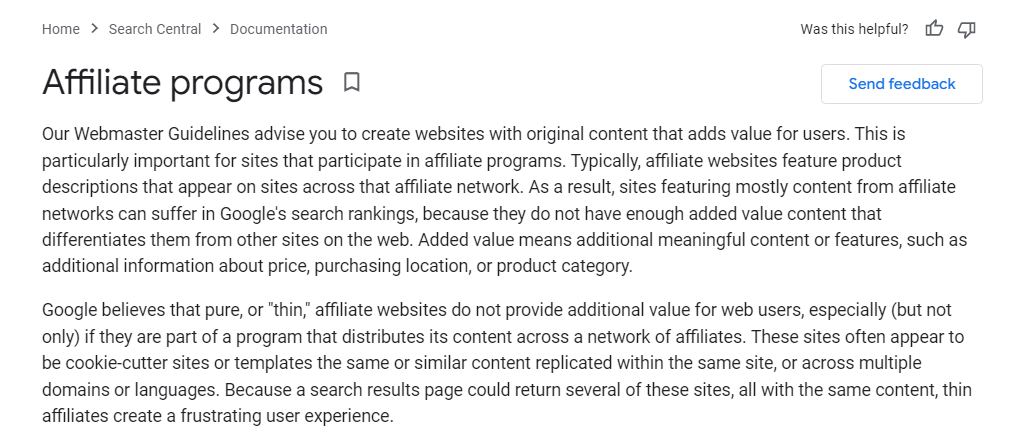 Stay away from thin pages – they are ineffective for readers;
Remember that Google is aware that you shouldn't always put affiliate products first;
Avoid overusing affiliate links in your posts; just use them when necessary;
Don't write too many "list posts" in which you only list your affiliate products/services;
Write a disclaimer about affiliate links;
To lessen the number of affiliate links on your website, think about creating a review of the product (service update) or service your affiliate offers and linking to it.
Other Mistakes to Avoid
In your Google Analytics graph, you will be able to follow the state of your website in a long-term manner. Here are a few simple tips that will lead you to success:
DON'T use a shady link-building service to improve ranks;
Get links from authoritative material, or work with a professional;
Avoid wasting money on bulky plugins, free WordPress themes, or low-quality hosting.
Additionally, avoid setting a target of three blog articles every day. Aim to publish an article per week that is extremely informative, lengthy, and packed with details so important that you'll be able to say, "Yeah, people will link to that."
Always Strive to Improve
Always look for methods to make your process better. Test length, schema use, types of art, and other elements. Like any learning process, affiliate marketing requires constant work. While many of the aforementioned techniques can be used right away, you should continue to learn and get better as you go.
Final Words
Affiliate marketing is an incredibly simple process that can be carried out through reviews, blogs, social media, webinar software, and other platforms. It is a new marketing frontier that is just waiting to be explored. By using the advice in this article, you can engage your audience, turn inactive readers into active buyers, and increase your revenue one click at a time.
The latest tips and news from the industry straight to your inbox!
Join 30,000+ subscribers for exclusive access to our monthly newsletter with insider cloud, hosting and WordPress tips!