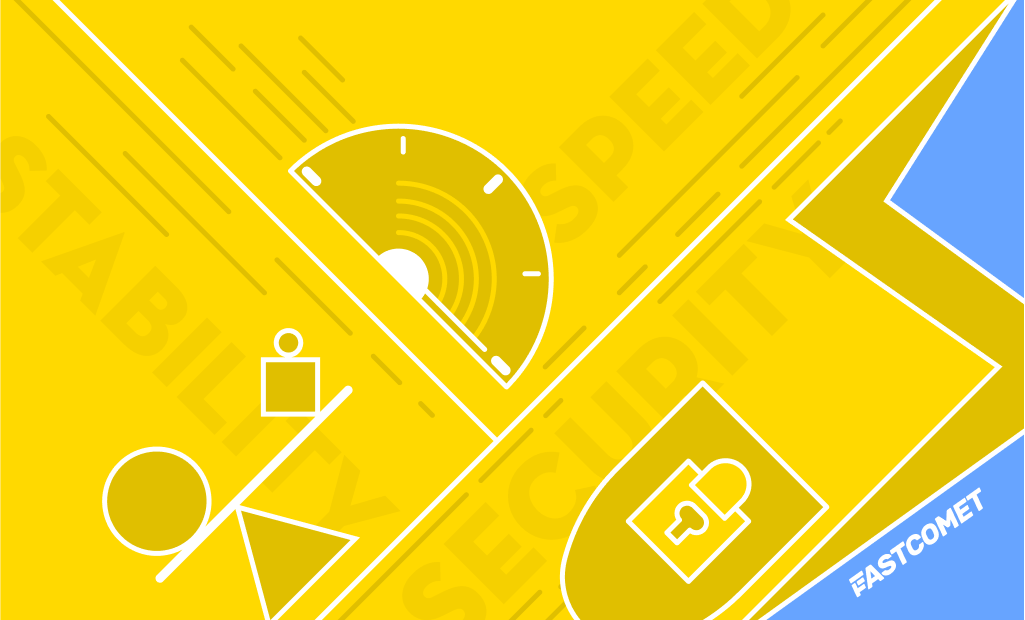 LiteSpeed — a Wind of Change Bringing Top Performance
FastComet has always been focused on offering hosting solutions with three important aspects in mind—Performance, Security, and Stability. Our hands-on approach when testing the latest technologies allows us to achieve that in a constantly evolving environment. During the past several months, we have been working on the implementation of several changes, one of them being the migration of our Shared Hosting servers to AlmaLinux 8. Mission Accomplished!
We are so excited to see this long and complex migration come to an end as now each and every one of our customers can experience cutting-edge speed and performance for your websites and projects. We were finally able to unleash the full potential of the server environment with LiteSpeed Technologies.
Here's a short overview of the new features you will enjoy:
Improved Website Performance with LiteSpeed;
QUIC Benefits of HTTP/3;
Lightning-fast PHP processing;
Even More Site Speed Gains with Brotli Compression Algorithm.
And, we know that the best is yet to come!
Without further ado, here's a glimpse of all the effort that went into this complex migration process to explain why this is such a milestone and a proud moment for us.
Table of Contents:
Why Are We no Longer Using Cachewall?
The change of the Operating System used on our shared hosting environment is an important step. AlmaLinux OS is stable, supported by a team of world-leading professionals, and allows the implementation of the latest advancements in the field of web hosting. However, the change of the operating system on our shared hosting fleet also resulted in the deprecation of a service that had been used on our FastCloud Extra plan for several years – Cachewall.
Cachewall has been a great addition to the services under our control. Based on Varnish caching, the product comes with a complete cPanel integration, great performance, security, and easy management. We have always been in direct contact with the development team of Cachewall, and our team has been supporting it since its beginning.
Additionally, we have contributed to testing and implementing several changes to the software throughout the years. The main reason for that was the heavy usage of Cachewall on a portion of our servers – be it a shared and/or private hosting environment. This allowed us to pick up on issues with the software quickly, while our expertise in the field provided valuable insights and fixes that we have been able to pass to the Cachewall development team.
However, with the lack of any updates of Cachewall anymore, the software slowly lost its competitive edge and became outdated. Additionally, the software is not compatible with CentOS 8 and/or AlmaLinux 8, which is the reason why it can no longer be installed on our latest software stack.
Why is LiteSpeed the Best Replacement?
After exploring multiple services, the replacement choice was a no-brainer for us—LiteSpeed Web Server Enterprise. FastComet already had a long-term experience with LiteSpeed, supporting multiple private servers for clients. It comes with a seamless cPanel integration and management, ease of use, and, most importantly—superior performance. LiteSpeed is a well-known, well-tested, and reliable product that allows our clients to achieve the best results for their projects.
Constant Maintenance
LiteSpeed is an actively maintained product, which means that it is also continuously evolving. It supports the latest technology on the market. LiteSpeed also comes with multiple improvements over the deprecated Cachwall. In terms of performance, one of the main LiteSpeed advantages is its asynchronous architecture. It allows it to be more flexible with concurrent connections and high traffic.
HTTP/3 Support
LiteSpeed supports multiple cutting-edge technologies. It is the first commercial web server to fully support HTTP/3. Based on its nature and design, it significantly improves performance out of the box. It also supports offloading of the SSL handshake, which is the most expensive operation in SSL. With LiteSpeed, you will get a significant improvement on this marker, which will cut down the time for accessing your website over HTTPS.
Server Compression with Brotli
LiteSpeed also comes with support for Brotli. The next-generation compression algorithm is developed by Google as a successor to the popular gzip method to reduce both file size and page load time similarly to GZip but way faster. After your application produces your website's HTML output and then compresses it with all the resources it loads, the data gets transmitted over the Internet. Consequently, the browser decompresses all the content prior to rendering it. The effect of this process is a significant reduction in the size of the data that has been moved from server to visitor. The final result is gaining speed which is several times bigger than the lost milliseconds in compression and decompression.
Full Support for cPanel and CloudLinux
Another important aspect when selecting the most suitable software is the way it integrates with products like cPanel and CloudLinux. Both products are constantly evolving, and compatibility is really important. LiteSpeed comes with full support for cPanel and CloudLinux, as well as a cPanel plugin that can be used for managing the LiteSpeed cache with ease.
What about Caching?
LiteSpeed is not just a web server—it is a complex suite designed for optimal performance. There are LiteSpeed cache plugins designed for the most popular applications, and you can easily install them on your website, depending on the software you are using.
WordPress, being one of the most popular applications worldwide, comes with a LiteSpeed Cache plugin called LSCWP. It is designed to communicate directly with the LiteSpeed web server and comes with a number of options for best performance. Some of the LSCWP features are the server-level Full Page Cache, Lazy Loading of images, CSS/JavaScript/HTML minification, and many more. Additionally, as our FastCloud Extra plan allows the use of a Memcached instance dedicated to a single user, LSCWP fully supports object caching.
There are many caching options available with LiteSpeed. Even though the CMS plugins significantly improve performance by default, they also come with a large number of advanced features. The best source of information when it comes to all of them is the official LiteSpeed Documentation, as it explains in detail all of these features as well as their behavior.
What Results Should you Expect?
One word – superb! LiteSpeed outperforms all other web servers by far, and there are multiple benchmarks available on the Internet to support that. We have been observing that on multiple environments, and based on our clients' success with the use of LiteSpeed, we believe that it is definitely the right decision.
A benchmark comparing the performance of a WordPress website using Apache, Nginx, and LiteSpeed shows that the latter significantly outperformed the other options.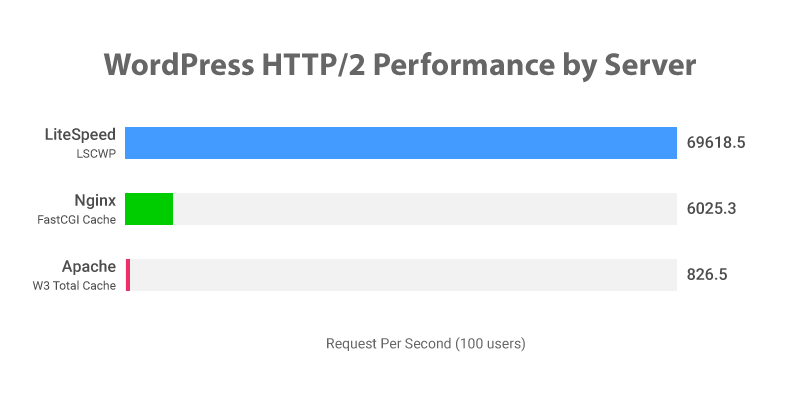 Our own tests show similar results, as LiteSpeed outperforms Nginx nearly 10 times. Additionally, a WordPress installation using the LiteSpeed LSCWP plugin greatly improves Google's PageSpeed Insights score. This goes for both Mobile and Desktop testing, giving you an edge over competitors when trying to improve the SEO ranking of your website.
Here are the results before using the LiteSpeed plugin:

And here you can see the results with the LiteSpeed plugin:

You can see a clear and significant difference.
Conclusion
LiteSpeed Web Server (LSWS) is by far the best web server software. Currently, LiteSpeed Web Server is also the only available production-grade web server that has a reliable HTTP/3 implementation. LiteSpeed is the perfect (and only) pick for all the developers and agencies aiming to be on the bleeding edge and serving their websites via HTTP/3.
As for the battle between software web server solutions, LiteSpeed is the clear and currently undisputed winner. We are more than happy to be able to allow our clients to achieve the best results for their projects. In fact, this has always been and always will be our primary goal.
The latest tips and news from the industry straight to your inbox!
Join 30,000+ subscribers for exclusive access to our monthly newsletter with insider cloud, hosting and WordPress tips!