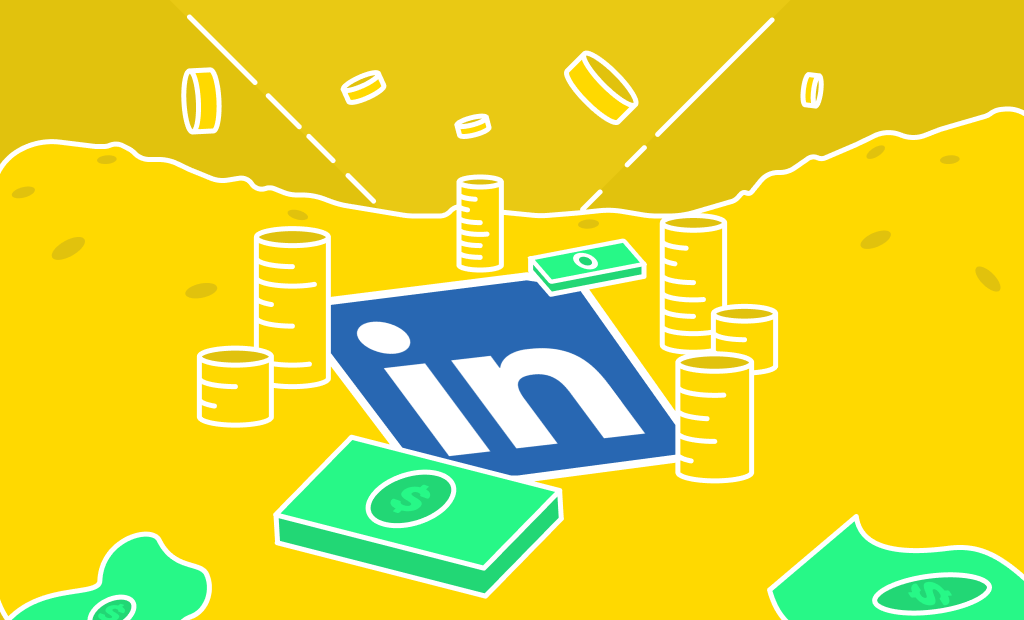 Proven Methods to Make Money with LinkedIn Affiliate Marketing
Digital trends constantly change with the passing of time, and so does the field of marketing. Many of these changes have involved companies shifting their marketing focus to the digital world. As a catch-all approach to online advertising, performance marketing involves a transactional process between an advertiser and a marketer, where the transactions are made whenever the marketer successfully convinces customers to purchase a service or product that is promoted by the advertiser. Affiliate marketing has become perhaps the most common form of performance marketing. It's employed by companies around the world, including FastComet.
We have already gone over affiliate marketing via Instagram, YouTube, Pinterest, and even TikTok. Now it's time to explain how you can do affiliate marketing through LinkedIn. Marketers have been spreading their strategy to include this "different" digital platform.
Table of Contents:
The Professional Social Network: LinkedIn
Facebook is known as THE Social Network, we all know that. With that in mind, LinkedIn can be best described as the Professional Social Network. Yes, the site used to be a hub only for professional networking and job searching, but it managed to morph into a promotional channel for businesses, freelancers, and potential employees. With hundreds of millions of users, LinkedIn has an enormous rate of engagement filled with opportunities and growth for networking. That's perfect when your goal is to succeed as an affiliate marketer.
Why Use LinkedIn For Affiliate Marketing?
LinkedIn promotes itself as "the world's largest professional network". It's impossible to quantify that claim, but with almost 740 million members in over 200 countries and territories, it's certainly big.
In fact, it's much bigger than Snapchat or Twitter, and not far behind Instagram or TikTok in the user stakes. However, it's not just about quantity – it's also about who those users are. LinkedIn is where business power brokers hang out online.
An estimated 63 million decision-makers use the platform. In other words, more than one in every 12 LinkedIn users has the authority to make decisions.
This is born out by the fact that 80% of B2B marketing leads generated through social media come from LinkedIn.
The platform's audience shares some other attractive qualities, too. In particular, it massively over-indexes for high earners.
Among households with annual incomes of less than $30,000, just 27% use LinkedIn. Nevertheless, that shoots up to 60% for households whose annual earnings surpass $100,000. So, if you're targeting affluent individuals with a lot of buying prestige, LinkedIn could be the platform for you.
What Is LinkedIn Affiliate Marketing?
LinkedIn can be a viable part of your affiliate marketing strategy. To put it simply, using LinkedIn as an affiliate marketer is all about forming connections, then leveraging those connections to push your products and services. Depending on the terms of your chosen affiliate program, you can then earn a flat or percentage-based commission rate on those referrals.
So it's more or less the same as on any other website or social platform. However, there are some key differences that are worth highlighting here.
LinkedIn offers a lot of ways for affiliate marketers to incorporate their links. For instance, you can publish a blog post within the platform;
You can share organic posts with your network via a personal profile;
You can sign up for a company page and use it to send branded posts;
Or speak directly to your target audience via members-only groups;
You can reach out to connections through direct messaging.
With such a wealth of tactics, LinkedIn can be a real affiliate marketing gold mine. However, to make it work, you need to start by building an audience.
How to Build an Audience on LinkedIn
As we just mentioned, there are two flavors of profile on LinkedIn:
Personal pages;
Company pages;
When it comes to building a following, those two profile types aren't exactly on an equal footing.
Simply put, people are much more likely to interact with personal profiles than company pages.
It's hard to verify this through up-to-date figures, but back when Google+ was still a thing, LinkedIn company pages were seeing an average engagement rate of just 0.054%. So if you have 10,000 followers on your company page, an average post will generate 5.4 interactions.
By contrast, a decent engagement rate for a personal account on Linkedin is around 2%.
What's more, company pages have limited functionality. So if you're going to use LinkedIn as part of your affiliate marketing strategy, do it from a personal profile. That means building a personal following.
Nail Your Posting Strategy
To build a following, you need to give people a reason to connect with you by posting regularly.
But how often should you be posting as an affiliate marketer? And when should you do it?
Fortunately, there are some stats to help us get answers to these questions. When it comes to posting frequency, there's a big dropoff in clicks once you exceed five posts a week, or once per working day.
More specifically, pages with at least 100 followers generate an average of two clicks apiece on their first two posts per week. By the 10th post in a week, that drops to around 0.5 clicks. That's likely because LinkedIn doesn't want you to spam your network with constant activity – it favors quality over quantity, and so should you.
As for timings, Tuesdays and Wednesdays are the best bet. If you're posting more than twice a week, any weekday can work well – but definitely avoid weekends.
Add Value When You Post
Let's start with the fact that there's an entire Twitter account dedicated to awful LinkedIn posts.
To avoid falling into the same trap as those posters, make sure you're actually adding value through helpful, insightful content. Don't just launch into a sales pitch — the average LinkedIn member is way too savvy for that.
Instead, focus on the things that matter to the people you're trying to engage – content that helps them resolve their pain points or achieve their goals. When talking about that, web hosting is quite close, and almost every business owner needs to host their website somewhere. Additionally, the pricing for the thorough services that FastComet provides makes for an easy sale.
Use Eye-Catching Formats
A simple blog post or text-only update can work perfectly well, but don't be afraid to test more striking content types. Embedding rich media – like imagery and videos – can help your affiliate marketing content stand out in a busy LinkedIn feed.
LinkedIn members are 20 times more likely to share videos than any other type of post. That means you get more eyes on your content (and hopefully more clicks on your affiliate links).
Join in The Conversation
While LinkedIn is often described as a business networking platform, it's still a social network.
And that word – "social" – holds the key to building a following. Unfortunately, there aren't any shortcuts here.
The only way to "look like" you're part of a community is to actually do it. That means joining the same groups as the people you're trying to reach; getting involved in conversations, and responding to comments on the posts and content you share.
If you're looking for low-touch, high-yield affiliate marketing strategies, this isn't it. On the flip side, once you've forged a reputation as a trusted community member who genuinely knows what they're talking about, your life as an affiliate marketer becomes much simpler. By that point, people will be more than happy to check out the FastComet web hosting services that you recommend.
It's a slow burn, but the results are worth it.
How to Use LinkedIn For Affiliate Marketing
After you have built a following on LinkedIn by publishing valuable content and engaging with people in your niche, it's time to start monetizing that audience. Here's how to do it.
Use In-Platform Affiliate Links Sparingly
There's nothing stopping you from including affiliate links in your LinkedIn posts, blogs, comments, or direct messages. Remember that it pays to be cautious.
Most affiliate programs request that you publish a disclaimer with your links. What's more, LinkedIn automatically shortens links in posts.
People won't be able to see where you're sending them – so they might not appreciate you including affiliate links in this way. Sure, it's inadvertent, but you don't want to look like you're trying to mislead anyone. Finally, as with any social platform, you shouldn't spam LinkedIn with one affiliate link after another.
Pretty soon, your followers will start to zone out. Keep it up and you may even get your account restricted or blocked.
Adopt an Inbound Marketing Approach
If you can't go overboard with publishing links on LinkedIn, you can earn money from your affiliate program of choice. It's simple — treat it as an exercise in inbound marketing.
By which we mean, create high-quality content on your own site, include affiliate links where relevant, then share it to your network.
Send people to a blog post, or build a landing page with a lead generation form to capture email addresses. That way, you can start building a mailing list, too – offering another avenue to incorporate your affiliate links.
Join and Engage in Related Groups
Groups are quite a big deal on LinkedIn, arguably much more when compared to Facebook. Chatting with professionals provides a great opening for you to both network and promote your affiliate links. Web Hosting groups on LinkedIn have slowly but surely become the home of market chat and industry discussion. If you don't believe us, take a look at the WordPress Group, the Hosting Industry Group, and the Affiliate Marketing Offers & More group.
All of these groups have thousands upon thousands of members, which means they open the door to more potential affiliate clients.
Plus, if you and a number of partners—or fellow affiliates—all co-exist on LinkedIn, you can create a group. This enables you to exchange information easily, as well as network into larger areas.
Be Smart About Sponsored Content
Sponsored content on LinkedIn is a double-edged sword. On the one hand, it can get you in front of a lot more customers. On the other hand, advertising on LinkedIn is a lot more expensive than on Facebook, Instagram, or Twitter.
That means it's only suitable for high-ticket affiliate programs. Even then, it will really eat into your margins. As such, the vast majority of affiliates should concentrate on LinkedIn's real strength – organic engagement. Why? Because it's a lot higher than on other platforms. On Facebook, the average organic engagement rate is a paltry 0.18%.
However, as we have already noted, a decent organic engagement rate on LinkedIn is around the 2% mark – that's 11 times higher.
Affiliate Marketing Strategies on LinkedIn
Highlight B2B Services
One of the best ways to get the attention of other profiles throughout LinkedIn is to share the B2B services that the company provides. Whether it's a case study or an informational blog describing a B2B service about web hosting, you can garner the attention of fellow companies that may be interested in working with you.
Don't Openly Promote
Subtlety is the friend of all affiliate marketers. Great marketing comes from interesting, engaging campaigns, so you shouldn't come straight out and attempt to force a product or service onto anyone.
Expand Your Network
One of the best things you can do when expanding your affiliate network throughout LinkedIn is to increase the reach of your digital work. With a greater network, you will not only connect with and generate potential leads from across the site but also increase brand awareness, which is useful for you, and the company which services you promote.
Pros and Cons of LinkedIn Affiliate Marketing
By now, you understand how the platform can fit in with your affiliate marketing strategy.
Let's assess the pros and cons.
Pros:
It has an affluent audience;
It's full of decision-makers – perfect for pushing B2B services;
It offers plenty of opportunities for incorporating affiliate links;
People are happy to "talk business" on the platform, which might prompt opportunities to share your links;
It's still relatively untapped by affiliates, unlike Facebook and other B2C social platforms;
Organic reach can be very good – better than Facebook.
Cons:
Advertising on LinkedIn is more expensive than on other platforms, making it prohibitive for all but the highest-ticket affiliate programs;
Its members are savvy professionals – they don't want to hear a sales pitch straightaway
It's predominantly a B2B platform, which might not fit with your product;
Daily usage is low compared to other platforms, so your content might get missed.
Should You Start Affiliate Marketing on LinkedIn?
So, is LinkedIn suitable for affiliates? That depends on your audience and service or product.
As we showed in the examples above, it's not impossible to promote B2C products on the platform.
However, you'll likely see better returns if you're pushing a course or some other B2B service, such as web hosting. Also, bear in mind that the vast majority of people exclusively use LinkedIn in a business context.
If you have something to add or ask about, you know what to do — use the comment section. We are always glad to help or have a conversation with our readers.
The latest tips and news from the industry straight to your inbox!
Join 30,000+ subscribers for exclusive access to our monthly newsletter with insider cloud, hosting and WordPress tips!