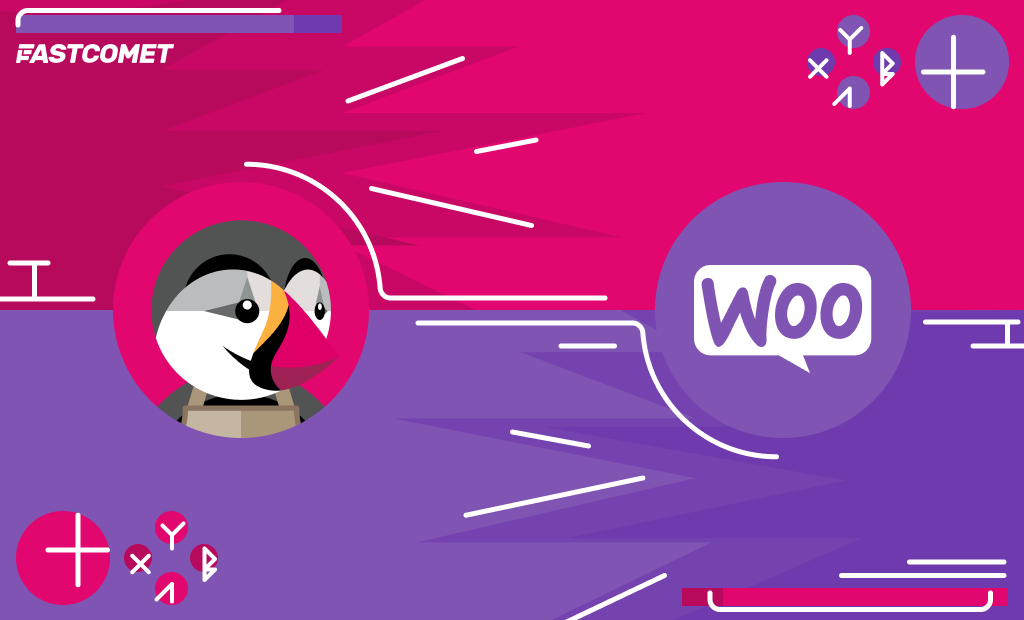 PrestaShop vs. WooCommerce: Deep-Dive Comparison
If you want to open an online store, the eCommerce platform you choose will have a major impact on the capabilities you may use. Making a decision between the two behemoths, PrestaShop and WooCommerce, can be challenging, especially if you are inexperienced with eCommerce platforms. Understanding the differences between each possibility is necessary to make the best decision.
When comparing eCommerce software, there are a lot of factors to consider. Cost, usability, overall features, and customer service are a few of these.
We'll compare PrestaShop and WooCommerce in each of those areas to help you decide which is the best eCommerce platform for your store. We'll outline the advantages of each platform and advise the best option based on your needs.
Table of Contents:
An Introduction to PrestaShop vs. WooCommerce
You have access to all the essential eCommerce functionalities you need with both PrestaShop and WooCommerce. These functionalities include creating and selling products, receiving payments, managing orders, and so on.
Nevertheless, each platform includes a ton more features than simply the bare minimum. We'll delve more into the distinctive characteristics of PrestaShop vs. WooCommerce in the next sections. Let's first give a brief overview of each of these platforms.
With the help of the self-hosted eCommerce platform PrestaShop, you can create and establish a cutting-edge online store. Additionally, the program is open source, and over 1,000 volunteers work tirelessly to improve it: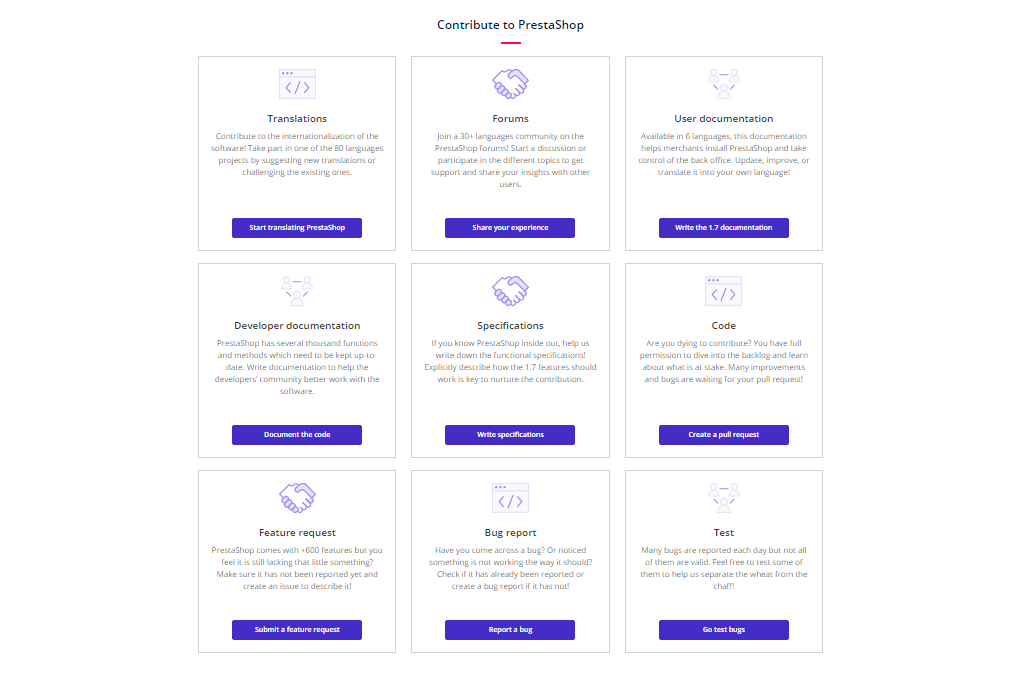 WooCommerce, on the other hand, is a plugin that was created on top of the WordPress Content Management System (CMS). But it's much more than just a straightforward plugin. With it, you can keep all the features that make the CMS so appealing while converting WordPress into a fully functional eCommerce platform.
It's clear why PrestaShop and WooCommerce are so well-liked in the eCommerce industry if you give them a closer look. After a brief introduction, let's compare WooCommerce and PrestaShop in-depth.
PrestaShop vs. WooCommerce: Ease of Use
Creating your first online store can be a lot of work, so you ideally want to use a platform that makes the process as painless as possible. You can then start working on adding new products and locating customers right away.
PrestaShop requires that you download and install the program on your server. However, it's quite easy to install, especially when using cPanel Softaculous. Regardless, after installing PrestaShop, you'll have access to a dashboard that looks as follows: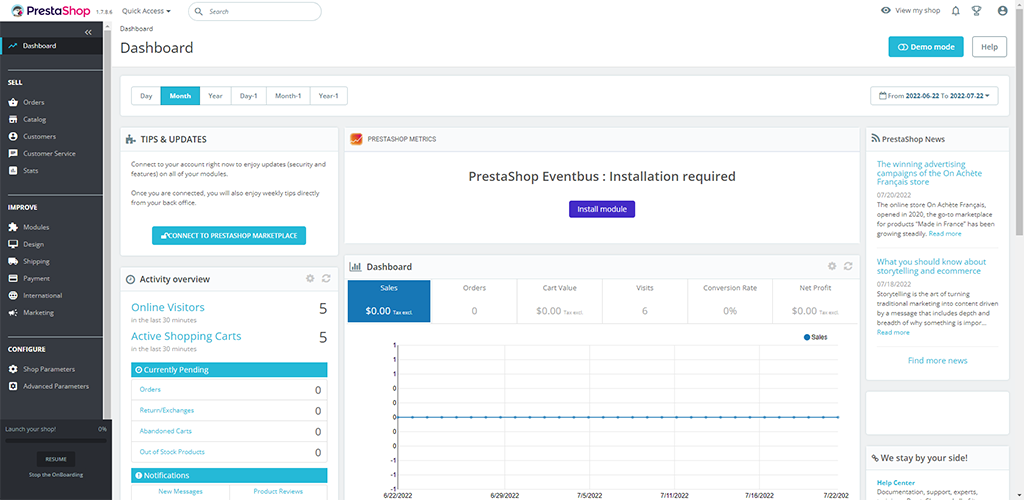 PrestaShop gets some points for its clean appearance, which is something you'll notice immediately. You can also obtain a bird's-eye view of your store's performance from the dashboard's main screen, which is a wonderful addition.
You must visit the Catalog → Products → New Product page in order to put up your first product. Once there, you can experiment with PrestaShop's user-friendly product editor:

The editor includes options to add a product name, description, and images. You can also find some basic Search Engine Optimization (SEO) settings, shipping choices, and other things if you browse its tabs.
Overall, as long as you already have images and a description prepared to go, setting up a new product using PrestaShop shouldn't take you very long. The rest can be handled quickly, thanks to its user-friendly interface.
Before you can install the WooCommerce plugin, your WordPress website must be operational. But given that so many site providers would gladly set up WordPress for you, that's actually rather straightforward.
When WooCommerce is installed and activated, a new tab will appear in your WordPress dashboard: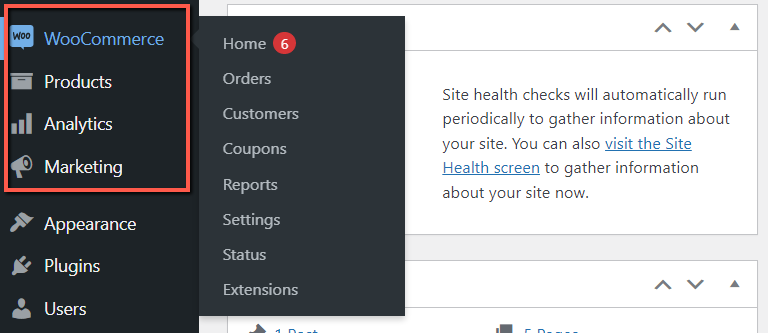 There are all of your WooCommerce settings available, making them easily distinguishable from your default WordPress settings. Simply navigate to the Products → Add New tab to add a new product:

There, you'll find yourself in front of the traditional WordPress editor with the following additions: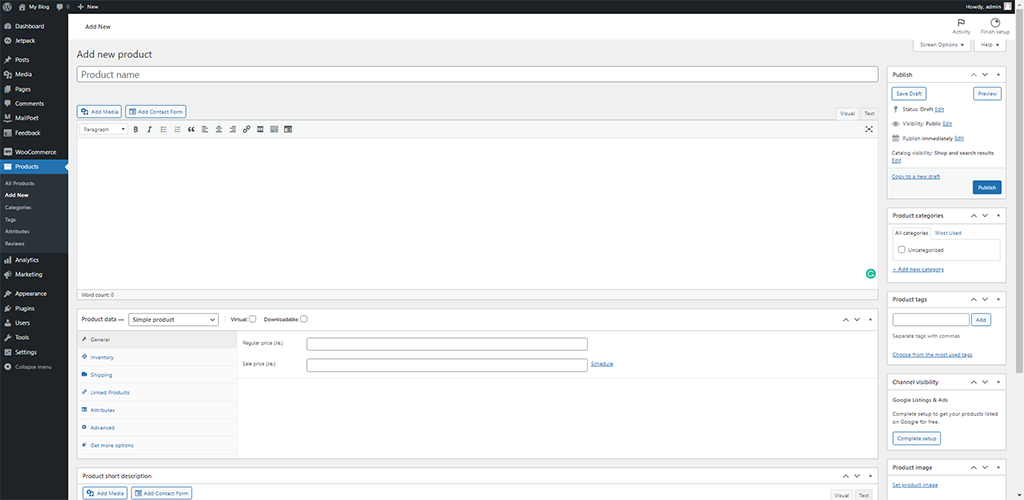 You'll be at ease adding new WooCommerce products if you've ever written a WordPress post or page. After all, there are just a few new choices you need to become familiar with, and the majority of them are explained clearly: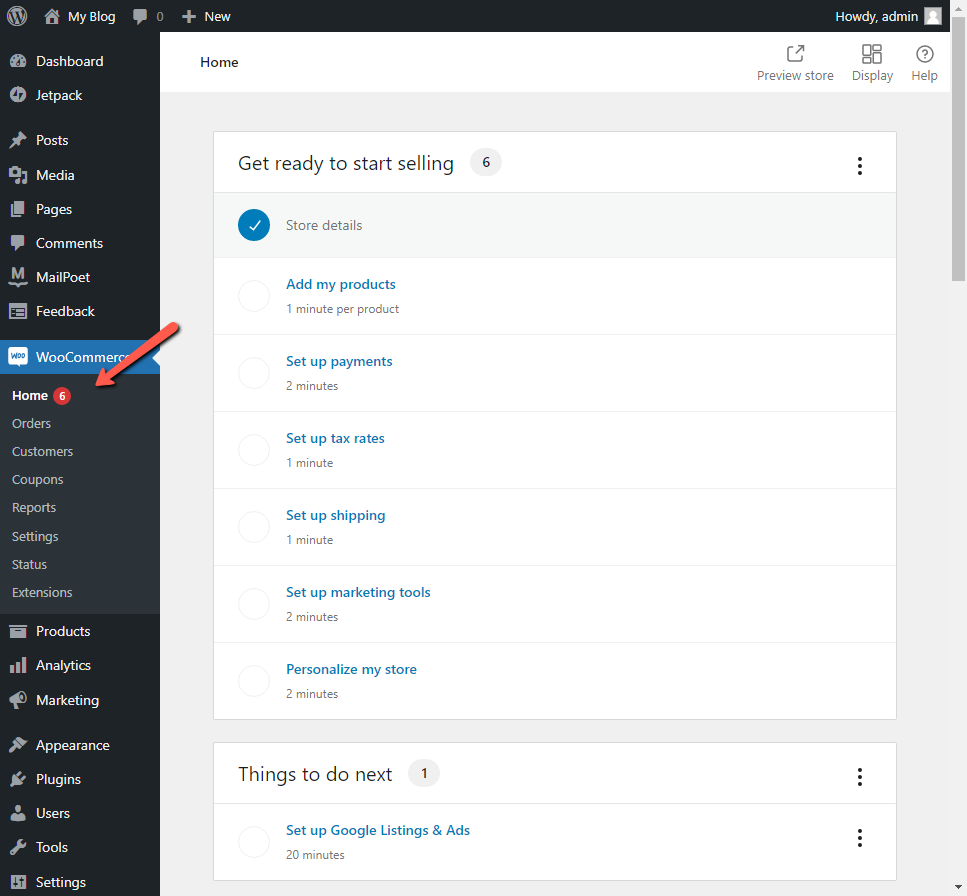 Overall, both PrestaShop and WooCommerce are fairly simple to operate. If you're already familiar with WordPress, WooCommerce has a tiny advantage, but other than that, we're calling this first WooCommerce vs. PrestaShop match a tie.
Note:
However, keep in mind that PrestaShop tends to make changes to their UI with each major upgrade, which can make things a bit more complicated. If you consider that, the table turns in favor of WordPress.
PrestaShop vs. WooCommerce: Store Management
The ideal eCommerce platform will give you a multitude of capabilities to manage your store, regardless of which one you select. You should therefore have access to a variety of payment methods, order management settings, and much more. You'll be in complete charge of how your store runs if you do it this way.
When it comes to this, PrestaShop delivers. Check out the Shop Parameters page in your dashboard to see all the settings the platform has to offer. From there, you can take care of everything from configuring sophisticated security settings to enabling an SSL certificate for your store: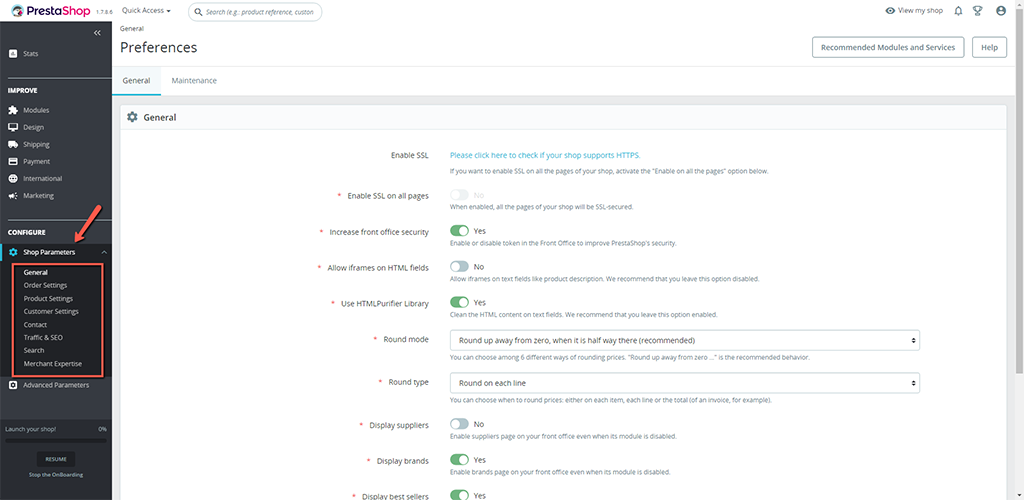 Checks and bank transfers are both supported out of the box by PrestaShop when it comes to payment alternatives. However, you'll likely prefer to use something more contemporary, like PayPal. Although you'll need to employ modules, it's simple to integrate other payment channels with PrestaShop: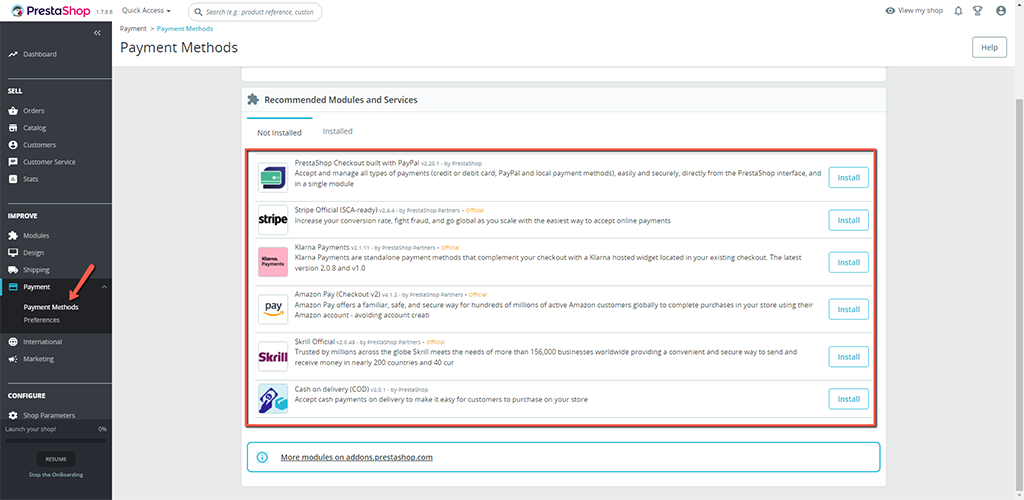 Let's now discuss WooCommerce. The plugin will walk you through a wizard when you first set up your store so you may customize its key settings:
By heading to the WooCommerce Settings tab, you may go back at any moment and modify the settings for your store. You may play around with all the variables there, including shipping settings: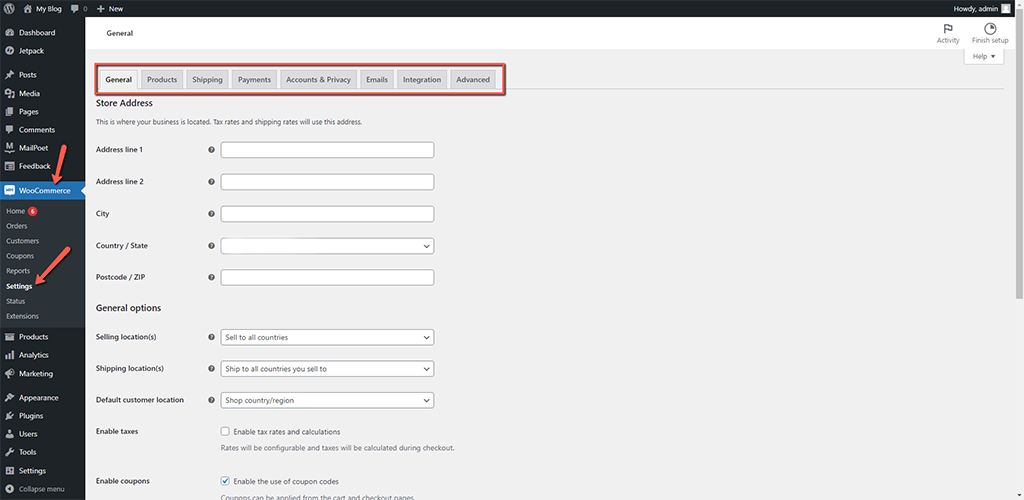 WooCommerce supports both PayPal and Stripe payments out of the box. However, you may immediately enable a ton more integration possibilities in your WooCommerce → Settings → Payments tab: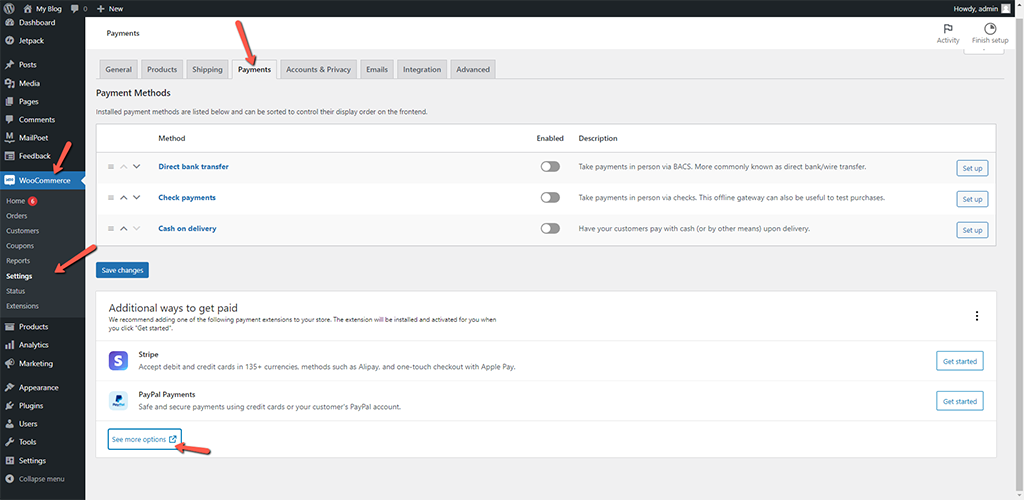 Either PrestaShop or WooCommerce makes managing a store relatively simple. Finding the options you want to tinker with on any platform is simple, and understanding what each option accomplishes is just as straightforward.
Additionally, if you need some further assistance, you can always look through the extensive documentation for any platform. In light of this, the current WooCommerce vs. PrestaShop match is likewise a tie.
PrestaShop vs. WooCommerce: Customizability
Customizability is, in our opinion, the most important feature of any eCommerce platform. In other words, the tool you use should enable you to tweak the look and feel as well as the operation of your store until it suits you perfectly.
Fortunately, PrestaShop and WooCommerce both perform admirably in this regard. You have access to over 3,000 modules with PrestaShop, which you may use to add practically any feature you can think of to your store.
PrestaShop also has a healthy collection of themes, which are templates you can use to quickly change the appearance of your business. Having a wide selection of themes to pick from is great since it may help your store stand out and enhance the user experience.
WooCommerce, however, completely outperforms PrestaShop in terms of delivering a wide range of options. Woo "cheats" a bit by having access to thousands of WordPress plugins and countless options to alter the functionality of your store.
Similar to this, WordPress offers thousands of themes. You won't ever run out of possibilities because there is probably a theme for practically any sort of website you can think of.
It's crucial to keep in mind that not all WordPress plugins and themes work well with WooCommerce. Due to WooCommerce's widespread use, in our experience, it is very uncommon to encounter individuals that don't. However, because WooCommerce drastically changes the functionality of the main platform, compatibility problems can arise.
Both eCommerce platforms offer a ton of customization options, but WooCommerce wins out since it integrates with WordPress. WooCommerce defeats PrestaShop in this round of the competition.
PrestaShop vs. WooCommerce: Performance
When you contrast two eCommerce platforms, you'll typically find that one performs better than the other. However, such isn't necessarily the case when referring to self-hosted systems.
Performance on a self-hosted platform mostly depends on where you host your website. Your store may be advantageous if your web server offers superior optimization by default. Choosing a service that supports your platform is also beneficial, whether you're looking for PrestaShop hosting or WooCommerce hosting.
In the end, though, several variables besides the design of your business and the hosting company can impact how well it performs. For instance, utilizing excessive amounts of scripts or uploading a disproportionate number of large product photos can make your pages take longer to load.
You should look into ways to improve your business if you think it loads too slowly (generally, anything that takes more than two seconds is cause for concern). But if none of your efforts succeed in solving the issue, it's probably time to switch to a better hosting package.
According to our observations, PrestaShop and WooCommerce share similar performance characteristics. Either one can provide you with a quick and dependable online store if the proper strategy and optimization efforts support it. We, therefore, declare this WooCommerce vs. PrestaShop match a tie.
PrestaShop vs WooCommerce: Security
The same factors that we spoke about in the performance section also apply to security. Some eCommerce platforms provide greater standards and more sophisticated security features. However, WooCommerce and PrestaShop both perform admirably in this area.
To be fair, because WooCommerce is built on top of WordPress, its stores are typically a little bit more vulnerable. However secure the CMS may be, many of its users neglect to update their websites, plugins, and themes. As a result, there are frequently several security flaws, which may give people the impression that WooCommerce is not as secure as it may be.
But PrestaShop has also had its fair share of flaws. That doesn't mean, though, that it's a bad choice in terms of security. It only serves to demonstrate that any well-known eCommerce platform would be an easy target for attackers.
In the end, besides the platform you choose, the security of your business will mostly depend on two factors:
How much importance your web host places on security.
What extra precautions you take to secure your website.
You should pick a web hosting service with a solid reputation because some of them will go to considerable measures to secure your website.
Note:
With FastComet, you can be sure that Security is a top priority. We make certain that every precaution is taken to safeguard your website and your data. It's one of the primary reasons customers select us now over our rivals, and we've repeatedly shown this. Imunify360 offers hands-off automation and all-in-one security using herd protection.
Additionally, both WooCommerce and PrestaShop give you the option to increase the security of your store using the add-ons and plugins we previously discussed. You can make your store as secure as a bank vault with a little work. In light of this, we'll declare this PrestaShop vs. WooCommerce matchup to be tied as well.
PrestaShop Advantages
PrestaShop is one of the slickest platforms for eCommerce that you can utilize. For instance, we love how user-friendly the dashboard is. Of course, there are a ton of other justifications for utilizing PrestaShop as well:
It is simple to administer and set up.
The process of developing new products is simple.
There are numerous customizing possibilities available.
In our experience, using PrestaShop has very few drawbacks. Getting started with it can be a little more difficult than with WooCommerce, but if you like the functionality of the platform, that shouldn't deter you from utilizing it.
WooCommerce Advantages
Due to how user-friendly they are, PrestaShop and WooCommerce both stand out among eCommerce platforms. However, WooCommerce has an advantage over its rivals in certain areas because:
You gain access to WordPress' enormous library of plugins and themes.
The WordPress and WooCommerce communities are enormous and eager to support new users.
Finding hosting solutions that support WordPress might be simpler.
In the end, WooCommerce's WordPress connection is its key selling point. You have all the resources you need with WordPress and WooCommerce to operate an online store and keep it running successfully alongside a blog or any other kind of website.
Final Thoughts
For eCommerce newcomers, PrestaShop and WooCommerce are both great platforms. That doesn't mean they can't also manage busy, massive internet stores, though. Due to its WordPress integration, WooCommerce excels overall in terms of usability. On the other side, PrestaShop comes with additional functionalities by default. Please feel free to discuss PrestaShop vs. WooCommerce in the comments section as usual.
The latest tips and news from the industry straight to your inbox!
Join 30,000+ subscribers for exclusive access to our monthly newsletter with insider cloud, hosting and WordPress tips!