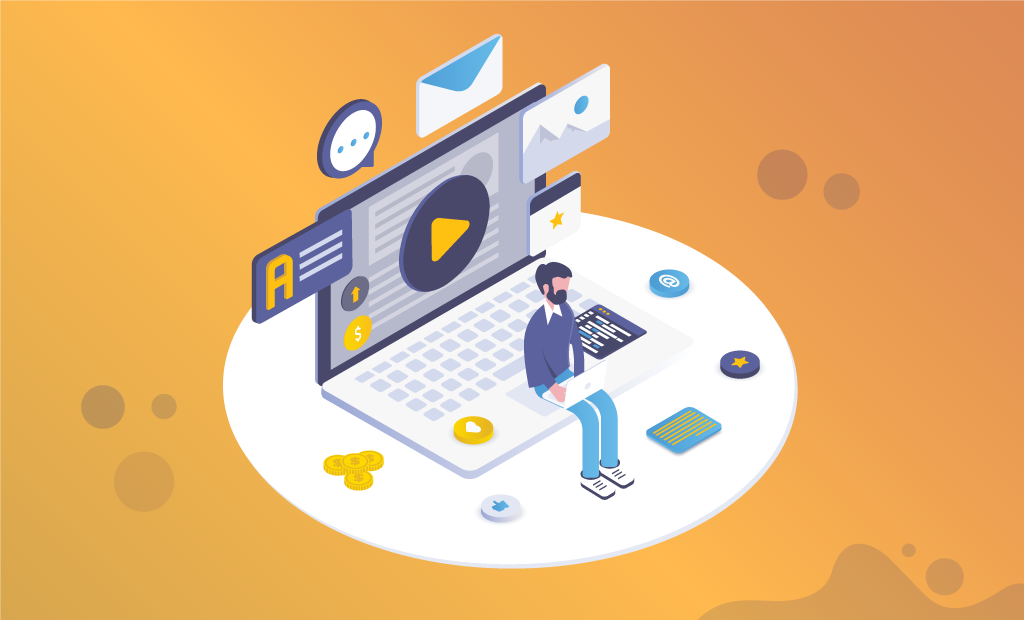 Level-Up Your Affiliate Marketing Game with Video Content
Why use videos for your affiliate marketing? Well, for starters, videos are one of the best ways of keeping an audience engaged in a specific topic. Typically, a video makes the user want to converse with other people, which is where comment sections step in. Nowadays, consumers prefer to watch a video instead of reading an article, which is mainly because of Social Media and the way it progressively decreased people's attention span.
To attract and hold your visitors' attention, you might only have as much as 6 seconds. If you don't manage to accomplish that goal, expect those users to move forward with their web browsing, while quickly forgetting about your website and what it's about. Videos have proven to be more engaging. So, if you want to be a successful affiliate marketer, you need to implement videos and make them a big part of the whole picture. Incorporating video content will quickly show positive results if you do it right.
Table of Contents:
What is Affiliate Marketing?
Simply put, affiliate marketing is when the retailer offers commissions for third parties. Those commissions are accomplished via referrals and in exchange for traffic or sales generation on the retailer's website. Being an affiliate marketer is similar to being a salesperson, but you do it online.
Affiliate marketing is a straight-forward business model. Additionally, it does not cost much to get started, and you can set up a website quickly. This business model offers lots of opportunities that you cannot get with other passive income strategies.
A Few Words About FastComet's Affiliate Program
At FastComet, we have our own affiliate program. You can partner with us and earn money while helping us spread the word. Joining is free, and you will get paid whenever one of your referrals decides to purchase one of our web hosting plans. The more clients you bring to FastComet, the higher the passive income you generate.
The great things about the FastComet Affiliate program are:
FastComet is an easy sell;
We provide a service everyone loves;
You earn a commission after each sale;
All commissions are fixed (not percentage ones);
The more you sell, the more you make.
Where Does Affiliate Marketing Content Fit?
Are you interested in making income from your Blog, Social Media account, or YouTube channel? If that's the case, creating your sales-driven affiliate marketing is one of the best methods and time investments you put into your business.
Typically, affiliate marketing should be an extra type of content that brings you additional revenue. However, it can be extremely beneficial, especially if you know all the best practices and how to implement them. One of the reasons for affiliate marketing to be so attractive is the fact that you create the content once. After you post that content, you can automate almost everything when it comes to promoting it.
Additionally, you can optimize your content with keywords for better long-term SEO, which leads to free traffic. This will allow you to build your authority as an expert in your field while building higher levels of trust with the audience.
Everything about making affiliate sales sounds excellent on paper, but what does it mean to put things in action? How can we be sure that the time we spend on creating content for affiliate marketing will pay off?
When you understand the different types of affiliate marketing content, you will have a better idea about the best way to streamline your content creation process. Additionally, the choice for your affiliate marketing format will be much clearer.
How Important is Video Content in Affiliate Marketing?
Generally, a video about a product or a service makes the consumer much more confident when it comes to buying. Without such videos, you are most likely missing out on your sweet extra conversions. The trend of video creating to improve affiliate sales is continuously growing. Consider those facts:
Most people prefer watching a video instead of reading a text;
Almost half of the web users will look for videos about a product or a service before paying for them.
Creating a good quality and effective affiliate marketing video does not have to be complicated or expensive. A bit later on in the post, we will share with you what tools you need to start your video content creating.
How to Use Video in your Affiliate Marketing Strategies?
Using videos for your affiliate marketing can and will up your game, helping you convert more leads than if you use only traditional methods. Here are some ideas you can follow. Create:
A video sales letter and include detailed product information to convince the consumers;
A video portal and offer exclusive video content to your email subscribers;
Reviews for products and services showing their quality, cost-efficiency, and usability;
Unboxing videos (if there is something to unbox) and share your 'unbiased' opinion;
Videos to retarget your site visitors;
FAQ or Live Q&A session videos if you want to break down the customer-conversion barrier.
If you are wondering: Okay, but how do I start with making videos, and what exactly do I need? We are here to help, and we will shed some light on the tools you need when creating videos for affiliate marketing.
Beginner's Video Tool Kit
The good thing about video creating is that you don't need a lot of tools to get started. What will actually set you apart is the same as with any other type of content marketing—the content itself. To begin with your video creating, you will need:
A smartphone or a mobile camera. The camera on any modern smartphone would be more than enough for you to get started with making video content. Your limit is only your creativity. Additionally, editing is not a necessary requirement due to the live video streaming option on YouTube, Facebook, Instagram, etc.
An actual goal. Be sure what your goal with the video is before you start recording. Starting a filming spree without knowing what you are aiming at will just fill your mobile device memory with unusable content.
A good idea. This is just as important as the goal, but definitely not the same. Your ideas can come from various things – questions regarding products and services, customer pain points, etc.
A place (or places) to share videos. Perhaps you have multiple social channels where you can share your content. There is actually no lousy platform for sharing videos. You should choose the platform that best fits your line of work, goal, type of audience, and the product or service that you are promoting.
NOTE:
When first starting with video sharing, keep in mind that it's almost inevitable to get some negative comments. The best thing to do with such comments is to just disregard them, except when they include helpful criticism.
That's all you need to get started with video content creating.
Intermediate's Video Tool Kit
If you are familiar with video making, but you are all about improvement, we will share some tips to help you ante up your video creating. To upgrade your videos, you will need:
A DSLR camera (and lens) that can capture video footage. Being familiar with the usage of a DSLR camera and capturing footage with it will set you apart from the competition. Even if you cannot afford a brand new DSLR camera, a second one will suffice just as well. With it, you will also be able to add some unique pictures to the video content you are uploading.
A high-quality microphone. The excellent quality of audio often comes unnoticed when there's video content, but the bad one definitely does not. Most DSLR cameras can accept audio from external sources like microphones. Do your research and choose the best mic you can afford.
Editing software. If you use a Mac, then you already have access to iMovie, which is excellent and will help you ease into the world of editing. With Windows, you might have access to its own Movie Maker. However, with Windows 10, Movie Maker is no longer in the package. Still, there are lots of options available – just do your research. One of the best pieces of software for video editing is Adobe Premier Pro.
Time. If you want the quality of your video to be above average, you will need time to organize, film, and edit. In that case, patience is a virtue.
Practice. Like with everything else in life, with each following video, you will improve (even if you don't notice it immediately). Practice is more than necessary, so if you want to improve, make sure you don't stop trying.
A place to share the video (again).
YouTube for Affiliate Marketing
Let's start with the fact that YouTube (YT) is the largest video platform (owned by Google) and the second largest search engine. Also, it's the most preferred platform (by far) when it comes to hosting not only affiliate marketing videos, but videos in general. YT offers a billion users per month access to your potential video content. All you need to do is just register your channel for free. Once you do that, you will be ready to start showcasing all your videos easily.
You can use some helpful tricks in the process, but your focus should be on redirecting traffic to your target page. Additionally, you can redirect them to an email-sign up form.
Two primary tips will help you with your success on YouTube and your affiliate marketing videos:
First tip – promote your affiliate links in your videos by placing them via annotations. This will allow your viewers to redirect themselves whenever they wish. Introduce them at the start, middle, or the end of your videos.
Second tip – don't forget to include your affiliate links in the video description section as well. This will allow viewers to check out products or services even when they missed going to the target during the video and your strategic annotations.
Extra tip – eventually, you will have the option to run videos as ads. Sponsor them on YouTube if you want to reach more viewers. More viewers equal higher conversions.
YouTube also lets you analyze both your audience and your videos in depth. Evaluate everything that works best, rinse, and repeat.
How Do You Get Traffic To Your YouTube Videos?
Google Organic Search
One of the primary ways to get traffic, not only on YouTube but on every website, is via ranking on the Google Organic Search. YouTube videos rank for specific queries.
To find out helpful info about which keywords rank videos better, you can use free tools like TubeBuddy, vidIQ, YouTube itself (Autosuggest), etc.
Don't forget to do keyword research. This way, you will know if there is sufficient search traffic. It's most likely not worth your time to create a video that could get only 20 searches a month.
Subscribers
The best way to get consistent traffic to all your videos is by getting people to subscribe to your YouTube channel. This subscribe option is free.
Currently, the account owned by a single person that has the most YouTube subscribers (by far) is PewDiePie, with over 109 million subscribers.
Every time he uploads a video, all of his subscribers get notified. There is a relatively new option when subscribing to someone—the Notification Bell. It provides a special notification for the subscriber. When someone has the notification bell enabled on your channel, they will instantly get notified (at their notifications drop-down) after you have posted a video.
There is also a new "Join" button that allows people to make a monthly paid subscription and support their favorite YouTubers.
On the left-hand side of the screen, one can see the channels that they are subscribed to. There are numbers beside every channel, indicating the newly released videos.
Additionally, all users get recommended videos, which can also be beneficial for you. YouTube recommends videos that are similar to those a viewer regularly watches. If a person is subscribed to you, your videos will be prioritized among the subscriber's recommended ones.
YouTube Related Videos
Let's start with the fact that YouTube makes money from running Ads.
So, the more of your videos your viewers watch, the more ads they will see. If you can get users to come to your channel from other sites, such as Instagram, Twitter, or Facebook. When those users have long sessions of viewing your videos, YouTube will give you more prominence and include you in lists about related videos.
YouTube is interested in you attracting as many users as you can to their website and for them to watch as many videos as possible. If you can do that, YT will help you and promote your content, because it's beneficial to them.
Of course, there is more to gaining prominence in the YouTube related video section, but that's a great place to begin.
YouTube Organic Search
YouTube is the second largest search engine after Google.
If you can rank up in the YouTube organic search, that would be essential, and a great source of highly targeted traffic pointed at your video content.
YouTube organic search uses the same principle as Google organic search. There are multiple ranking factors, tips, and tricks to help you rank. However, with different types of platforms, their ranking factors vary.
Sponsor Your Video (for Extra Traffic)
Down the line, you will get to run your videos as ads on YouTube. You can sponsor your videos and get a lot of viewers. Keep in mind that the more people watch your ads, the more conversions you get.
We recommend using YouTube analytics if you want to assess your audience and the in-depth performance of your videos. Analyzing will help you find out the strategies that are working best for you. This is how you will be able to run your successful campaign again and again.
Some things you should keep in mind when you are creating/uploading affiliate videos on YouTube:
Your video's name has to be useful and sensible (no clickbait);
Always add a complete and informative description;
Don't forget to add links;
Consider watermarking your work. You will be surprised how often web users take content that is not theirs and claim that it is;
If possible, transcribe your videos;
As we mentioned, utilize annotations;
Add your custom thumbnails and try to make them informative;
Include your videos in playlists;
Make your channel attractive, but not over-the-top;
Stay within context.
Facebook Live for Affiliate Marketing
Facebook has a Live feature which lets you broadcast your brand videos to reach more clients. Using the Facebook Live feature, you will be able to represent in a better way who you are and what you do.
By default, Facebook helps you with the improvement of your reach and enables you to gain instant feedback. When going live, the social media platform sends a notification to all your followers that haven't manually disabled that option. This way, you get a broad audience.
Facebook Live enables you to establish a strong bond with your audience that can ultimately lead to additional conversions. Apart from all that, you will also learn what services or products people are more likely to purchase.
Below, we will share some tips for affiliate marketing via Facebook Live.
How-to Guides
Use how-to guides to explain to potential clients how the service or product works. People are more likely to purchase a service or an item when they have some additional knowledge about it. Therefore, showing or explaining as many things about the product or service will eventually persuade your viewers and lead to conversions for you.
Make sure to be trustworthy—pay attention to the questions during your Facebook Live video. Answering as many questions as possible will show your audience that you care about them. They will trust your opinion, and maybe even share it with friends.
Organize Questions & Answers Session
No matter your business area, your audience will have questions that need answering. Facebook Live is a perfect feature when it comes to Q&A sessions. It will help you answer all of the questions, clearing out everything that needs to be explained. What's more, you will understand what people think and find out what they are looking for in general.
A questions and answers session is also excellent to work with your audience and plan giveaways or promotions.
Promote Your Content
Whenever you do not get the desired engagement on your posts, use Facebook Live to promote your content. We recommend making a short recap of all your offers and explain as much as you can about them. Make sure that people are aware of all the perks they get, and it will lead to additional conversions for you. Affiliate marketing is much about strong intuition.
Give Reviews About the Products
Use Facebook Live to make live reviews of the products or services you promote. We recommend you to create a rough scenario before you go live, and then explain how the product or service can benefit people in the best way possible. Once again, this will not only help you get additional conversions but also build trust with your audience.
Broadcast Events
When you are an affiliate marketer, you should know that it's essential for you to participate in various events and conferences where you can promote your brand. You may have been uploading some short videos already. Still, Facebook Live can really make a difference when you're doing it right. Use the platform to share all the highlights from events and to explain what you have learned at conferences.
Take Interviews of Market Leaders
To take your affiliate marketing efforts to the next level, try to arrange interviews with some of the market leaders in your business area. Interviewing someone renowned in your line of work will show your followers that you are respected enough. People will see that you actually deserve the recognition you are working for. Hard work always pays off.
Promote Upcoming Events
When you want people to be aware of your upcoming events, using Facebook Live is one of the best ways to go. Whether you are a speaker or the host of an event, talk to your audience. Give them a hint about what to expect from your event. Caring about them makes them feel special and closer to you, which, again, leads to conversions. To make sure more people are coming to a specific event, consider offering free passes.
Create Hype for Upcoming Products
If you are about to promote a new product or service, Facebook Live can help you with that. Make sure to show how hyped you are about the upcoming addition. This hype is often transferred to your audience, which makes them purchase the service package or the product as soon as they are out. Also, release teasers to create an interest among your audience.
Instagram for Affiliate Marketing (IGTV)
Instagram has been progressing quickly in the last few years. The platform, similarly to Facebook, has turned into a powerful marketing tool for all types of businesses. Everyone can market products and services on Instagram, and the platform is incredibly popular among the young generation. Instagram is all about trendiness, creativity, and visual appeal. According to a survey by Facebook, Instagram is loved by both teens and young adults.
Let's start with the things that make Instagram beneficial for you as an affiliate marketer.
Create Video Content
Instagram TV is called IGTV and it's for people who want to post videos longer than one minute. As an affiliate marketer, IGTV will help you take a more creative and thorough approach when promoting a product/service.
Regular video posts on Instagram are allowed to be only a minute long. That's to restrict marketers of cheating by creating a full-length video about the product they are offering. However, after IGTV, users are allowed to create and share their complete how-to or educational video materials.
IGTV offers you the opportunity to upload an extensive review of services and products that you are promoting, which would help a lot for the boost of your conversions. With this feature, you can be all about increasing engagements. As we mentioned, Instagram's trendiness is the extra factor that will boost your followers' list exponentially.
How to Choose a Video Making Tool for Affiliate Marketing on Insta
Instagram has overgrown over the past few years. It would be difficult to find a celebrity, blogger, vlogger, or a social media influencer without an Instagram account. This is why if you plan to make the most of your affiliate marketing, you should always consider using the incredible platform that Instagram came to be.
There are lots of tools to choose from when creating affiliate marketing videos. With that said, we recommend that you choose professional tools, because people often recognize the effort and appreciate it (more than you think).
Here are a few tips for you to use when choosing a professional video editing tool:
Look for tools that can support various video formats;
Take the user-friendliness of the tool's interface under consideration;
Choose tools with multiple functions. One that can help you create logos, promo videos, and slideshows.
The Power of Creating a Story
With so many ways to connect with your audience, one could wonder which one to choose. Why not all of them? Creating a Story has become a trend nowadays, on both Facebook and Instagram. This is why you should capitalize on that and share your videos as a story every time you make one. This will raise the chances for more followers to see your promotional videos, resulting in some sweet additional conversions. Include some extra content with exclusive stories, so that people would check your storyboard regularly, curious about what you have posted.
Tell your followers about your motivations and keep them updated every day with fresh video content. The good thing about stories is that you can include different types of visual content inside of them. Combining videos with images can help you be much more creative, which is crucial if you want to keep being seen as trendy among your followers.
Complementary Content
There are plenty of effective content types for brands, such as:
Gift guides;
Animated 2-minute explainer videos;
Seasonal articles or videos;
Testimonials.
However, those are less effective than videos in most cases. This is why we recommend that you improve your video creating a game first before you expand and try other methods. In 2020, content (especially video) still rules the web, and you should consider that essential.
Should You Start using Videos for Affiliate Marketing?
The answer should be clear – Yes! This is especially since utilizing videos is more affordable than ever. Use that as an advantage for your affiliate marketing strategies. With the advance in technology and the ease of distribution that platforms like YouTube, Facebook, and Instagram offer, you can quickly boost your passive income. Promoting services and products to your followers and subscribers is easier than ever.
Hopefully, we have managed to help you understand how essential videos can be for affiliate marketing. Yes, they require some work and creativity, but we believe that you have those qualities, and you will be able to make the most of them. Feel free to use this post regularly as a guide, just in case you are missing something essential.
Don't forget to charge your videos with emotions. Show your followers how friendly you are and make them feel like they are your friends. This will help you get more and more conversions with time. Keep being creative and be consistent. Start by following a schedule if you wish, and eventually, it will become a habit.
If you are a FastComet affiliate, we would be glad to hear some exciting stories in the comment section on how you have improved your affiliate game. Also, if you are one of the more experienced affiliate partners, feel free to share some personal tips that you consider useful. Thank you for being a part of our affiliate program!
The latest tips and news from the industry straight to your inbox!
Join 30,000+ subscribers for exclusive access to our monthly newsletter with insider cloud, hosting and WordPress tips!