How to use the Ghost Publishing Platform
Updated on Jul 13, 2018
In order to make it easier for users to deploy and manage Ghost instances on their shared hosting accounts, we have created a custom Ghost Publishing Platform plugin which is now available on all of our Shared hosting servers.
With the Ghost Publishing Platform you will learn:
How to Install Ghost
To access this new feature, you will have to first log in your cPanel account and then navigate to Software→Ghost Publishing Platform or simply by typing the latter in the search bar located at the top right corner of your cPanel.

To deploy a new instance of Ghost, you will have to first click on the blue Add New button.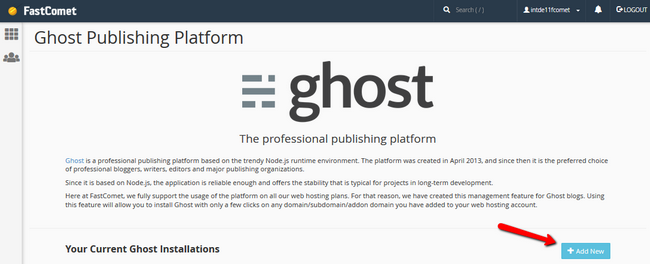 Here you will have to select:
Domain Name - A domain or subdomain which is present in your cPanel on which you will create the new Ghost installation. This can be done via the drop-down menu. In case you wish to use another domain or subdomain, the same must first be added via the cPanel Addon Domains - or created via the Subdomains sections respectively.
Instance Name - The name of your project which can be used to differentiate it from other ghost projects. This name will only be shown in the Ghost Manager plugin and will not be publicly available.
Folder - The folder in which your Ghost will reside. If the folder name which you write is not present, it will be created by the plugin. Note that if you use, for example, the folder of the subdomain on which you are trying to install ghost, you will receive an error notifying you that this is not possible.
Click on the Install button when you have filled all of the fields.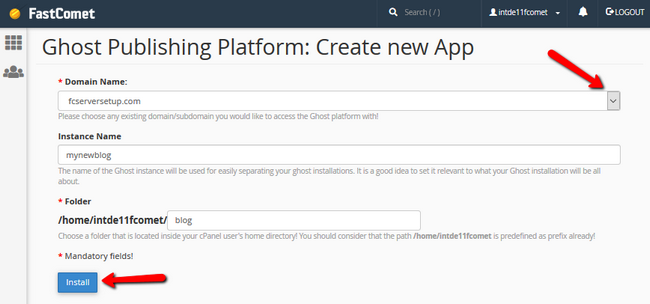 20 to 30 seconds after you click the button, you will be presented with your new Ghost installation which will be started by default.
How to Manage Ghost
With the Ghost Management plugin you can restart or stop your Ghost instance with a click of a button depending on your needs. Simply choose the ghost which you want to manage and select hit either Restart or Stop.

You will be notified of the change with a text message which will be present until you close the plugin or select another action.
Similarly, to start a stopped application, click on the Start button for the Ghost instance in question.

If you wish to completely remove a Ghost project, click on the red X button located on the right of that project. This will remove everything in the folder in which that instance is located but will leave the folder present.